Hey there! Are you tired of those pesky dandruff flakes? I have got just the thing for you – the Best Ayurvedic Shampoo for Dandruff!
In a market saturated with options, finding a solution rooted in natural, time-tested remedies can be a game-changer. Ayurvedic formulations, revered for their holistic approach to wellness, have gained prominence for addressing dandruff concerns effectively.
These shampoos harness the power of potent botanicals and ancient Ayurvedic wisdom to not only combat dandruff but also nourish the scalp, promoting overall hair health.
Stick with us to find out which Ayurvedic shampoo works like magic on dandruff and makes your hair super happy!
TOP PICKS
CHECK PRICE
Best Buy: Dabur Vatika Lemon Anti-Dandruff Shampoo
Price on Amazon
Best for Dry scalp: Indulekha Dandruff Treatment Shampoo
Price on Amazon
Best for Oily Scalp: Khadi Natural Neem and Aloevera Herbal Hair Cleanser
Price on Amazon
Best for Sensitive Scalp: Biotique Bio/Fresh Neem Margosa Anti-Dandruff Shampoo
Price on Amazon
Best Value for Money: Kesh King Ayurvedic Anti-Dandruff Shampoo
Price on Amazon
Best for Psoriasis: Meghdoot Ayurvedic Satreetha Shampoo
Price on Amazon
Best Anti-dandruff Ayurvedic shampoos
Here are the 10 Ayurvedic shampoos for dandruff:
Specifications:
Quantity: 580ml
Hair type: Dry
Key Ingredients: Pudina, neem, amla, and rosemary
Benefit: Nourished, strong, dandruff and flake-free hair
Target Users: Men and Women
Why I recommend:
Clinically proven formula
Increases blood flow and strengthens hair follicles
Product details: Expanding its range: Indulekha has brought the Ayurvedic hair cleansing formula to treat dandruff. This shampoo completely cures dandruff and related problems– unclogging pores, cleansing the scalp of dirt and excessive oil, stimulating blood flow, and strengthening hair follicles. It does all to promote a healthy scalp with thicker hair.
Ingredients: This proprietary Ayurvedic medicine has the power of 8 potent herbs, slow-cooked for 24 hours over 3 days, to treat dandruff at the source. It has the vitamins and antioxidants-enriched neem, amla, pudina, anti-inflammatory rosemary oil, and other natural micronutrients. You get a healthy, clean scalp and hair with no itchiness and flakes.
Pros
No paraben, synthetic dyes, and fragrances
Results within 2-3 wash
Reduction in dandruff recurrence
Leak-proof packaging
Cons
Comparatively high in price
Find out garlic shampoos for hair loss
Specifications:
Quantity: 650ml
Hair type: Dry
Key Ingredients: Small onion and fenugreek
Benefit: Nourished, strong, dandruff and flake-free hair
Target Users: Men and Women
Why I recommend:
Fight 4 hair problems
Show visible results within a week
Product details: For dry, flaky scalps with falling hair, Meera has brought its anti-dandruff shampoo with an Ayurvedic formulation that specializes in fighting 4 problems of dandruff. This shampoo treats dry scalp and fights white flakes, reducing itchiness and preventing hair fall. Within a week, you would notice visible results.
Ingredients: What makes the shampoo one of the best for dandruff and hair fall is its formulation. It has a stimulating concoction of the finest natural ingredients-small onion with fenugreek seeds and rice water. While onion works in white flakes elimination and reduction of dandruff occurrence, fenugreek treats the existing, leaving hair conditioned. In addition, rice water initiates hair fall reduction and regrowth.
Pros
No nasty infusion
Pleasing fragrance
Affordable price
Cons
Packaging needs improvement
Specifications:
Quantity: 340 ml
Hair type: All
Key Ingredients: Tea tree and Aloe Vera
Benefit: Nourished, resilient, and dandruff-free hair
Target Users: Men and women
Why I recommend:
Dermatologically tested pH-balanced formula
Up to 100% dandruff-free hair
Product details: Shrug off your dandruff and itchy scalp worries, for here is Himalaya's anti-dandruff shampoo! It is a shampoo with a pH-balanced formula tested by dermatologists that offers long-lasting relief to the scalp. It cleanses and protects the scalp and fights dandruff, preventing recurrence. You would get 100% dandruff-free, nourished, and beautiful hair.
Ingredients: This shampoo has a breakthrough botanical formulation blend of selective plant extracts with natural 5-protein technology. Each bottle has antifungal tea tree extract and soothing, hydrating Aloe Vera with wheat and soy protein. Tea trees fight dandruff, Aloe Vera soothes the scalp, and the natural protein restores the quality and flexibility of the hair.
Pros
Do not make hair dry
Pleasing fragrance
Cruelty-free
Free from paraben, toxins, and artificial color
Reasonable price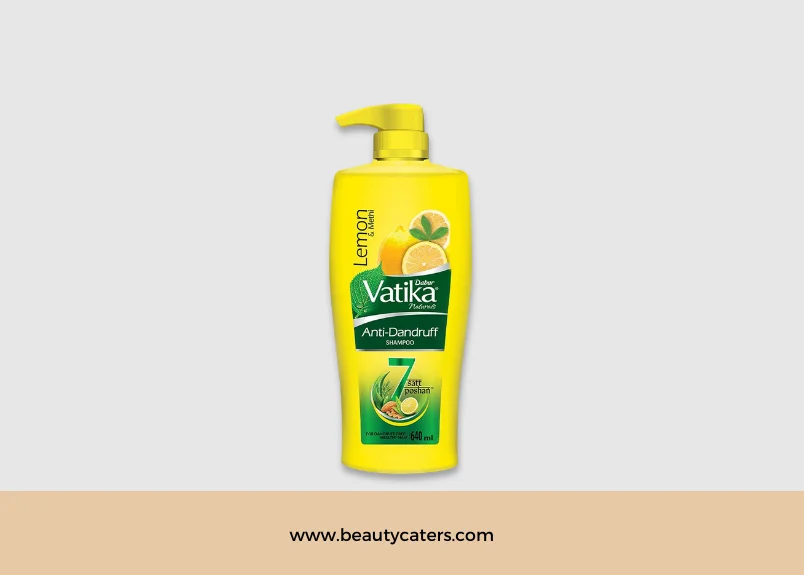 Specifications:
Quantity: 640 ml
Hair type: All
Key Ingredients: Lemon, dandruff, and 5 natural ingredients
Benefit: Clean, nourished, and dandruff-free hair
Target User: Unisex
Why I recommend:
Reduce dandruff from the first wash
90% dandruff reduction
Product details: Bid bye to that irritating, itchy scalp and white flakes for DABUR Vatika has brought its anti-dandruff shampoo that leaves a stunning result on hair. The vitamin-enriched Ayurvedic hair cleanser treats and prevents scalp itchiness, inflammation, and dryness and curbs dandruff by 90%. You can notice a visible dandruff reduction from the first wash.
Ingredients: Fortified with the natural goodness of 'sattposhan', seven natural ingredients: this best Ayurvedic shampoo helps control dandruff while gently cleansing, conditioning, and nourishing hair. It has lemon, tea tree oil, fenugreek, henna, almond, rosemary, and aloe vera. Your tresses turn soft, healthy, and more manageable to flaunt throughout the day.
Pros
No dry scalp and hair
Pleasing, refreshing smell
No nasty component
Affordable price
Cons
The pump dispenser should have well-guard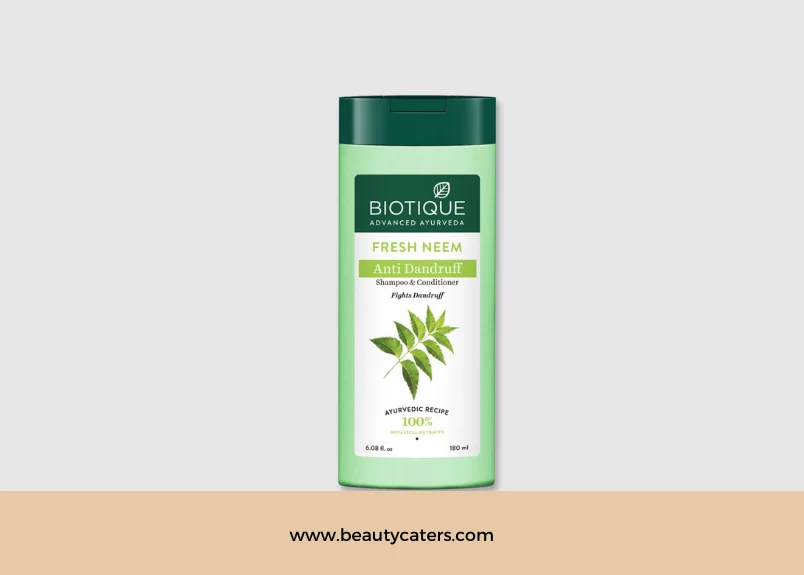 Specifications:
Quantity: 650 ml
Hair type: All
Key Ingredients: Bhringaraj, Neem, and Reetha
Benefit: Dryness, flaky, and itch-free nourished skin and hair
Target User: Unisex
Why I recommend:
Prevent premature greying
48 hours of softness retention after each use
Product details: Biotique Bio/Fresh Neem Margosa Anti Dandruff Shampoo is one of the best in the line, designed to provide complete hair care through Ayurveda. It keeps dandruff at bay and imparts a clean scalp with soft, conditioned, and frizz-free hair that stays the same for 48 hours after each use.
Ingredients: Formulated with 100% pure botanical extracts, the refreshing shampoo treats dandruff and takes care of your hair. The formula primarily has medicinal neem, best for dandruff, with bhringaraj and reetha that relieve itchy scalp, leaving healthy, lustrous, growing, and voluminous hair. You would even notice considerable control on premature greying.
Pros
pH-balanced formula
Gentle on hair and scalp
Dermatologically tested
Affordable price
Specifications:
Quantity: 340 ml
Hair type: dry, thin hair
Key Ingredients: curd active and 21 Ayurvedic herbs
Benefit: Dandruff-free, nourished, soft hair with reduced breakage
Target user: Women
Why I recommend:
One-stop solution
Up to 100% dandruff and visible hair fall reduction
Product details: Of the several hair problems we face these days, the most common are dandruff, scalp irritation, and damaged and falling hair. Therefore, Kesh King's has brought a one-stop solution, which helps you curb these problems with some washes. It is one of the best Ayurvedic shampoos for hair loss and dandruff.
Ingredients: This anti-dandruff shampoo has a unique and potent Ayurvedic formula filled with the goodness of curd actives and 21 Ayurvedic herbs. Hair fall reduces considerably, and dandruff completely. The scalp is soothed and nourished, and hair revives and regains softness and shine.
Pros
Soothe itchy scalp
FDA-approved
Strip no natural oil
Free from cruelty, paraben, and chemicals
Affordable price
Cons
Not for oily or normal hair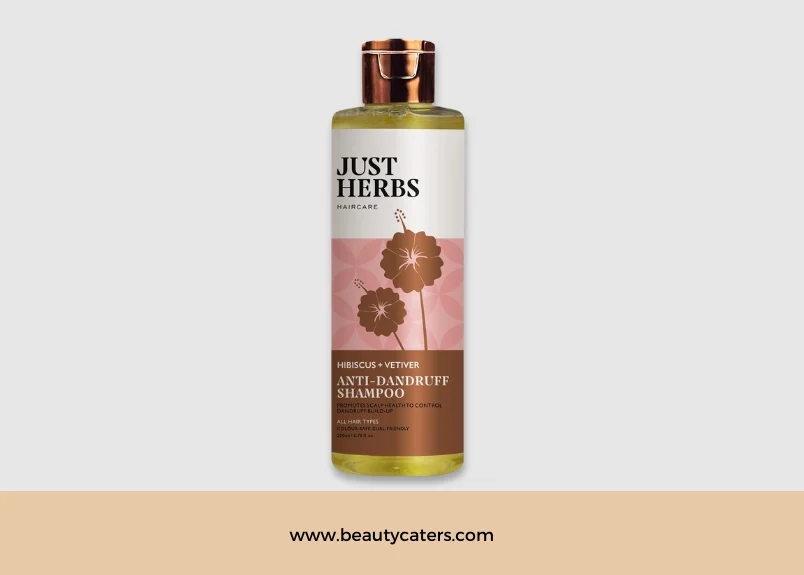 Specifications:
Quantity: 200 ml
Hair type: Dry and brittle hair
Key Ingredients: Hibiscus, Vetiver, and Neem
Benefit: Healthy itch-free scalp with no dandruff buildup
Target User: Unisex
Why I recommend:
Prevent dandruff buildup, soothing itchy and dry scalp
Repair dry and frizzy hair
Product details: Looking for an Ayurvedic treatment for dandruff and dry, itchy scalp! Just Herbs Hibiscus + Vetiver Anti-Dandruff Shampoo is here to provide the absolute solution. This mild shampoo washes off sweat, buildup, and dandruff to restore overall hair and scalp health, maintaining your scalp's pH level.
Ingredients: This anti-dandruff shampoo contains the nourishing Ayurvedic gems- hibiscus and vetiver, amla, and neem, blended with soy protein and wheat germ oil. This non-drying herbal cocktail helps protect your hair from dandruff and damage and combat dryness and frizz. Hence, the scalp turns healthy and clean, and the hair soft, lush, and conditioned from roots to tips.
Pros
Gentle formula with a pleasing fragrance
100% organic with no harmful chemicals
Suitable for curls and color-treated hair
Good, leak-proof packaging
Cons
High in price
Only for plain and straight hair
Specifications:
Quantity: 200 ml
Key Ingredients: Bhringaraj, reetha, shikakai, neem and more
Benefit: Beautify hair and treat dandruff and dryness
Target Users: Men and Women
Why I recommend:
Treat dry and wet dandruff
Add volume to hair
Product details: Dry, rough, dandruff-ridden scalp and hair need the gentle touch of herbs to soothe and revitalize the affected areas. Patanjali Kesh Kanti Anti-Dandruff Shampoo is a gentle hair care formula with its source in the Ayurvedic archives. Its 100% herbal formula eliminates dust, dirt, dandruff, and itchiness. Whether dry or wet, it treats both dandruff efficiently.
Ingredients: To be one of the best Ayurvedic anti-dandruff shampoos, it contains time-tested ingredients-neem, amla, Bhringaraj, reetha, aloe vera, turmeric, and essential herbs. This concoction is famous for cleaning and disinfecting the scalp and turning hair lustrous and voluminous from root to tip. You would notice a reduction in hair loss and dandruff recurrence.
Pros
Deeply cleanse the scalp
Also, control hair fall
Pleasing smell
Value for money
Specifications:
Quantity: 210 ml
Hair type: oily
Key Ingredients: Neem, Aloe Vera
Benefit: Healthy, clean scalp with reduced dandruff
Target Users: Men and Women
Why I recommend:
Detoxifying scalp-rejuvenating formula
Use a very small amount
Product details: Khadi Natural's neem and Aloe Vera shampoo is an all-natural detox formula that fights flakes and dandruff and rejuvenates the scalp. The shampoo gently cleans the buildup from stressed hair without stripping off the natural oil, repairing the dryness and damage. So, say hello to a healthy and clear scalp and lustrous hair!
Ingredients: Manufactured under the supervision of qualified Ayurveda doctors, this shampoo contains herbal actives sourced from pure plant extracts. With neem and Aloe Vera, it has green tea, basil, Bhringraj, shikakai, and Fenugreek. This shampoo is economical. For every wash, you need very little quantity.
Pros
Dermatologically tested
Effective on severe dandruff
No chemicals, artificial color, or preservatives
ISO, WHO & GMP certified
Cons
Cure dandruff slowly
Not for dry and frizzy hair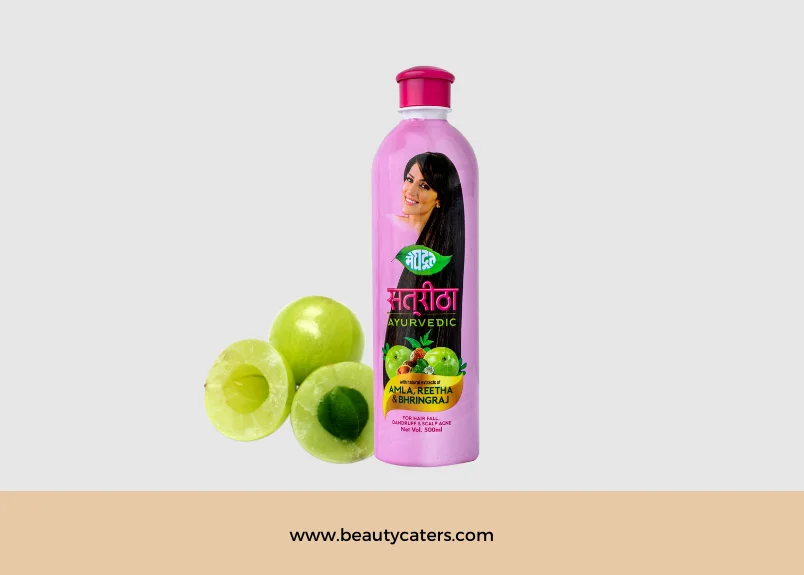 Specifications:
Quantity: 500 ml
Hair type: Normal-Oily hair
Key Ingredients: Amla, Reetha&Bhringaraj
Benefit: Control hair fall, dandruff, and scalp acne
Target User: Men and Women
Why I recommend:
Cure scalp psoriasis
80-85% dandruff reduction in 2-3 weeks
Product details: Scalp psoriasis is a prime factor of dandruff. You face severe dandruff, unbearable scalp irritation, and gradual hair fall. Meghdoot Ayurvedic Satreetha Shampoo specializes in solving this issue. Its fortified Ayurvedic formula cures scalp and forehead psoriasis and scaly scalp considerably. You would notice 80-85% dandruff reduction in 2-3 weeks with zero scalp acne and other problems.
Ingredients: This shampoo has time-tested 100% Ayurvedic hair care actives. It has the goodness of amla, reetha, shikakai, bhringaraj, methi, jatamansi, and other valuable herbs. The blend is medicinal, nourishing, stimulating, and repairing. While curing psoriasis, the shampoo stimulates hair growth and repairs damaged and split ends.
Pros
A gentle cleanser
Awarded by President Dr. A.P.J. Abdul Kalam
Free from SLS, paraben
Not tested on animals
Value for money
What are the factors that cause dandruff?
When you notice those white flakes on your shoulders, you often ask, Why me? Well, Ayurveda has the answer. According to Ayurveda, dandruff is an outcome of imbalanced doshas.
Dry and flaky dandruff means an aggravated 'pitta' and 'vata' doshas, and if your dandruff is oily, it is an imbalance of 'kapha-vata' doshas. Apart from doshas, a few other factors worsen your dandruff if left untreated or late-treated.
Factors that influence dandruff:
1. Skin conditions
People with psoriasis are prone to develop dandruff more. However, it never means others are immune to the problem. If you have a naturally dry scalp, you may face dandruff, especially during winter, as the 'Vata' dosha aggravates. Ayurvedic treatments provide the most effective help.
2. Poor hygiene
However, regular shampooing affects hair adversely; you must wash your hair twice to thrice a week. After all, poor hygiene results in buildup and dead skin cells accumulation on the scalp. It gives bacteria and microbes the apt environment to thrive and causes scalp infection and dandruff.
3. Diet
An unhealthy or imbalanced diet lacking minerals and vitamins also leads to dandruff. Vitamin B complexes, zinc, and omega fatty acids are the key to healthy and nourished skin. Therefore, it is necessary to consume essential oils, proteins, and fresh fruits and vegetables. In addition, artificial colors, flavors, and excessive spices can aggravate dandruff and cause inflammation.
4. Stress
Stress weakens immune defenses, thereby increasing 'pitta dosha'. As a result, the body produces excess sebum, and the lowered immune hardly restricts bacteria and fungi growth. This results in dandruff formation and scalp irritation.
Ayurvedic ingredients for fighting dandruff
Though dandruff is a chief problem, it is easily treatable. Ayurveda offers a range of natural remedies you may apply topically or intake orally. These remedies relieve itching, dryness, and dandruff and balance the doshas.
Here are the 5-best natural remedies for dandruff:
1. Methi
Methi, fenugreek seeds, is one of the best Ayurvedic treatments for dandruff. It is rich in antibacterial properties that combat dandruff and related issues like flakiness to give you a clean, healthy, and nourishing scalp.
2. Neem
Ayurveda describes neem as 'sarvaroganivarini', a cure to all ailments. This acclamation lies in its antiseptic-antibacterial, antifungal, and anti-inflammatory properties. These properties work great on hair. It kills dandruff-causing bacteria and fungi and detoxifies the scalp. Therefore, you get relief from itchiness and irritation while your hair becomes resilient.
3. Aloe vera
Another remarkable Ayurvedic treatment for dandruff is Aloe Vera. The versatility of this ingredient is an open secret, whether it is to skin or scalp. When applied to the scalp, its soothing and antibacterial properties relieve itching caused by psoriasis and cure flakiness.
4. Lemon
Vitamin C and antioxidants-enriched lemon juice are effective in treating dandruff. This citric acid, vitamin C, and zinc concoction have antifungal properties, which mean it cleans dandruff and detoxifies the scalp of irritation and itchiness.
5. Amla
One of the richest sources of vitamin C, amla has proved to be a dandruff-curing treatment. If you have tried everything, but your dandruff hardly seems to go away, this ingredient can be the ultimate resort to sweep it permanently.
Diet and lifestyle advice to cure Dandruff
Besides shampoo, hair oil, and spas, lifestyle and diet habits help to cure dandruff from its source. Here are those 6 habits:
Wash hair 2-3 times a week with a mild herbal shampoo.
Massage hair with oil before every shampoo.
Eat a nutritious, balanced diet, including protein, fiber-rich foods, salads, and fruits.
Exercise regularly or do yoga to reduce stress levels.
Avoid scratching the scalp with a hand or other objects.
Avoid spicy, oily food, junk, and aerated drinks.
Does Ayurveda completely cure dandruff?
Yes, of course. Ayurvedic treatments not only relieve dandruff and improve hair quality, they also de-stress the scalp and relieve sleeplessness.
Are there any side effects of using Ayurvedic remedies for dandruff?
No, Ayurveda has no side effects. Ayurveda is an ancient scientific and holistic approach to numerous health problem-whether for skin or hair. Its secrets assist and restore your hair growth while curing the issues. These entirely natural formulations mostly do not have any side effects.
How often should I use Ayurvedic anti-dandruff shampoo for best results?
When you use an Ayurvedic shampoo based on your dosha levels, washing hair 2-3 times a week yields the best results.
What are the key ingredients that make a good Ayurvedic shampoo for dandruff?
Methi, neem, amla, lemon, curd, and Aloe Vera are the prime ingredients an anti-dandruff Ayurvedic shampoo must contain.
How much time does an Ayurvedic shampoo take to cure dandruff?
The first wash with an Ayurvedic shampoo shows visible results in dandruff control. If you continue the hair wash regime, it controls dandruff in 4-6 weeks.
Can we use Ayurvedic shampoos in conjunction with other hair care products?
Yes, you can use Ayurvedic shampoos with other hair care products. However, avoid using products containing harsh chemicals that may hinder the benefits of Ayurvedic shampoos.
What are the benefits of using an Ayurvedic shampoo for dandruff compared to traditional shampoos?
The four principal benefits of using an anti-dandruff Ayurvedic shampoo are:
It is a safe and effective natural hair care.
It cures dandruff, soothes the scalp, and reduces hair fall.
It nourishes the scalp for soft and smooth hair.
It does not cause allergies.
Final Word: Best Ayurvedic shampoo for dandruff
It's hard to find an anti-dandruff shampoo at a reasonable price, and that's what this article focuses on. So, no more refrain from wearing dark-colored clothes or flaunting your lovely tresses. After all, these best Ayurvedic shampoos for dandruff will solve your rigorous problem of flakiness as it has resolved mine.
For more information, tips, and product reviews, keep reading Beauty Caters.
Related: