Lip balm, this must-have in our arsenal, has come a long way from being a simple buttery formula filled in a tube or pot to a tinted chapstick that protects sensitive lips and gives a sheer color. But this unsung hero often causes irritation or discomfort because of its chemical content, and that's where you feel the need for an herbal lip balm.
An herbal lip balm does not go wrong in any way. Its side-effects-free formulation heals dry, cracked, and chapped lips, safeguard them, and causes no harm even if you eat it up. So, let's check out the best herbal lip balm in India and the buying guide.
Table of Contents
Best Herbal Lip Balms in India
The X-factor:- This lip balm brightens the lip tone.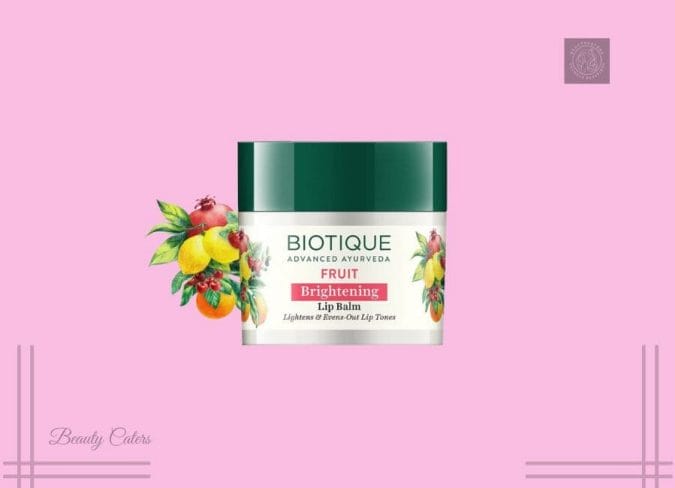 Product Details:- This lip balm has grape (draksha) extracts enriched in vitamin C, which works as a color corrector. It targets pigmentation, reduces it, and improves uneven tone, making lips visibly brightened and naturally glowing.
This 100% botanical formula includes mulethi, badam extracts with that of sesame, sunflower, vach, and many more herbs that heal lips, lock in moisture, re-circulate blood, and also prevent sun damage along with softening and smoothening the texture. As a result, your dry, chapped lip becomes plump and youthful enough to kiss yourself.
Pros
Dermatologically-tested cruelty-free product.
Subtle refreshing fragrance.
Unisex.
Friendly on the pocket.
36 months shelf-life.
The X-factor:- This herbal lip balm retains the youth of your lips.
Product Details:-This lip balm has been curated with the goodness of jojoba oil and hibiscus, a rich source of Vitamin E, a great anti-aging agent. It improves blood flow and regenerates new cells bringing back the lip's flawless youth.
Apart from jojoba oil and hibiscus, the formulation also has Shea butter and olive oil blended with beeswax, which heals lips and keeps them nourished and hydrated with only one glide, even when the weather is rough. It is a pigmentation-reducing lip balm that adds a red tint.
Pros
Award-winning and organic certified lip balm.
Non-greasy long-lasting texture.
Chemical and toxin-free.
Cruelty-free certification by PETA.
Affordable.
The X-factor:- Take care of your lips and also do your makeup. Best tinted lip balm in India.
Product Details:- Lipstick got immense popularity as a cheek tint or eye shadow, but this is the first lip balm that takes care of your dry and chapped lips and easily blends to give your cheek and eyes a beautiful finish with just one swipe.
What makes it one of the best natural lip balms is the lightweight, non-greasy formula handcrafted from rose, saffron oil, and A2 cow ghee (Gir Breed cow's ghee), an excellent moisturizer. Regular use revitalizes and rejuvenates lips, leaving them soft, supple, brightened, and even-toned.
Pros
24-hour moisturization.
Reduce pigmentation.
Free from chemicals and cruelty.
Available in shades.
Awesome fragrance.
Cons
High-priced as a lip balm.
The X-factor:- Keep dryness of the lip at bay.
Product Details:- The active moisturizing formula of this lip balm contains honey, almond oil, and wheatgerm oil, whose moisturizing power is a known secret. Its cure dryness, repair cracks and shields from the effect of dry, chilly winter winds.
This one of the best and most-loved herbal lip balms is a blend of Vedic wisdom with modern technology that enters the deepest layer of cells to nourish intensely and replenish dead cells with new ones. The strawberry edition has the fruit extract as a color corrector. It generates a natural glow. This one is the best moisturizing lip balm for dry lips in the entire list.
Pros
100% natural composition.
Safe on sensitive skin.
Provide UV protection.
Cruelty and chemical-free.
Affordable price.
The X-factor:- Blend of nature and Ayurveda for the driest, flaky, cracked lips.
Product Details:- The nutrient-rich formula of this lip balm is a blend of extracts of beetroot, Shea, cocoa butter, honey, and oils of jojoba and apricot, which restores the long-lost moisture and health of your lips.
It is a colorless non-sticky lip balm enriched in vitamins and antioxidants, having SPF 15. It nourishes lips, heals cracks, and reduces and controls the signs of aging. Lips turn out to be soft, supple, and glowing. The SPF forms a protective shield against UV rays.
Pros
Chemical, paraben, and cruelty-free.
Soft, supple young lips.
Unisex lip balm.
Pleasing fragrance.
Cons
High in price as per quantity.
The X-factor:- Goodness of fruits and herbs in a pack of 5.
Product Details:-Shower on your lip the benefits of vitamins and nutrients with not one but five assorted lip balms, each specializing in one fruit. You get a strawberry lip balm, a lychee lip balm, one orange, one blueberry, and one mint.
The strawberry lip balm heals and prevents cracks through intense moisturization. While the one with blueberry nourishes the skin, the anti-inflammatory mint soothes it. The lychee lip balm with lychee is an excellent combination of hydration, protection, and beautification, and the orange one heals, lightens, and protects from harsh weather.
Pros
Colorless unisex lip balm.
Natural composition.
Chemical and cruelty-free.
Budget-friendly.
Cons
The fragrance is overwhelming.
The X-factor:- The power of nature boosts your lip care. (Best vegan lip balm in India)
Product Details:-.This mango butter lip balm has nature in the form of essential oils and butter that takes utmost care of your lips. It has the oils of sunflower seed, sweet almond, olive, refreshing peppermint, lemon, and green cardamom mixed in cocoa and mango butter.
This intensely moisturizing formula is rich in vitamins that ensure your lip damage heals faster; and stimulates blood flow, as all do. In other words, it retains and maintains your lips' health. This colorless lip balm has a sweet fragrance of cardamom, loved by all.
Pros
Long-lasting.
For all skin types.
Certified non-toxic.
PETA-certified cruelty-free.
Cons
Greasy and granular in texture.
The X-factor:- One glide of this lip balm gives 12 hours of intense moisturization.
Product Details:-Concerning the need for dry and chapped lips, Mamaearth has formulated one of the best natural tinted lip balms in India, with a good stay power. One glide keeps the lip moisturized for nearly 12 hours.
This lip balm has a nourishing natural formula—rose oil, fatty acids-enriched castor oil, anti-bacterial coconut oil, and nutritious Shea butter as the hero ingredients. Together they heal cracks, cure inflammation, fill in moisture, prevent bacterial growth and UV damage, and soothe skin.
Pros
Dermatologically tested.
Cruelty-free products made safe and certified.
No chemicals, petroleum, or artificial elements.
Available in 2-shades.
For all skin types.
The X-factor:- This is an intensive lip care naturally tinted.
Product Details:- To stay in sync with the trend of tinted lip balm Himalaya Herbal has brought its highly moisturized lip balm in tinted form without compromising the composition. The natural tint it gives is extracted from a 100% natural color.
This one of the best lip balms primarily has strawberry seed oil and apricot kernel oil. The fatty acid-enriched strawberry seed oil balances the moisture content and the Vitamin E-enriched apricot kernel oil repairs and provides protection; also from environmental damage. Your lips turn soft, supple, and luxurious.
Pros
Easy-to-glide chapstick.
Good lasting power.
Fruity smell.
Free from preservatives, petroleum jelly, mineral oil, and silicon.
Affordable.
The X-factor:- A pre-balm to wear before lipstick or smoking (smoking is injurious to health).
Product Details:- This lip care has a specially crafted formula designed to apply before smoking or wearing lipstick so that the texture and tone of your lips stay unaffected in any way. However, there is no way to keep you safe by smoking.
Bella Vita organic lip balm is the famous Nico balm 2x stronger, better, and more nourishing. It is a blend of Shea butter, honey, avocado, and beeswax, enriched in potassium, antioxidants, and vitamins. New cells regenerate faster; lips stay soft, supple, and hydrated.
Pros
Shine-free and color-free finish.
Lightweight and non-sticky.
100% natural.
Subtle fragrance.
Cons
Quantity is less.
Too soft.
The X-factor:- Have no more lipstick dryness. Lip balm for dry skin.
Product Details:- Dry lips also result from lipstick, but that does not mean lips should stay colored. Plum has brought the ultra-nourishing lip balm that restores moisture and prevents lipstick dryness-put it over or under your lipstick. It is a tinted lip balm that suits your daily outfit. So your lipstick may take a backseat.
This lip balm for dry lips has a refreshing formulation of carrot seed oil, olive oil, cocoa butter, and Shea butter which has earned real-time results of 68% nourishment, 100% moisturization, 75% plump, and 72% healing of chapped lips. It also repairs UV damage.
Pros
FDA approved.
Fruity fragrance.
SLS, paraben, mineral oil, and cruelty-free.
For all seasons.
The X-factor:- Say bye to winter-dried, chapped, cracked dehydrated lips.
Product Details:- Lips are the only body part without oil glands, and that's why they dry up, crack and get chapped frequently in winter. But, now have no more of these issues because this natural lip balm curated with cocoa and Shea butter, flaxseed oil, and Vitamin E provides intense nourishment.
This nutrient-packed lip balm replenishes the moisture on delicate lips and forms a protective shield against moisture loss by the dry, chill winter winds. It is a repair and healing agent which also heals inflammation and provide a soothing effect.
Pros
Dermatologically-tested.
Certified toxin-free.
PETA-certified cruelty-free.
Available in flavors.
Value for money.
Lip Balm Buying Guide
Top Natural Lip Balm Brands in India
India is one of those countries relying on herbs and nature for beauty and care, be it hair or skin. When it comes to lip care, you come across hundreds of options, but the top brands that are ruling in terms of performance and popularity are:
Biotique.
Mamaearth.
Himalaya.
Lotus Herbals.
Plum.
The other brands enlisted here are underrated performers and tough contenders.
Things to Consider in choosing an Herbal Lip Balm
To make selecting an herbal lip balm easy, I have put the criteria you should consider:
Natural Ingredients
An herbal lip balm must have a 100% natural composition, so always check the ingredient list. It should have beeswax, a natural barrier to moisture loss; essential oil- jojoba, avocado, argan, and almond; kinds of butter and creams like cocoa butter, Shea butter, coconut cream, and fruit extracts. They are natural moisture-replenishing and nourishing agents. Even the pigmenting agent should be from nature.
Zero Additives
Many herbal lip balms contain harmful additives like paraben camphor, salicylic acid, mineral oils, lanolin, or petroleum which can inflict instant and long-term damage to your delicate lips. So, always ensure the lip balm you choose must be free from these additives.
Purpose
Every lip balm addresses specific issues. On dry and chapped lips, a lip balm with healing herbs like aloe Vera, honey, and Shea butter do wonders. To prevent discoloration or UV harm: choose lip balms containing lavender or avocado oil. If you have red, irritated, and inflamed lips, soothe with coconut cream or vanilla bean to soothe lip balm.
Flavor and Tint
Though most herbal lip balms are colorless, now they are available in a vast range of flavors and tints, complementing each other– strawberry, orange, cherry, watermelon, cocoa, vanilla, etc. having beetroot and natural ingredients as pigmenting agents. So, choose the herbal lip balm on the basis of flavor and color you like.
FAQs: Best Herbal Lip Balms in India
Which is the best herbal lip balm in India?
Biotique Bio Fruit Whitening Lip Balm is the best lip balm in India. It is a chemical-free lip balm that garnered thumbs up from users.
Which is the best tinted herbal lip balm in India?
Organic Harvest has brought its herbal lip balm formulated with hibiscus extracts. It is the best-tinted herbal lip balm in India.
Which herbal Indian lip balm is the best for dark lips?
Biotique Bio Fruit Whitening Lip Balm is the best herbal lip balm formulated for dark lips.
Which is the best long-lasting herbal lip balm?
Mamaearth has formulated its lip balm with an intensely moisturizing formula that stays intact for nearly 12 hours, making it the best herbal lip balm with good staying power.
Is Himalaya Herbal lip balm good?
Himalaya Lip Balm has herbs tested with the time that cure sore and chapped lips, especially in winter. It is an excellent skin conditioner. Even the new tinted ones have pigmenting agents derived from nature.
Final Word: The Best Herbal Lip Balm In India
While winter is knocking at the door and the weather is showing fluctuation, lips are getting dry—well, I am facing it—and the search for a good, effective (not in a negative way) lip balm begins, which I hope now has reached its end.
Here I wrap up with the best herbal Indian lip balm that may save your day. Pick and add to your cart the suitable one. Hurry up! Else, it may become sold out.
Related Articles:
Best lipsticks for mature lips
Best lipsticks for sensitive lips