Most women use hair conditioner after shampooing so that the hair does not get tangled and remains silky and soft. In particular, conditioners are very effective in softening dry rough hair. But do you know? Conditioners that are bought from the market contain various chemicals, which can be very harmful for our hair.
Thus, for natural deep conditioning of your hair, it is always best to make homemade hair conditioners for dry hair at home with some natural things. The homemade conditioners that are suggested below will surely nourish your hair deeply, keep them hydrated and will make your hair soft and smooth.
If you are interested you can read through best shampoo and conditioners for permed hair.
5 Easy homemade hair conditioners for dry hair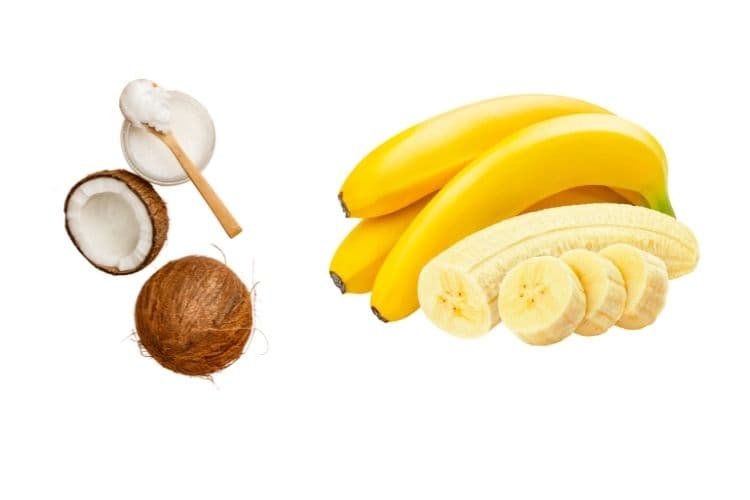 1. Banana conditioner
Bananas contain vitamins, calcium and anti-oxidants. Banana conditioner is great for dry hair. Banana conditioner will make your hair thicker, longer and brighter!
1) Take a ripe banana, three tablespoons of olive oil and two tablespoons of honey. Now mash the banana in a bowl and mix olive oil and honey in it. Then apply it on your hair for 30 minutes and wash your hair.
2) Make a smooth paste by mixing one ripe banana, four tablespoons of coconut oil, one tablespoon glycerin and two tablespoons of honey. Now apply this mixture all over the hair and cover the head with a shower cap. Wash hair after 30 minutes.
2. Yogurt Conditioning
Yogurt has anti-oxidant and anti-bacterial properties. Yogurt is very beneficial for health as well as hair. Yogurt acts as a natural moisturizer. Yogurt contains lactic acid, which is very good for hair. The use of yogurt keeps the pH level of the hair normal and is also very helpful in strengthening the hair. For this, take one cup of yoghurt and two tablespoons of honey.
Make yogurt and honey paste in a bowl. Now apply it well on the whole hair starting from the roots of the hair. After 30 minutes, wash your hair with mild shampoo. The use of yoghurt strengthens the hair follicles and makes dry hair soft and shiny.
3. Egg Conditioner
Almost all of us are aware of the benefits of eggs in the process of hair care. The presence of protein in eggs helps maintaining healthy hair. Whether it is egg white or egg yolk, both are great for making dry-rough hair silky and thick. Mix three egg yolks, three tablespoons of olive oil and a few drops of any essential oil together well. Now apply this mixture on the hair for 20 minutes. Then wash your hair with shampoo.
4. Aloe Vera conditioner
Aloe Vera is very beneficial and effective in hair care. Regular use of aloe Vera strengthens the hair. It is rich in vitamins, proteins and minerals. It helps in providing nourishment and shine to the hair. Aloe Vera is very effective in maintaining the pH balance of your hair. Mix five tablespoons of aloe Vera gel and two tablespoons of lemon juice. Now apply it on your shampooed hair for 20 minutes. Then wash your hair with plain water.
5. Apple cider vinegar conditioner
Since it contains acetic acid and alkaline nutrients, it helps in smoothening your hair and maintaining Ph balance of your hair. Mix two tablespoons of apple cider vinegar, one tablespoon honey and two cups of water in a bowl. Apply this solution on your shampooed hair, avoid exposure to your scalp. No need to rinse after application. However, do not forget to add water as mentioned as it is very important to dilute vinegar.
Note: for better results, use these methods of hair conditioning twice a week. You will be able to see the difference very soon.