Lock in your hair the goodness of this natural elixir without its pesky smell.
Whether it is a TV commercial or one on the OTT platform, onion shampoo is flurrying high. Have you wondered why? Onion juice is an age-old hair health and growth stimulator. Remember how our mom/grandma used to massage the juices on our scalp? But right from peeling, extracting juices to application is so messy, tedious and stinky, that we avoid it.
Thankfully, the hair care industry has explored the elixir of this ingredient and formulated the enriched shampoo that gives the benefits of onion but without drama.
We have picked the best onion shampoo for hair growth at Beautycaters.com. Read to know and unlock the secrets.
Onion Shampoo we recommend
1. Best Overall: Kesh King Ayurvedic Onion Hair Growth Shampoo
2. Best Buy: Dabur Vatika Onion Hair Fall Control Shampoo
3. Best for dry hair: Khadi Essentials Onion Shampoo.
4. Best for oily hair: Love Beauty & Planet Onion Oil & Black Seed Shampoo
5. Best color-safe: Mamaearth Onion Shampoo
Best Onion Shampoo for Hair Growth in India
Specifications:
Quantity: 640 ml.
Suitable for: Normal-Oily hair.
Key Ingredients: Onion, black seed & Saw Palmetto.
Benefit: Thicker, Stronger, and reduced hair fall.
Why I recommend:
97% hair fall reduction.
Unclog blocked roots.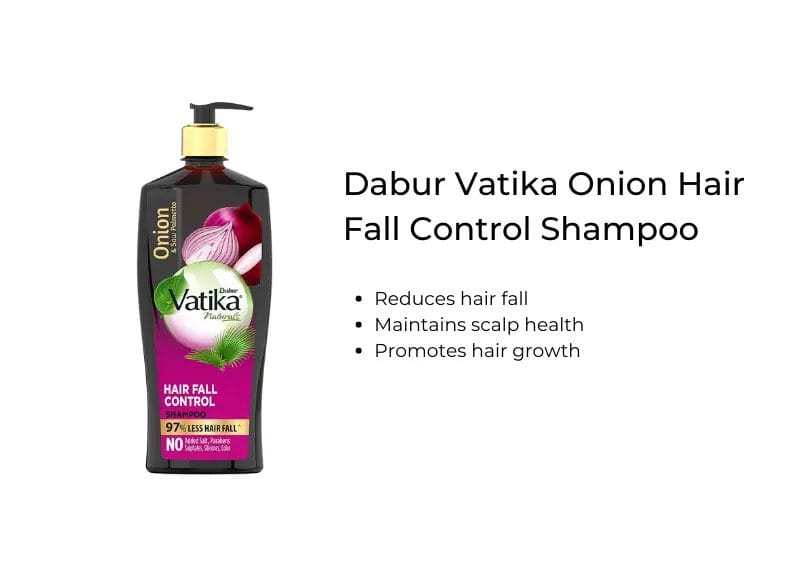 Product details: The DABUR Vatika Onion hair fall control shampoo is a vitamin-enriched Ayurvedic nourishing hair cleanser that leaves a stunning result on hair. It unclogs blocked roots promoting regrowth and cuts hair fall by 97%. You can notice a visible change after a few weeks.
Ingredients: The goodness of onion on hair is no more a secret and Dabur Vatika has wisely utilized this ingredient. This shampoo is red onion oil, black seed oil, saw palmetto extract, vitamin E, and pro-vitamin B5 blend-an intensely nourishing and stimulating formula.
This formula makes the scalp healthy and accelerates regrowth with reduced breakage and split ends.
Pros
Thicker and stronger hair.
No nasty toxins.
Unisex.
Suit color and chemically-treated hair
Affordable price.
If you are fan of Garlic shampoo, you should read our review on garlic shampoo for hair loss.
Specifications:
Quantity: 200 ml.
Suitable for: All. hair types
Key Ingredients: Red Onion, black seed, and more.
Benefit: Frizz management, breakage control, and hair growth formula.
Why I recommend:
Repair damage and split ends.
Benefit from 4-5 washes.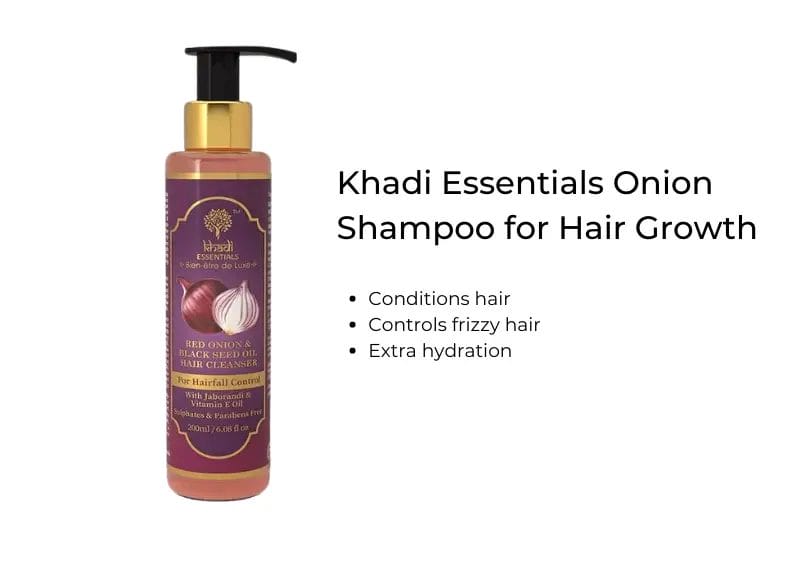 Product details: For weak, brittle, and damaged hair: Khadi essentials has come up with shampoo filled with the glorious properties of onion. This shampoo stimulates your scalp and improves blood flow, resulting in well-nourished hair follicles imbibed with growth, softness, shine, and resilience. With 4-5 washes, you would see visible results.
Ingredients: Every shampoo bottle has the finest Ayurvedic cocktail of red onion, black seed, jaborandi, and cedar wood extracts.
This natural oils and extracts rich in flavonoids and vitamins provide luxurious hair care. The dull tresses turn soft and shiny with damages and split-ends repaired. Hence, no more struggle with detangling.
Pros
Gentle on the scalp and hair.
100% vegan.
For men and women.
Free from paraben, Sulphate, and preservatives.
Cruelty-free.
If you are worried shampoo will ruin your hair color, time to go for a color protect shampoo.
Specifications:
Quantity: 400ml
Hair type: dry, damaged, colored, and chemically treated.
Key Ingredients: Onion and plant keratin.
Benefit: Nourished, strong, breakage-resistant hair with growth.
Why I recommend:
Up to 60% less hair fall.
Dermatologically-tested.
Product details: Mamaearth Onion Shampoo is a dermatologically-tested organic hair cleansing formula that gives complete hair treatment.
Its stimulating and nourishing formula strengthens the existing hair to control breakage and promotes new hair growth. You will notice a 60% hair fall reduction and fortified hair.
Ingredients: Powered with onion seed oil and plant keratin extracts: this shampoo not just cleanses your scalp but turns those dry, dull strands soft, shiny, and frizz-free.
The onion seed oil, the blood circulation stimulator, stimulates the scalp and regrowth. Plant Keratin adds strength and makes it frizz-free.
Pros
Retain scalp sebum.
Unisex.
Cruelty-free.
Free from toxins, mineral oil, or dye.
Cons
Natural composition hardly forms lather.
Unsuitable for oily hair.
Specifications:
Quantity: 400ml.
Hair type: normal-oily.
Key Ingredients: Onion, black seed oil, and patchouli.
Benefit: Zero hair fall with 3x stronger strands.
Why I recommend:
3x stronger hair.
No scalp irritation.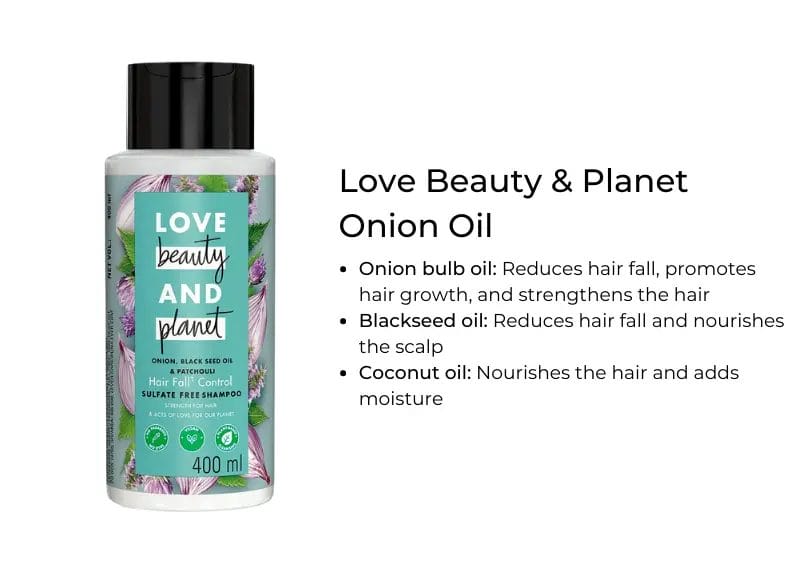 Product details: Bid bye to thin, falling hair, as this hair cleanser nourishes the scalp and hair follicles to make them thicker, longer, and more resilient.
Hair becomes 3x stronger with regular wash. Though the shampoo primarily focuses on hair strengthening and breakage reduction, it provides complete hair care.
Ingredients: This one of the best onion shampoos is a gentle hair care formula that has its source in nature.
It has pure onion bulb oil, natural black seed oil, and moisturizing 100% coconut oil with sweet-smelling hand-picked Indonesian patchouli. The oil helps the scalp regain its health and hair strength. But the best part is you won't have any scalp irritation.
Pros
100% vegan.
Natural, floral fragrance.
PETA-certified cruelty-free.
No harmful nasty.
100% recyclable packaging.
Cons
Do not smoothen hair.
Without conditioner doesn't treat dryness.
Specifications:
Quantity: 600 ml.
Suitable for: Normal-oily.
Key Ingredients: Onion and curry leaves.
Benefit: Reduce hair fall, boost regrowth, and prevent premature greying.
Why I recommend:
98% reduced hair fall with regrowth.
Prevent premature greying.
Product details: Kesh King Onion Shampoo is a clinically proven proprietary Ayurvedic medicine that solves severe hair fall and facilitates regrowth.
Its stimulating formula boosts collagen production for new hair growth and strengthens the existing hair reducing breakage by 98%. In a few weeks, you will notice fortified hair.
Ingredients: Every shampoo bottle has the unique and potent Ayurvedic formula of onion, curry leaves, and 21 herbs.
It mainly has Bhringaraj, neem, tulsi, rosemary oil, henna, methi, and floral fragrance that restores hair's health, strength, thickness, and natural color and cures itchiness.
Hair revives and regains soft and shiny with no premature greying.
Pros
An Ayurvedic formula.
No Paraben and No Phthalate, No Artificial Colors.
Cruelty-free.
Reasonable.
Cons
The result may take time.
Specifications:
Quantity: 300 ml.
Suitable for: Normal-oily.
Key Ingredients: Onion and black seed.
Benefit: Nourished, shiny, breakage-resistant hair with regrowth.
Why I recommend:
Maintain hair's pH.
Rejuvenate tired and weak scalp.
Product details: Biotique Onion & Black Seed Shampoo is a scalp and hair follicles fortifying Ayurvedic formula. It rejuvenates the tired scalp and improves blood circulation. Hence, hair strengthens, gets nourished from root to tip, and new hair starts regenerating.
Ingredients: What makes this onion shampoo one of the best is its protein, vitamin, and antioxidant-enriched formulation.
It is a dermatologically-tested, 100% herbal formula containing red onion and black seed extracts with plant keratin. Besides revitalization, the shampoo balances the pH level that restricts premature greying.
Pros
Unisex.
100% Botanical Extracts
Cruelty-Free.
Affordable.
Cons
Do not remove dryness without a conditioner.
Specifications:
Quantity: 400 ml.
Suitable for: All hair types
Key Ingredients: Red Onion, Curry Leaf & Alkanet Root (Ratan Jot).
Benefits: Breakage control, anti-hair fall, and split-end repair.
Why I recommend:
One-stop solution to hair problems.
No stripping of natural oil.
Product details: Dealing with dry, dull, and damaged hair? Or is it thinning, split ends, and hair loss? Or if it is scalp infection, dandruff, and flakiness, The Indie Earth red onion shampoo is a one-stop solution. It neither strip off natural oil nor make the scalp oily.
Ingredients: Empowered with antioxidants and nutrients: this best red onion shampoo has 10 Ayurvedic ingredients. It has extracts of red onion, coffee, curry leaves, Ratan Jot, Amla, Brahmi, Nagarmotha, and Amar bel with Castor and almond oil.
This formulation intensely stimulates the scalp to increase blood flow, the remedy to hair problems. Hair fall lessens, growth accelerates, and roots to tips become nourished and resilient, eliminating irritation and dandruff.
Pros
Ayurvedic onion shampoo.
PETA-certified cruelty-free.
Contain no SLS, SLES, paraben.
Unisex.
Soothing natural fragrance.
Permed hair needs special care. You have permed hair? Check our shapoos and conditioners for permed hair article.
Specifications:
Quantity: 300 ml.
Suitable for: All hair types
Key Ingredients: Onion and 26 natural ingredients.
Benefit: Soft, soothing, and nourishing formula.
Why I recommend:
Powered with 27 hair boosters.
Neither dry out nor make hair too oily.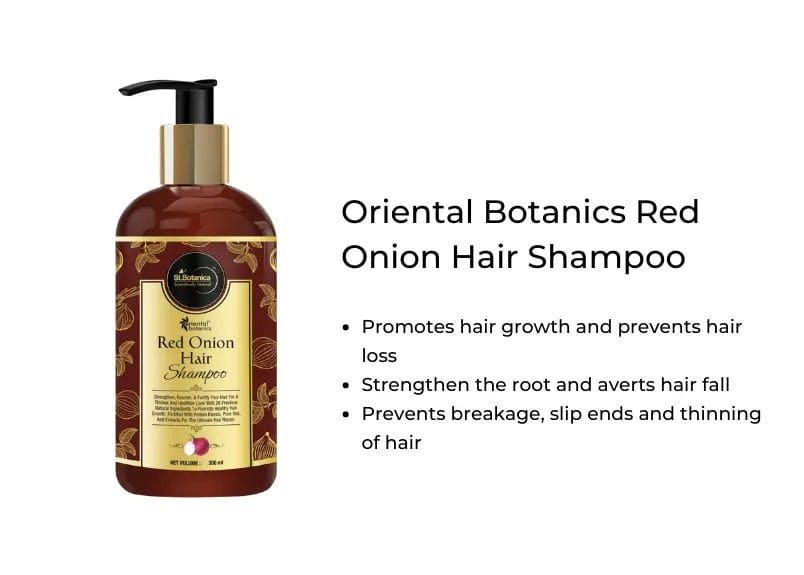 Product details: Neither hair fall is a nightmare nor is hair growth a longing desire: for this onion shampoo by Oriental Botanics gives complete hair care.
From detoxification and nourishing, encouraging growth to hair loss and premature greying control-it does all.
Ingredients: This organic hair cleanser contains 27 healing herbs and essential oils. It has curry leaves, fenugreek, black seed, and bhringaraj extracts blended with red onion, jojoba, Moroccan argan, olive, and rosemary oils with other botanicals.
It is gentle and nourishing. You would notice silky smooth, rehydrated, and resilient hair with growing thickness.
Pros
100% botanical actives.
Unscented.
Unisex.
Free from toxins, SLS, paraben, and preservatives.
Affordable price.
Specifications:
Quantity: 300 ml.
Suitable for: Normal, oily, dry, and damaged hair.
Key Ingredients: Onion, ginger, and olive.
Benefit: Energizes scalp and roots.
Why I recommend:
Make hair shock-resistant to brushing and blow-drying.
Take care of frizz and damage.
Product details: Say no more "Ouch" while brushing or blow-drying, for this hair cleanser energize each strand to absorb those shock stoutly. However, this energizing formula works beyond shock absorption.
It energizes hair follicles from roots to tips to initiate growth, strength, resilience, and the scalp for new hair growth.
Ingredients: This onion hair shampoo contains a 100% natural scalp soothing formulation; sourced from the Ayurvedic archive.
It has red onion, ginger, and olive extracts blended with rosemary, almond, black pepper, and castor seeds. This blend turns hair thick and so soft that you won't need a conditioner, tames frizz, and detoxify the scalp.
Pros
A regular-use shampoo.
Ayurvedic formulation.
Free from Sulfate, paraben, salts, and mineral oil.
Unisex.
Specifications:
Quantity: 300 ml.
Suitable for: All types of hair
Key Ingredients: Red onion, black seed oil with Provitamin-B5.
Benefit: Strong hair with reduced breakage.
Why I recommend:
Tackle scalp infection.
No nasty chemicals.
Product details: This Onion Shampoo by WOW Skin Science is a dermatologically-tested vegan formula that fills hair with vitamins and nutrients to make it healthy, resilient, and lively. From hydrating, stimulating, and strengthening to curing- all does this shampoo. Not just breakage reduction, you will notice regrowth.
Ingredients: This onion shampoo contains time-tested ingredients, free from nasty chemicals that make it one of the best.
It has antioxidants-enriched red onion extracts, fatty-acid-enriched black seed oil, and Pro-Vitamin B5 (D-Panthenol) with nourishing sweet almond oil.
So, your blocked roots unclog, your scalp revitalizes, the infection gets cured, and the existing hair gets nourished from root to tip.
Pros
pH-balancing formula.
Unisex.
100% vegan.
Cruelty-free.
Cons
Not for dry hair.
Take time to show effective results.
Benefits of onion shampoo on Hair
You must have heard about the multiple benefits of onion shampoo on hair. But here are the five principal benefits hair gets from the best onion shampoo.
Rich in dietary sulfur: onion when applied boosts collagen production and promotes healthy scalp and hair growth.
It sweeps away free radicals, builds up and dead cells from the scalp that in turn, prevent dandruff and itchiness.
It has anti-bacterial, anti-inflammatory, and antiseptic properties that nourish hair follicles, restore nutrients and increase hair strength and volume. As a result, hair becomes thick and resilient with less breakage.
It may also delay graying.
As a natural conditioner: it nourishes and smoothens your hair.
How do we choose the best organic onion shampoo?
Picking an onion hair shampoo can be easy if you consider the following four parameters:
1. Scalp suitability
Some people deal with oily scalps, while some with dry ones. Amazingly onion shampoo suits both. If you are one who has a dry scalp, an onion oil shampoo provides the best result. However, on an oily scalp onion shampoo with no added oil suits the best.
2. Hair Suitability
Be it straight, curly, or wavy, an ideal onion shampoo suits every hair type with the equivalent efficacy. Only the formulation brings the difference. For curly or wavy hair, you need a shampoo with less oily ingredients. For straight hair, any variants work well to remove free radicals and other dirt. Also here are some shampoo that suits all hair types.
3. Ingredients
You must be thinking, being an onion shampoo, it must have all-natural composition, but that may not be completely true. Though an ideal shampoo has minimal chemicals and is free from the most harmful ones— sulfates and parabens, some shampoos may contain a few of them. So, always check the contents before purchasing.
Also, your hair and scalp may react adversely to some ingredients. Hence, if you know the combination that suits your hair, go for them.
4. Conditioning
While most onion shampoos are nourishing, some also have ingredients that condition your hair. If you wash your hair with a natural shampoo and then end up using a chemical-loaded conditioner, it setbacks the purpose.
FAQs about best onion hair shampoo
Does onion shampoo regrow hair?
Yes, onion shampoo facilitates blood circulation which promotes hair growth and softness. Onions are rich in dietary sulfur and Vitamins A, B, C, and E, which facilitate thick and resilient hair with regrowth.
The Sweet Almond Oil, rich in Vitamin B7 (biotin), deeply nourishes your hair, leaving it stronger and softer
Which onion is best for hair?
Red onion does magic on dry and damaged hair. Its amino acids act as a cure for hair problems. "The goodness of the juice works miraculously in eliminating impurities present in the pores while also repairing damaged hair and bringing back its shine," as explained by Passi.
Does onion really stop hair fall?
Yes, onions cut and stop hair fall. Onions are rich in dietary sulfur which when applied on the scalp boosts collagen production. Hence scalp becomes healthy and the hair thick and strong to withstand breakage.
What are the side effects of onion shampoo?
Onion shampoo has no such side effects. However, being a combined formulation it may have certain ingredients to which you may be allergic. So, if you are allergic to onion or any ingredient present in the shampoo avoid the shampoo.
Can onion shampoo damage your hair?
Onion shampoos are mostly safe if you get the one according to your hair and scalp type. Addressing the ingredients is important to pick the suitable, hypoallergenic one.
Which is the best onion oil black seed shampoo in India?
Love Beauty & Planet Onion Oil & Black Seed Shampoo is the best onion oil black seed shampoo in India.
Are onion shampoo color-safe?
Yes, being a 100% natural composition, onion shampoos are safe on color and chemical treatments and curls.
Can I use an onion shampoo daily?
Yes, onion shampoos are ideal for daily use. However, it is wise to use the shampoo twice a week.
Final Words: Best Onion Shampoo for Hair Growth
So, if you have decided to switch to an onion shampoo, we hope this list of the best onion shampoos makes your journey toward healthy, silky, and smooth hair a cakewalk. Each product has tons of benefits with a few cons, outweighing by the pros, so, you can make the best pick out of the ideal options.
Besides the shampoo: we also advise you to follow a protein-rich diet to reduce breakage and thinning. After all, they are the "building blocks" of hair.
Check out the best ayurvedic shampoos to stop hair fall.