Long, short, curved, or very fine lashes… How to choose mascara to enhance them?
There's nothing like a touch of mascara to make eyes look bigger and brighter. An essential makeup product in our beauty routines, it's important to choose the mascara best suited to your lash type to ensure perfect results.
We are going to discuss how to choose a good mascara, keep reading!
How to choose the right mascara for your lash type?
Your lashes are as unique as you are, and the right mascara can accentuate their natural beauty. Let's dive into why you should choose a particular type of mascara based on your lash type:
1. Short Lashes
Lengthening Mascara: Short lashes benefit from a lengthening mascara. This type of mascara contains special ingredients and brushes that help stretch your lashes, making them appear longer and more defined.
2. Thick Lashes
Volumizing Mascara: Thick lashes often need definition and volume. Volumizing mascaras have formulations that can add thickness and drama to your lashes without clumping or feeling heavy.
3. Sparse Lashes
Volumizing or Densifying Mascara: Sparse lashes can look fuller and more defined with volumizing or densifying mascaras. These products have the power to add thickness and depth to your lashes, creating a fuller appearance.
4. Straight Lashes
Curling Mascara: Straight lashes can benefit from a curling mascara. Curling mascaras have brushes designed to lift and curl your lashes, giving your eyes a more open and awakened look.
5. Long Lashes
Volumizing Mascara: Long lashes already have the advantage of length. To enhance them further, go for a volumizing mascara. This type adds volume and thickness to your lashes, creating a bold, luscious look.
Make sure your mascara does not have toxins that can harm you.
Related: Can you use mascara on eyelash extensions?
What color mascara to choose for your eyes?
The choice of mascara color often depends on the color of the irises, but it can also depend on the effect you want to create with your eye make-up. Here are a few recommendations for choosing the ideal mascara color for your eyes:
Blue eyes: Black or dark brown mascara is a safe option for blue eyes, as it will bring out the color of your eyes. If you're looking for something a little bolder, you can try a navy or dark blue mascara to create an interesting contrast.
Green eyes: Dark brown mascara is a good option for green eyes, as it contrasts subtly with the color of the eyes. If you want something a little punchier, you can opt for a purple or burgundy mascara to add a touch of color.
Brown eyes: Intense black mascara is a classic choice for brown eyes, as it brings out the color of the eyes. If you prefer something a little softer, try dark brown mascara.
Hazel eyes: Dark brown mascara is the ideal option for hazel eyes, as it brings out the golden and green shades of these particular irises. If you want something more dramatic, opt for dark blue or purple mascara and admire your daring look!
Related: Does crying make your lashes grow longer?
What are the different types of mascara?
When it comes to make-up and cosmetics, there's no shortage of choice. When it comes to mascaras, there are several on the market, differing in their formulation, application and effect on lashes. It's simply a question of defining which type of mascara to choose.
1. Lengthening mascara for short lashes
As its name suggests, this type of mascara is designed to lengthen lashes by stretching them. It has a fine, elongated brush and is generally formulated with fibers that attach to the lashes to create a lengthening effect. Ideal for people with short lashes!
2. Volumizing mascara for thin lashes
Volumizing mascara or volume mascara is designed to give thickness to lashes that are a little too thin by thickening them. It usually has a small, thick brush and contains polymers that swell the lashes to create instant volume. This type of mascara is ideal for lashes that are a little too thin.
3. Curling mascara for straight lashes
This type of mascara is formulated to curl lashes, but also features a curved brush (half-moon or c-shaped) to create a beautiful curled-lash effect. It contains polymers to maintain lash curl and moisturizing agents to prevent the strands from becoming stiff. This is the mascara to choose if you have long, straight lashes.
4. Care mascara for tired lashes and sensitive eyes
In addition to coloring and beautifying lashes, care mascara is designed to nourish, moisturize and strengthen lashes, while sparing the fragility of sensitive eyes. It is formulated with ingredients such as:
Nourishing oils such as castor oil, argan oil and sweet almond oil, which help nourish and moisturize lashes.
Vitamins and peptides, which help stimulate lash growth and strengthen their structure.
Protective agents, which help protect lashes from environmental damage such as wind, dust and pollution.
Mascara Care is an excellent option for those looking to improve the health of their lashes while giving them a beautiful appearance, or those who can't use classic mascara because of highly sensitive eyes.
5. Waterproof mascara, the resistant one
Waterproof mascara is ideal when the day is hot and long, or when you're about to spend an evening by the pool? As its name suggests, waterproof mascara is both waterproof and perspiration-resistant. But use sparingly to avoid damaging lashes.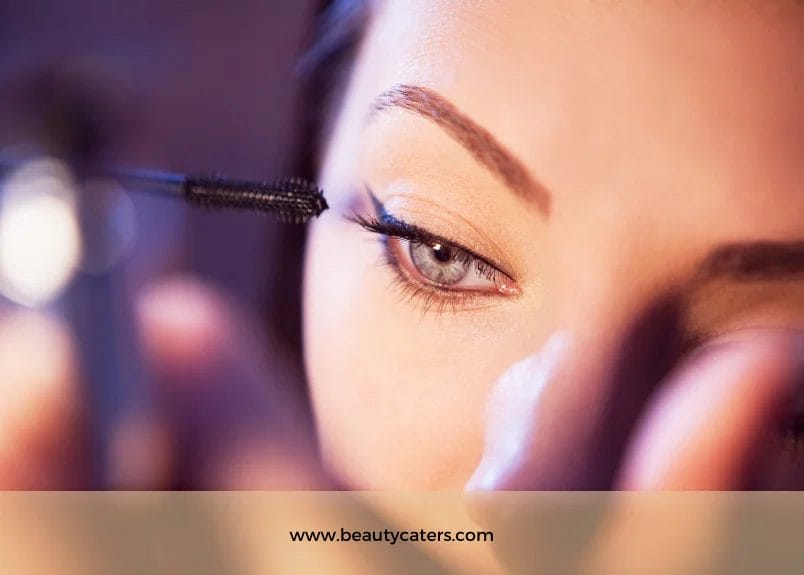 How to apply mascara to get the most out of it?
It's all very well to buy a mascara that promises miracles, but if you don't know how to apply it, the result will always be the same: disappointing. To enjoy a (truly) doe-eyed look, apply your mascara in accordance with the following instructions:
1. Prepare your lashes
Start by cleaning your lashes to prepare a clean, healthy base for the mascara. This will enable the material to adhere better and the mascara to last all day.
For those who prefer, it's perfectly possible to apply a treatment base before mascara, or an eyelash serum. Finish with a lash curler (always do this before applying mascara) to curl the hairs nicely.
2. Apply mascara with the right technique
Apply mascara starting at the base of the lashes and working up in a zigzag pattern to the tips.
This technique helps to separate lashes and avoid clumping. If you're using a volumizing mascara, you can apply a second coat while waiting for the first to dry.
To apply mascara to lower lashes without smudging the skin, use a small brush. Be careful not to apply too much mascara to lower lashes, as this can quickly lead to a panda-eye effect.
Summary: How to choose mascara
To find the perfect mascara, understanding your unique needs and preferences is key. From the wand design to the formula's attributes, your choice should align with the results you desire. Whether it's length, volume, or a natural look, the mascara aisle offers an array of options to cater to your specific goals.
So, armed with this newfound knowledge, confidently select the mascara that complements your individual style. With the right choice in hand, your lashes become your canvas, framing your eyes with elegance and charm.
As you apply that perfect mascara, remember that each swipe is a brushstroke, and your eyelashes are the masterpiece. Enhance your beauty, boost your confidence, and embrace the power of stunning lashes. Happy mascara shopping!