What if you get a luxury expensive perfume, in your budget? Sounds tempting, right? Well, it is possible if you own perfume from the house of Zara.
Zara creates fragrances inspired by expensive luxury fragrances that one can afford. So, have a look at the best Zara perfume for women.
Table of Contents
Editor's Choice
Zara Woman Rose Gold Eau De Parfum
It's enough to say that it's not too strong or overpowering but smells so good, that the day after putting it on your wrist, you continue sniffing your wrist through out the day.
How Zara came into the business of aroma?
Zara, the famous name in the world of fashion and beauty, had its origin in Spain. With its vast collection, it lies in the wish lists of most.
In the year, 1999 this well-known fashion brand revealed its first perfume at an affordable expense. This grabbed and increased people's attention.
They desire to own it. Zara has a collection of classic fragrances and the latest fragrances that suits every woman. Here are some of them.
Top 10 Best Perfumes by Zara
Here are the best Zara perfume for women that are most loved by American women:
Pros
Sweet floral-fruity fragrance.
Available in a roll-on, too.
Has an affordable price.
Apt to wear on throughout the day.
Stylish and artistic packaging.
Cons
Contains no components of tuberose.
Doesn't stay for a long time.
The Tuberose edition by Zara is the women's perfume with a floral-fruity fragrance. It is one of the new collections of Zara available in India. It comes in a very elegant and sophisticated blush pink bottle.
The perfume has a unique refreshing fragrance. It has a subtle citrus twist with the floral incorporation, which refreshes and soothes skin and mind. The pleasance of the fragrance makes it perfect for daily wear.
Notes: Sandalwood, Must, Apple, Lemon, Cedar, Orange, many more.
Popular
Pros
Classy, elegant scent perfect for nighttime.
Smells sophisticated and expensive.
Affordable price range.
Subtle and sweet fruity smell.
Lasts for 3-5 hours.
Cons
Does not last for a longer period of time.
Red Vanilla is one of the best Zara perfumes, designed for both men and women. It belongs to the collection of classics by Zara.
The perfume has a sweet fruity vanilla fragrance that is invigorating and gives a refreshing feel. The best part of the perfume is, it smells sophisticated and expensive. But it is very affordable.
Notes: Iris, vanilla, pear, black currant, praline, Tonka bean, patchouli.
Pros
More feminine than girly.
Sweet refreshing fragrance.
Stays for a good time.
Fits as all-day wear.
Simple but elegant
Affordable price range.
The Zara Black Amber is a warm, oriental fragrance that has a unique and complex scent. Launched in 2016, this Zara perfume for her has a sweet fruity fragrance with a hint of vanilla in it.
The notes the fragrance has, prevent amber and vanilla from getting too sweet. However, its sweet fragrance gives a feeling of freshness, thereby making it suitable for all-day wear.
Notes: Mandarin orange, passion fruit, Tiare flower, musk, and vanilla.
Editor's Choice
Pros
Refreshing and sensual at the same time.
Easy to afford.
long-lasting fragrance.
No stains on clothes.
No skin-irritation.
Cons
Not designed for college-goers and teenagers.
Heavy Fragrance unfit for morning use.
Limited stock.
This Zara perfume is an oriental collection, especially for women. It is not a girly one. The perfume has a lot of plus-points. The first thing to mention is the packaging.
Like the other perfumes of the brand, the Zara Rose Gold perfume too has a classy artistic packaging. It has a refreshing sensual floral fragrance, which is perfect for evening or night use.
The fragrance stays long. And above all, this classy perfume is entirely inexpensive.
Notes: Peony, Gardenia, Musk, Tonka bean, Magnolia leaves, Golden amber.
Party Choice
Pros
Floral as well as soft, powdery fragrance.
Perfect as all-day-wear.
Fits in the budget.
Suitable to females of all age.
Fragrance lasts pretty long.
No skin-irritation.
Classy packaging.
Cons
Some of the buyers said smell doesn't last long.
This Zara collection for women is a warm and oriental Vanilla fragrance. It was launched in 2018, it is similar to Dior Poison's creation.
It is one of the best Zara perfume. It is not totally floral in fragrance but has a warm, soft, powdery fragrance too.
The sweet and soft smell of the perfume makes it apt for all-day wear. And like the other perfumes, this Zara perfume price fits the budget.
Notes: Peony, Sandalwood, Vanilla, Musk, Bergamot, Tonka bean, Patchouli.
Suggested Read : Guide to Best Perfume for Women under 1000
Best Rated
Pros
A refreshing floral fragrance with a citrusy twist.
Vibrant tropical vibes uplift moods.
Available as roll-on also.
Fits as spring and summer daytime wear.
Affordable price.
Pleasing to skin.
Cons
It doesn't last too long.
As you open the bottle a beautiful tropical fruity fragrance is what you will notice followed by the floral fragrance. Thus, this Zara women's perfume has a refreshing vibrant floral fragrance with a citrusy twist.
This floral-fruity aroma resembles Victoria's Secret Bombshell. The tropical vibe in the scent makes it perfect for spring and summer wear.
In fact Zara Orchid fragrance helps to uplift mood, making it perfect as daytime wear. Moreover, this Zara perfume for women is also available as a roll-on which is easy to carry.
Notes: Rose, Black currant, Orchid, Lily of the valley, Cedar, Amber, Peach, Bergamot, Musk.
Zara's Best
Pros
Pleasant floral-fruity fragrance.
Available in roll-on also.
Lasts for at least 7 hours.
Luxury but inexpensive fragrance.
Suitable as all-day wear in spring and summer.
Elegant and chic packaging.
Cons
A 100 ml glass bottle is risky to carry.
Wonder Rose Eau De Toilette is the new collection of Zara, launched in 2019. Wonder Rose is the delicate fragrance of Zara.
It has a feminine and pleasant floral-fruity fragrance that makes it apt for throughout-the-day wear especially in the months of summer and spring.
Wonder Rose has good longevity. Its stays up to 7 hours. It is one of the few available roll-ons of Zara.
Notes: Pear, Rose, Violets, Red berries, Vanilla, Cedar.
Zara Men's Collection
Though the list of Zara collections for women is vast the above-mentioned fragrances are the best of the collection.
But, there is also the best collection of fragrances for men by Zara. Have a look ok at them.
Related : 10 Top Indian Perfume Brands For Men
Pros
Best Zara perfume for man.
A rich warm sweet fragrance
Stays for more than 5 hours.
Classic stylish packaging.
Easy to afford.
Cons
The glass bottle is risky to carry.
This male edition perfume is one of the best Zara perfume for men. Since its launch in 2016, it is considered the best tobacco perfume that is available.
It has a rich warm sweet fragrance of honey and gourmand coconut that blends with cedar sandalwood to give a classy masculine fragrance.
It belongs to the collection of classic perfumes that stays for more than 5 hours.
Notes: Honey, sandalwood, cedar, coconut, tobacco.
Second Choice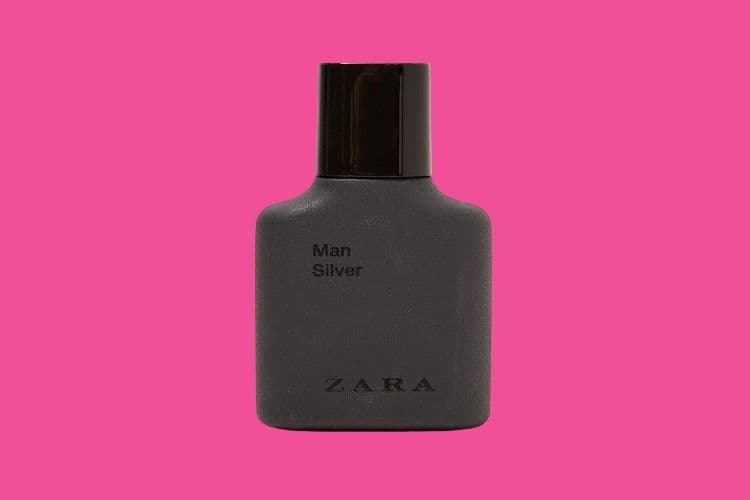 Pros
A sensation of softness, brightness, lightness.
Enhance purity, cheerfulness and romance.
Affordable price range.
Pleasant smell.
Cons
Comes in glass bottles that are risky to carry.
This edition of Zara silver perfume belongs to the men's collection of the brand. The notes in it give a sensation of softness, lightness, and brightness that enhances the essence of pure and cheerful, and romantic feelings.
There are certain factors on which the longevity of the fragrance depends. They are skin's chemistry with seasonal factors like temperature, humidity; perception to one's scent preference.
Notes: lemon, pepper, cedar, sandalwood, neroli, lavender, orange blossom.
Best Rated
Pros
Comes in a stylish chic packaging.
Woody sensuous fragrance.
Perfect as an all-day wear.
Fits in the budget.
Stays for more than 3 hours.
Cons
The glass bottle is risky to carry.
The edition of Zara Gold perfume for men has a woody sensuous fragrance. As the bottle opens fragrance of lemon fills the air followed by fragrances of cinnamon and black cardamom.
Like all Zara perfumes, it too comes in a stylish bottle. Although the perfume is suitable for an all-day-wear, it fits best in the autumn and winter evening.
As far as longevity is concerned it stays for more than 3 hours.
Notes: lemon, cinnamon, praline, black cardamom, patchouli.
Conclusion – Best Zara perfume for women
Zara offers a wide collection of luxury inexpensive fragrances that you can easily rely on. Investment in Zara perfumes will be of worth.
Throughout the world, Zara has earned the name for the range that can be a tough competition to well-known brands.