Zara has a great fan base. While you get fashionable clothing and accessories at a reasonable amount, did you know this affordable retailer has a stellar option for fragrance? Whether you prefer fresh scents or floral or want something warm, Zara perfumes are for all.
At beautycaters.com, our handpicked selection of the best Zara perfume for women helps you find the right notes to create your signature scent.
So, explore the Zara fragrance collection and treat yourself with luxury notes without breaking the bank.
It's an Editorialist promise you will come back for more.
Table of Contents
Best Zara Perfumes for Women
Here are the best Zara perfumes for women that are most loved by American women:
Quantity: 100 ml at
Fragrance family: Fresh, floral aquatic scent.
Topnotes: Bergamot and Lotus.
Heart: Honeysuckle and Vanilla.
Base notes: Jasmine.
Best for: Women of all age groups—from teenagers, office-goers to the sixties and above.
Best as: A daily daytime wear in summer and spring.
Product details: On scorching summer days- the Zara Nude Bouquet EDP feels like a breath of fresh air. Its floral aquatic scent keeps you fresh and energetic throughout the day.
Its spritz opens with bergamot and lotus that greet you with a refreshing aquatic trail. In the middle, dawdles honeysuckle and vanilla notes with a sweet feminine hint. And when it dries down, the jasmine base transports you into its garden. With a decent sillage and projection, it stays for hours.
Pro Tip: Apply on a slightly moist neck and wrist region to appease your senses with a comforting long-lasting fragrance. Always avoid touching the wrists post-application.
Pros
4+ hours stay.
Resembles Miss Dior's-Blooming Bouquet.
Refreshing fragrance.
Summertime daily wear.
Quantity: 100 ml
Fragrance family: Oriental floral scent.
Top Notes: Peach and raspberry.
Heart: Orange blossom and silky white floral.
Base notes: Coffee with the touch of vanilla.
Best for: Women in their twenties to fifties.
Best as: An autumn, winter, and spring evening wear.
Product details: Some fragrances travel you back in time. Zara Gardenia Eau de Parfum's fruity, floral, and coffee notes create an oriental scent that reminds your childhood playtime. While you play in the garden, your grandma watches you enjoying her coffee.
This YSL Black Opium resembling perfume opens with raspberry and peach notes joined by the floral heart of orange blossom and gardenia. When absorbed, the scent of coffee with the touch of vanilla gives it an elegant and sophisticated feel, perfect for autumn, winter, and spring evenings.
Pro tips: Apply on moist skin to soak up a better scent.
Pros
A crowd-pleasing feminine and slightly musky perfume.
Stay for 6+ hours.
Universally appealing.
Noticeable without overwhelming.
Quantity: 30ml
Fragrance family: Warm, powdery, oriental Vanilla fragrance.
Top notes: Bergamot, Peony.
Heart: Sandalwood, Tonka bean.
Base notes: Vanilla, Musk, Patchouli.
Best for: Women of all ages.
Best as: All-day wear in the chilly autumn and winter months.
Product details: Reminiscent of Dior's Poison in fragrance, this is Zara's one of the seductive creations. Think of dinner or movie dates or romantic walks on autumn or winter nights the warm, powdery creamy Oriental Vanilla scent sets the perfect atmosphere.
The fragrance opens with a slightly floral note of feminine peony and citrusy bergamot, which sandalwood and the creamy Tonka bean take over. Once settled, the concoction of vanilla, musk, and patchouli creates a sophisticated, sensual tone. This concoction is neither too sweet nor too floral.
Pro tip: For a long-lasting stay, apply on clothing.
Quantity: 200ml.
Fragrance family: Feminine, sweet fruity scent.
Top notes: Peach and red fruit with a tutti-frutti hint.
Heart: Jasmine.
Base notes: Coconut and vanilla.
Best for: Women of all age groups.
Best as: A daily all-day wear throughout the year.
Zara Wonder Rose Eau De toilette Review: For girls who adore or want to explore fruity scents without breaking the bank on a designer label-Zara Wonder Rose is for them. It is a premium perfume with a sweeter note, but on the mature side, which is layer-friendly. For the extra dimension, you can team up with other fragrances.
Wonder Rose Eau de Toilette opens with a soft, sweet cocktail of peach and red fruit with a tutti-frutti accord, which falls on the floral jasmine in the middle. The note hangs back, giving it a feminine touch. But, on drying down, the coconut and vanilla base takes over. They remind you how pleasing you smell throughout the day.
Pro tip: Apply after moisturizing the skin to adore a relaxing scent.
Pros
Impressive silage and projection.
Stay 6+ hours.
Layer-friendly.
Budget-friendly.
Cons
Some users found it too sweet.
Quantity: 90 ml.
Fragrance family: Fresh, feminine fruity scent.
Top notes: Apple, orange, and grapefruit.
Heart: Rose, peony, jasmine, and violet.
Base notes: Sandalwood and cedar.
Best for: Women of all ages.
Best as: All-day wear summer perfume for all purposes.
Zara Applejuice perfume review: Zara APPLEJUICE is a perfume, sophisticated yet simple. Reminiscent of Chanel's renowned Chance in fragrance, it is your all-wear scent. Use it at work, for casual purposes, or for special occasions. It's decent silage, and projection stays for at least 4+ hours.
APPLEJUICE is a fresh, feminine fragrance for girls who like fruity but not overly sweet scents. The first spritz greets you with an aromatic mist of apple, orange, and grapefruit, which the floral heart takes over. When sunk on the skin, it leaves a subtle crispy and fresh appeal. Hence, it's truly revitalizing on those hot sunny days.
Pro tip: Spray it on the skin right after the shower to boost its staying power.
Pros
Natural, non-tiring smell.
Versatile.
Revitalizing.
Budget-friendly.
Decent longevity.
Cons
The fragrance is gradually noticeable.
Suggested Read : Guide to Best Perfume for Women under 1000
Quantity: 180 ml.
Fragrance family: Fruity floral with a woody appeal.
Top notes: Rose and lily of the valley.
Heart: Apple and Peach.
Base notes: wood, musk, and amber.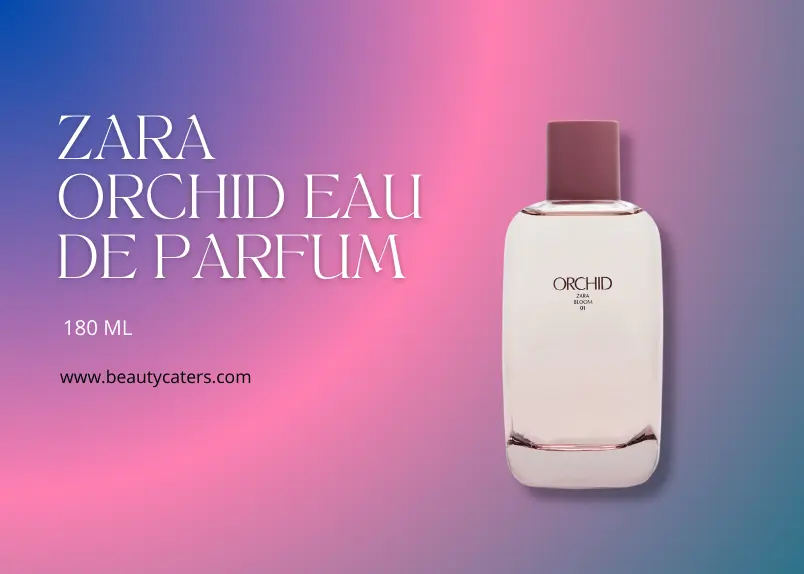 Best for: women of all age groups.
Best as: Daytime wear in spring and summer.
Zara Orchid perfume review: If you like the refreshing fruity floral trail with a hearty note, then Zara's Orchid EDP sits perfectly with your preference. As you spray a beautiful floral fragrance, you notice it falls on the fruity heart. On settling on the skin, the floral notes fade, leaving the musky, creamy woody world to enter.
A resemblance to Victoria's Secret Bombshell: it is a perfume to start walking into a feminine woody world, with flowers to welcome you. This perfume is lighter and fresh and great for layering with other fragrances.
Pro tip: Spray it on the neck and wrist after the shower for a long-lasting effect.
Pros
Vibrant tropical vibes uplift moods.
Light and youthful.
Pleasing to skin.
Decent stay power.
Cons
Not the most distinctive scent.
Quality: 30 ml at $ 22.99.
Fragrance family: Fresh fruity floral powdery scent.
Top notes: Grapefruit, blackcurrant, lemon, and orange.
Heart: Apple, cedar, and gardenia.
Base notes: Sandalwood, vanilla, and musk.
Best for: Women of all ages.
Best as: Day-to-night time wear in the summer months.
Zara Tuberose perfume review: Zara Tuberose is a classic fragrance that takes you back to a bright day in a garden. It is a fresh floral scent with a subtle citrusy twist and not overly sweet that is so soothing. In the hot summer days, you may have the feel of a cloudy, windy spring day.
Subtle citrusy notes greet you with the first spritz, which sets at the back, making room for the floral blend and lingering on the skin. However, the base is the most loving part. The concoction of vanilla and woody notes perfectly fit it between sweetness and musk, giving the feminine powdery feel.
Pro tip: Apply on the clothing for an all-day fragrance.
Pros
Linger on the clothes all day.
Fit in the handbag.
Very feminine.
Reasonable.
Cons
No tuberose notes.
Fade fast from the skin.
Quantity: 30 ml.
Fragrance family: warm, fruity- floral scent.
Top notes: Pear, raspberry, blackcurrant, and tangerine.
Heart: Iris, Praline, and vanilla.
Base notes: Tonka bean and patchouli.
Best for: Men and women of all ages.
Best as: Regular day and night wear in cold autumn and winter months.
Red Vanilla Zara perfume review: A firm favorite since 2015, the warm features of Red Vanilla EDT lessens all your winter worries. Recreation of Lancome's La Vie Est Belle, RED VANILLA is a classic crowd-pleasing fragrance that brings compliments galore. You will be in people's thoughts even after leaving the room.
Designed for men and women, Red Vanilla EDT opens with a fruity cocktail followed by a floral mélange with warm sweet vanilla. Once absorbed, the invigorating patchouli with creamy Tonka beans takes over, adding sophistication to the scent.
Pro tip: Apply on moisturized skin for a better stay. For a better effect on the neck and wrists.
Pros
Unisex.
Smell sophisticated and expensive.
Highly appealing.
Reasonable price.
Fit all events and occasions.
Quantity: 90 ml.
Fragrance family: feminine fruity floral scent.
Top notes: Pear and blackcurrant.
Heart: Peony, Gardenia, Rose, Iris.
Base notes: Tonka bean, black vanilla, Praline, and wood.
Best for: Teenagers and young ladies.
Best as: Spring-summer daytime, casual, festive wear.
Product details: If the decadent floral is your taste, this Zara 2022 release sits perfectly on your list. This girly fruity floral scent with a sweetened tone and indulgence of playfulness makes every summer day vibrant and lively. You stay active and pleased for smelling so good all day.
Reminiscent of Lancôme's Idôle, the fragrance opens with the aromatic mist of semi-sweet blackcurrant and succulent pear hugged by the floral heart. It gives the perfume a touch of playfulness. When settled, the vanilla and praline base imparts a sweetened tone. With decent silage and projection, it walks a good way.
Pro tip: Spray on your neck and wrists.
Pros
Can overspray.
Pleasing to skin.
Not overly sweet.
Price in budget.
Quantity: 30ml.
Fragrance family: Elegant, earthy note.
Top notes: Saffron, coriander spices, and bitter orange
Middle notes: Jasmine, praline.
Base notes: Moss, woody and amber.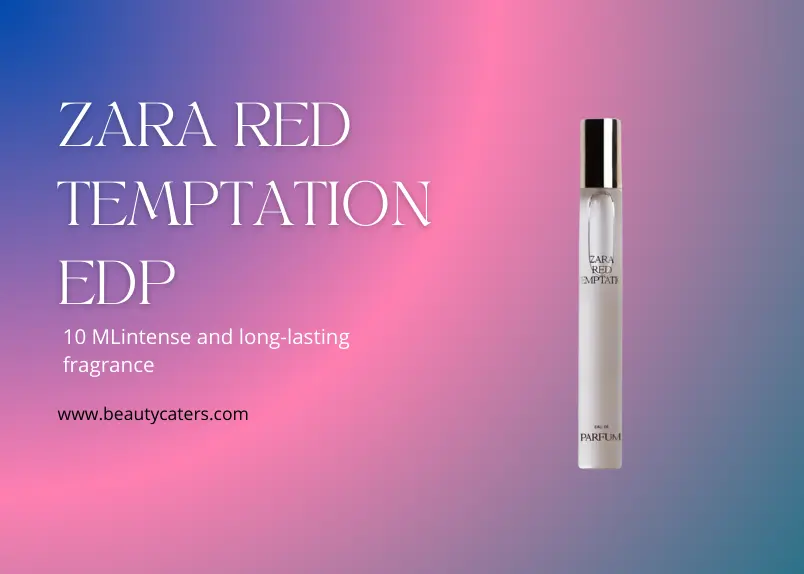 Best for: Women of all ages.
Best as: Autumn, winter, and spring day-to-night wear.
Zara Red Temptation perfume review: Elegantly bottled, Red Temptation EDP is a perfectly spiced fragrance that befits any occasion. A recreation of the Maison Francis Kurkdijan's timeless Baccarat Rouge 540, it is a perfume that grows on you and draws compliments. But it is not something to fall in love with at first smell. This distinctive feature owes to the notes.
The spritz opens with a spiced citrusy note that may take you to the citrusy bountiful plains of Italy. However, this spiciness is softened by the sweet floral blend. Once absorbed, you get the clean earthy appeal of moss and a woody amber undertone.
Pro tip: Use it on unscented moisturizer to lock the fragrance.
Pros
Distinctive scent.
Popular Zara line.
5+ hour longevity.
Related : 10 Top Indian Perfume Brands For Men
How Zara came into the business of fragrance? A sneak peek:
Zara, the renowned fashion and beauty brand, originated in Spain in 1975. Amancio Ortega and Rosalía Mera are the founders.
Zara produces and sells over 450 million items annually, which include accessories, home furnishing, shoes, swimwear, perfumes, and beauty.
In 1998, with the esteemed Spanish perfume brand Puig, Zara launched the first perfume.
Zara perfumes are recreations of luxury fragrances, available at an affordable price.
Zara has a collection of fragrances for all—women, men, and kids (Disney and Hello Kitty fragrances).
Final Words: Best Zara perfume for women
Zara perfume fans are aware of the range and quality they offer. But, if you are new to the brand, I suggest trying out these best perfumes for women by Zara. Compared to designer brands, they offer high-end recreations at affordable prices. Without breaking the bank, you can endorse a designer spritz.
Well, Men don't get disappointed. Zara also has fragrances for you. At Zara Perfumes for men, I enlisted the best.
FAQs: Best Zara perfumes for women
Are Zara perfumes worth the price?
Zara perfumes are affordable fragrances inspired by luxury brands. These high-end perfumes come in premium packaging, which are available at affordable price. Hence, they are undeniably worth buying.
What can I anticipate from Zara fragrances?
You can expect high-end fragrances within your budget from Zara. Their quality can rival luxury brands because of collaboration with experienced perfumers.
Which Zara perfumes are long-lasting?
Zara GARDENIA Eau de Parfum walks a long way, 6+ hours.
Which Zara perfume for women smells like Dior?
Zara Rose EDP resembles the Dior J'Adore fragrance. The warm floral blackcurrant and peony note resemble J'Adore's fruity florals having Damascus rose, ylang-ylang, Grasse jasmine, and Indian jasmine. They exude a sensualizing warm scent.
Which Zara perfume for women smells like Chanel?
Zara Apple Juice resembles Chanel Chance EAU Tendre. The delicate, light, and fruity fragrance of Chanel Chance has its high-end counterpart in Zara's APPLEJUICE. The intertwining grapefruit, jasmine, and musk notes create a tender and romantic aura.
Which Zara perfume has a sweet smell?
Fabulous Sweet by Zara is a Fruity Floral Gourmand perfume designed for women. It is a new fragrance launched in 2022. The top notes are Mandarin Orange, Pear, and Pink Pepper; the middle notes are Ylang-Ylang, Tuberose, and Coconut Water; the base notes are Vanilla, Patchouli, and Tonka Bean.
What is the best seductive Zara perfume?
Zara GARDENIA Eau de Parfum is for date night. Orange blossom, coffee, and vanilla create an enigmatic and seductive scent. Its mature sweetness, sensual warmth, and playfulness make it a first choice for a date night.