Permanent wavy hair has become a trend. Celebs to non-celebs, everyone is seen flaunting the style. And it looks gorgeous But, the fact is, these curls are vulnerable. They need special care.
You heard about shampoos and conditioners for permed hair, right? I must tell you they are the easiest and most effective way of maintaining the perms- no matter whatever types they are. They come in a wide variety. That's why I have covered the best shampoo and conditioner for permed hair to ease out your selection process.
Check the best wooden hair brush here.
Editor's Choice
Moroccan Argan Oil Shampoo and Conditioner
Sulfate free shampoo and conditioner for curly hair.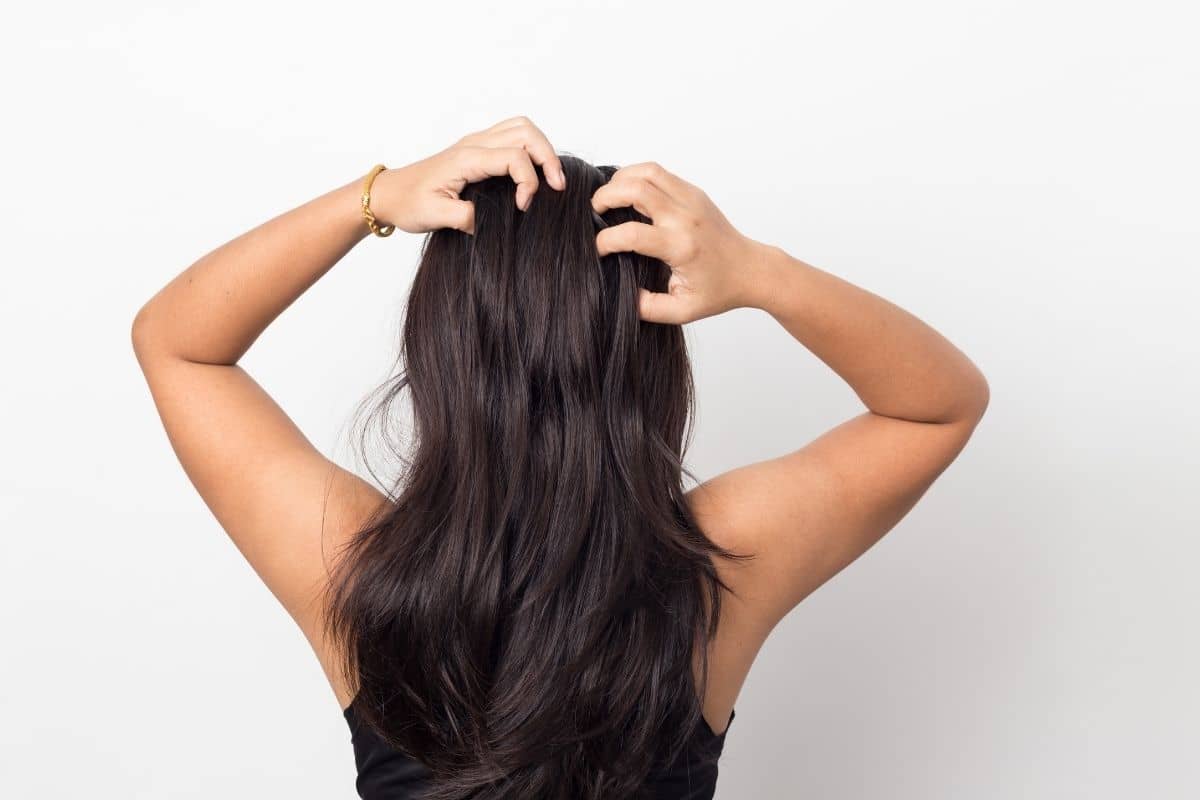 Best shampoos and conditioners for permed hair
Here are the 12 best shampoos and conditioners for permed here:
Editor's Choice
Pros
Safe on color, chemical, keratin-treated hair.
Suit curls, wavy, straight, and fine hair.
Free from paraben, sulfate, gluten, phthalates, Sodium Chloride, and all kind of cruelty.
Recommended by professional hairstylists.
Cons
Quantity is a little less for the price range.
This shampoo conditioner duo has the formulation of botanical ingredients with Moroccan argan oil and Vitamin E. Together they make hair soft, lustrous, and manageable. Its deep penetration formula enters the hair cuticle to give it strength, thickness, and youth.
Hair washes with this sulfate-free and paraben-free range not only clean hair but cures the split ends and protects hair from UV rays. On that note, it has UV and thermal protectants. The pair also maintains the hair's pH balance. It is a must-have quality for a good shampoo for permed hair.
Top Pick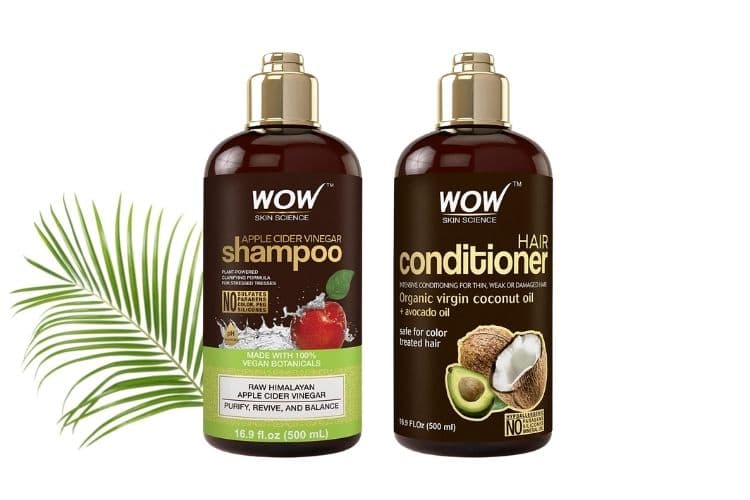 Pros
Repair color, chemical, heated-treated hair.
Remove residue of styling and treatment.
100% vegan formulation.
Free from sulfate, paraben, silicone, and mineral oil.
Cruelty–free.
Cons
Price may exceed the budget.
The cap needs improvement.
WOW Skin Science has brought a shampoo conditioner combo that will make you say wow to your curls. Formulated with raw apple cider vinegar, coconut oil, avocado, and aloe vera extracts: the combo is a cleanser and detoxifier. The Himalayan raw apple cider vinegar is the detoxifier. It also removes dead cells, sebum and restores the skin's natural pH.
The shampoo does not let your perms lose elasticity and strength. The deep conditioner prevents frizz and breakage. Who is responsible for the purpose? Coconut oil, avocado, and aloe vera. Besides all the nourishment, you also get a soothing scalp. That's a bonus indeed.
Do you often color your hair? Check hair colors that don't fade easily.
Hair care and styling is not possible without a good hair brush, but do you know how to clean a hair brush properly?
Curl Nourish
Pros
Air dry leave-in cream conditioner.
Sulfate and paraben-free.
Cruelty-free.
Budget-friendly.
Cons
Excessive leave-in conditioner may feel greasy.
Till now I have suggested about good shampoo and conditioner for permed hair. But now you will know about a permed hair-friendly shampoo and conditioners. What is the game? Garnier Fructis has brought its curl nourish system that includes a shampoo, a conditioner, and a leave-in cream conditioner for permed hair. Got the game? Now, get to know about the products.
Garnier Fructis curl nourishes system assures a 48-hour frizz-free defined curls with up to 3 days moisture retention even in weather with 97% humidity. What an assurance!
The shampoo and the conditioner (the usual one) have coconut oil and glycerin as the main ingredients. They do the cleaning and nourishing deeply. And the leave-in conditioner with coconut oil, jojoba oil, and macadamia oil boost the curl definition formula.
Best Overall
Pros
Curl definition + colour protection formula.
Soft, manageable, frizz-free curls.
Free from sulfate, paraben, harsh salts, and gluten.
48 hours curl definition.
Suit sensitive scalp.
Cons
Conditioner may leave the hair oily.
The name itself says what it specializes in. L'Oreal Paris Ever Curl combo has the gentle formula of coconut oil with other vegan ingredients that provide intensive care to the curls, even if it is color-treated. It quenches the thirst for nourishment and hydration. The curls get a shiny, bouncy texture.
But do you know what makes it the best shampoo and conditioner for permed hair? It is the long-lasting curl definition formula. With the use of the product, curls stay hydrated and defined for up to 48 hours. I repeat up to 48 hours. That's awesome! Moreover, the formulation makes it perfect for everyday use.
Use beer to wash your hair for clean scalp and healthy hair.
Best Revitalizing
Pros
A UV protector and free radical neutralizer.
Suit chemically-treated and color-treated hair.
Cruelty-free, paraben-free, and Sulphate-free.
Great on perms and curls.
Small amount is sufficient.
Argan oil has been a popular ingredient in the hair care and skincare industry. The prime reason is its hydrating and elasticity retention properties. That's why many shampoos and conditioners brands have chosen it as the core ingredient. Take Bingo Hair Care as an example. Its argan oil shampoo and conditioner work well on permed hair.
The set has Moroccan argan oil with jojoba oil, keratin, chamomile essence, and aloe extracts. Moroccan argan oil is the best in terms of purity and quality. Together they facilitate the revitalization process in every step. They are cleansing, hydration, reduction of frizz, and elasticity increment. Hair gets its strength, volume, thickness, and shine back.
Best Vegan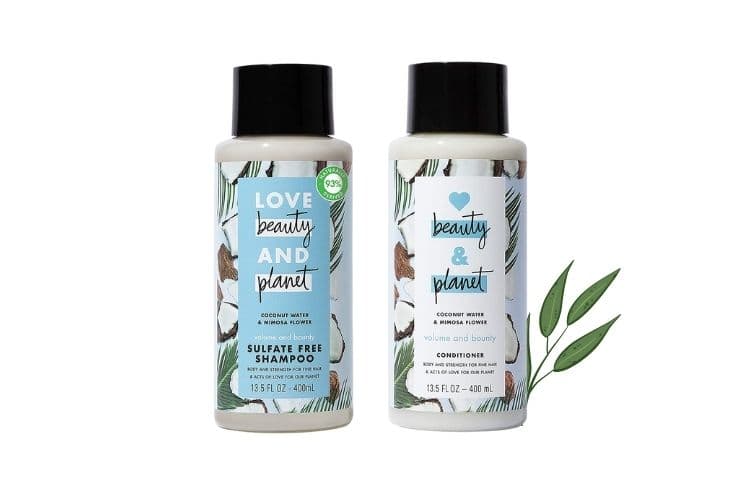 Pros
100% natural composition for all hair types.
Absence of dyes, sulfate, gluten, phthalates, silicone, and paraben.
PETA-certified cruelty-free.
100% recycled packaging.
Perfect for color or chemically-treated tresses.
How great will it be if your curls get the double benefit of coconut? If you ask me: it is an incredible idea. Love beauty and planet has developed their volume and bounty shampoo and conditioner with the idea. It has two types of coconut extract with mimosa flowers- coconut water and natural coconut oil.
Coconut oil moisturizes the scalp and seals moisture resulting in a soft texture. Coconut water works as an energizer. It boosts up the strands and makes them lively, and bouncy.
But, what does the mimosa flower do? The delicate flower adds its sweet, pleasing fragrance to the shampoo and conditioner. And you get revitalized, rejuvenated, fragrant bouncy curls.
Best Restoring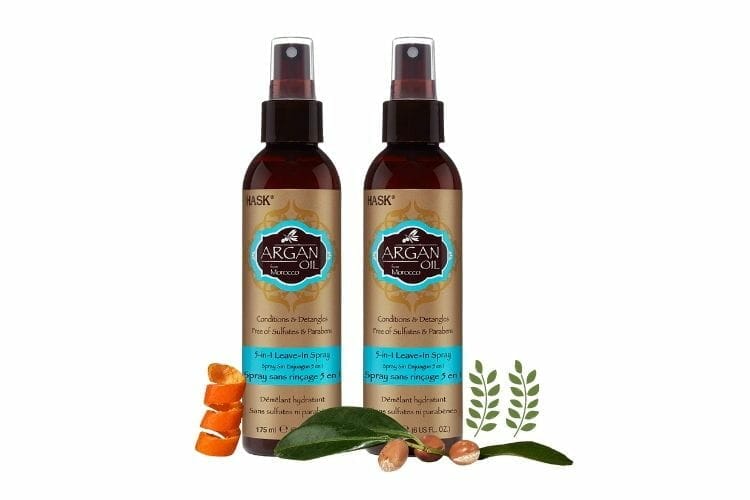 Pros
Repair spilt ends.
Colour and chemical safe.
Work on all hair types.
Sulfate, paraben, phthalates, and cruelty-free.
Cons
Excess quantity may leave a build-up upon the hair.
What if you get the no. 1 brand of Hollywood for your perms? Yes, dear Hollywood's famous hair care brand HASK is here to take care of your perms. Let me tell you, by popular choice, it is the best shampoo conditioner combo for permed curly hair.
The shampoo and the conditioner have Moroccan argan oil, the best in the world. Each of the two is enriched in Vitamin E, phytosterols, essential fatty acids, and antioxidants that conduct the cleansing, repairing, and restoration process in full swing. It means curls become soft, frizz-free, and bouncy. That's what you want right?
Best Hydrating
Pros
Certified organic composition.
Sulphate-free and color-safe.
Free from paraben, gluten, paraffin, and phthalates.
No petroleum, mineral oil, propylene, or formaldehyde.
Affordable price range.
Cons
Not for fine curly hair.
Hair may become slightly oily.
Bounce-retention ability is a must for the best shampoo and conditioner for permed hair. After all, perms without bounce lose their beauty. Isn't it? But, with Shea Moisture Curl and Shine shampoo and conditioner, you do not have to compromise with the bounce. Let's know more about it.
With coconut, hibiscus, silk protein, and neem, the 110-year-old brand created a nourishing combo that moisturizes and softens hair besides restoring shine and bounce. Coconut oil hydrates and reduces breakage.
Silk protein smoothens tresses. Neem oil control frizz and add shine. And hibiscus extracts controls sebum, and prevent external damage. But, it does the most significant task, elasticity retention, which gives the perm bounce.
Anti-Breakage
Pros
Nourished, soft curls with no spilt ends.
No chemicals, mineral oil, and artificial color.
Cruelty-free.
Suit color and chemical-treated hair.
Cons
Costly.
Packaging can be more user-friendly.
Give your curls the benefits of five times nourishment through a shampoo-conditioner pair designed for permed hair. Present to you Tgin moisturizing shampoo and conditioner, one of the best for curls and perms, filled with the benefits of 5 reputed moisturizers.
The shampoo for permed hair has amla oil and coconut oil. You know how good coconut oil is to perms. Now, know the goodness of amla oil.
Rich in antioxidants: amla oil hydrates and makes hair strong to face breakage. The conditioner for permed hair, on the other hand, has argan oil, Shea butter, and jojoba oil which locks the moisture and keeps hair soft and shiny.
Frizz Free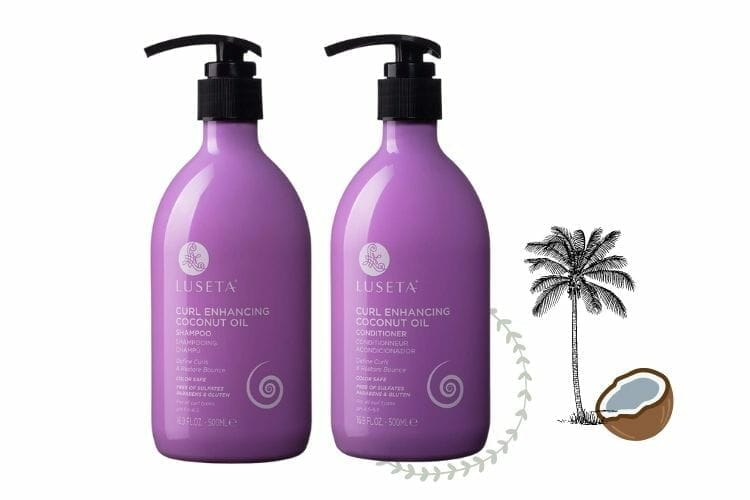 Pros
Restore volume, cut weight, cure damage.
Minimizes frizz and tangles.
Free from sulfate, gluten, and paraben.
Free from animal testing.
Cons
It is expensive.
Have a strong floral smell.
Got to build upon your curls or want more bounce? Luseta Curl enhancing coconut oil collection will help you in any way. It has coconut oil and rosemary leaf oil, whose gentle formula is a good cleanser and nourishing agent. Do one thing, know about the combo in detail.
Coconut oil is a proven moisturizer, and its presence makes the shampoo and conditioner a good moisturizer. The oil penetrates the scalp and provides strength and shine to permed strands. It also makes them soft, manageable, frizz-free. Rosemary leaf is a stimulator. It ensures hair growth; prevents premature greying and flakiness. The result is thick, full, defined hair.
Best Rated
Pros
Revitalizes and define curls.
Safe on color and chemically-treated hair.
Professional salon-quality curls.
Affordable price.
Cons
Not a sulfate-free product.
TRESemmé has always brought an impressive collection of hair care products. And now, the line includes the Flawless Curls Hydrate shampoo and conditioner. But, the question is, how good is the shampoo and conditioner for permed or curly hair? It is one of the best formulas for softening, nourishing, and defining curls.
The shampoo and conditioner have coconut oil with infused Vitamin B1 that aims at the driest region and showers nourishment. Coconut oil hydrates hair. Vitamin B1 gently removes tangles and frizz, leaving the hair ready to be styled. Together they constitute a hair repair formula that ensures your curls salon-quality treatment.
Pros
A sulfate-free shampoo and conditioner.
Remove build-up and tame frizz.
Have a pleasing fragrance.
Price in range.
Cons
The oval-shaped bottle is inconvenient to hold.
Quantity needs increment.
We know how coconut oil has been the factor behind the healthy hair of our grandmother and mother. And the same coconut oil is also a superhit formula behind curl definition and care. Look, many shampoo and conditioners are made from coconut oil. Organix Quenching Plus curl shampoo and conditioner has the same ingredient.
The shampoo and conditioner have a mixture of coconut oil, honey, and citrus oil.
The mixture fills the curls with nourishment. While the shampoo cleanses the scalp, makes curls hydrated and strong; the conditioner for permed hair softens the tresses and removes frizz. Their joint venture adds volume, shine, thickness to the curls.
Why do you need a shampoo and conditioner for permed hair?
The popular perm or 'permanent wave' involves chemical treatment where locks are reformed into curls or waves by breaking the original hair structure. The treatment makes the hair prone to frizz, breakage, and loss of luster. Specialized shampoos and conditioner controls the vulnerability and retain the beauty.
How to choose a good shampoo and conditioner for permed hair?
3 things make shampoo and a conditioner best for permed hair– the presence of glycerine, natural composition, and absence of chemicals. How do they help? Let's know that.
Presence of glycerine: As a humectant, glycerine locks the moisture in the cuticle. This makes the hair soft, shiny, and frizz-free. These qualities are a must-have for perms. Hence, it is an essential ingredient for the shampoos and conditioners for permed curls.
Natural composition: Natural ingredients like plant-based oil, fruit, flower and herbs extracts, and aloe vera enhance the quality of the shampoo and conditioner for permed hair. Check if your product is rich in ingredients. Besides, moisture perm needs antioxidants and anti-inflammatory agents, also.
Absence of harmful chemicals: Harmful chemicals have been a threat to skin and hair. Most shampoos and conditioners have sulfate and paraben that act as cleaning agents and preservatives, respectively. The fact is, the agents wash off the moisture and nutrients also. So, always choose the shampoo and conditioner without sulfate or paraben.
FAQs about the best shampoo and conditioner for permed hair
Which shampoo is good for permed hair?
Shampoos without sulfate, paraben and other chemicals are best for your perms. The best one is L'Oreal Paris Ever Curl shampoo and conditioner.
Is a conditioner dangerous for perms?
Many think a conditioner ruins perms. It is a myth. Conditioners for permed hair restores moisture, makes hair soft and lustrous, and keeps the curls long-lasting.
How soon after a perm can you wash your hair?
Leave your curls for 48 hours after getting your perms. Tuck them tightly under a shower cap or bonnet while taking a shower. This precaution is a must because immediate exposure to water deactivates the treatment leaving the hair frizzy without the desired curls.
How often should you shampoo the permed hair?
Wash the perms once a week. More washes impact the setting of the curls, resulting in a short-lived treatment. Make sure to use a clarifying shampoo once a month to clean the build-up. Use a wide-tooth brush for the curls but never brush them when wet.
Final words: Best shampoo and conditioner for permed hair
Get your perms dear: or if you have already got them, flaunt them. These shampoos and conditioners are designed to be the caretaker. Trust me; they are some of the worthy assistants. All you need to do is, pick the one you find best for your perms and budget.
And yes, forget not to share your views and queries. I'll be meeting you at another segment soon. Till then, bye!