Beautiful skin is not a miracle. It is the outcome of effort and investment. Many times you have heard the phrase. But, guess what! Now the concept has a short, sweet, productive synonym- vitamin C serum. "Will tell you a secret?" The serum is the source of the flawless, ageless skin of celebrities.
Right now, Vitamin C serum is at the topmost level of popularity. You will find every reputed skincare and cosmetic brand endorsing its line. And this expands the confusion. But, do not worry. In 10 minutes, I will resolve all the queries and confusion. Read about the best Vitamin C serum in India.
Oh! Yes, it is also about 'a Vitamin C serum' for the face. Do not forget to check the best face pack for fairness.
What is Vitamin C serum?
Vitamin C serum is no less than a magic potion. It does what a Vitamin C capsule does but at a faster rate. And the benefits of Vitamin C; well, we all know about it. The serum is a nourishing and healing agent. The antioxidants and other properties work on quality enhancement; skin inflammation relief; giving skin its firm and even texture.
Who needs to use the serum?
Vitamin C serum boosts collagen formation and increases elasticity. It means it is a must-have for all who deal with dry, dehydrated, and sensitive skin, have skin issues, or simply want to pamper the skin.
14 Best Vitamin C serum available in India
Here are the 14 best vitamin C serum in India for flawless skin:
1. Garnier Bright Complete Vitamin C Serum
Garnier Light has used one of the most concentrated skin lightening and spot reduction formulas in its Vitamin C serum. It is a booster serum with a power of 30 times more Vitamin C. Mark! In 3 days, it gives an instant glow with spot reduction. It is an acclamation based on a clinical study.
This one of the best face serums in India contains the Japanese Yuzu lemon extracts with Vitamin C that rejuvenates skin and reverses the aging process. Its lightweight formula initiates intense penetration in the skin from where the working process begins. You get healthy, spotless, revived skin to flaunt.
Instant 3-day result.
Boost the formation of collagen.
Suit all types of skin, from dry to sensitive.
Cruelty-free, greener science formula.
Price in range.
The bottle is not an opaque, dark one.
Contain dry alcohol.
2. WOW Skin Science Vitamin C Face Serum
Retain the radiant, youthful look of yours with the Vitamin C serum by WOW Skin Science. Being one of the best Vitamin C serums for oily skin in India it gives a complete skin treatment. It is also a free radical neutralizer, which prevents premature aging.
The serum has natural Vitamin C, hyaluronic acid, and witch hazel, which penetrates fast to start rejuvenation. It boosts collagen production, moisturizes skin, minimizes spots and marks, and forms a shield against harmful elements. You see the difference; lively, radiant, young skin.
100% vegan and gluten-free formula.
Improve quality and complexion.
Suit all skin types.
Free from silicone, paraben, mineral oil.
Cruelty-free product.
Slightly higher in price.
Not for dry skin.
3. Mama earth Skin Illuminate Face Serum
And now comes one of the highly recommended Vitamin C in India; Mamaearth Skin Illuminate face serum. So, what makes it the best Vitamin C face serum in India? It is the composition, performance, and appreciation. These three factors place every face serum in this list.
The lightweight serum has 3 star ingredients-turmeric, Vitamin C, and squalene. While turmeric enhances the natural radiance and reverses aging, the second reduces fine lines and firms up the skin. Squalene is a detoxifier and moisturizer which boosts collagen production. The serum also contains Nymphaea Alba flower extract, the source of refreshing, glowing skin.
Get rid of blemishes, spots, dry, dull skin.
Suit all types of skin.
Dermatologically tested.
Certified cruelty-free by Peta.
No traces of paraben, silicone, SLS/SLES, sulfates.
4. L'Oréal Paris Revitalift Hyaluronic Acid Serum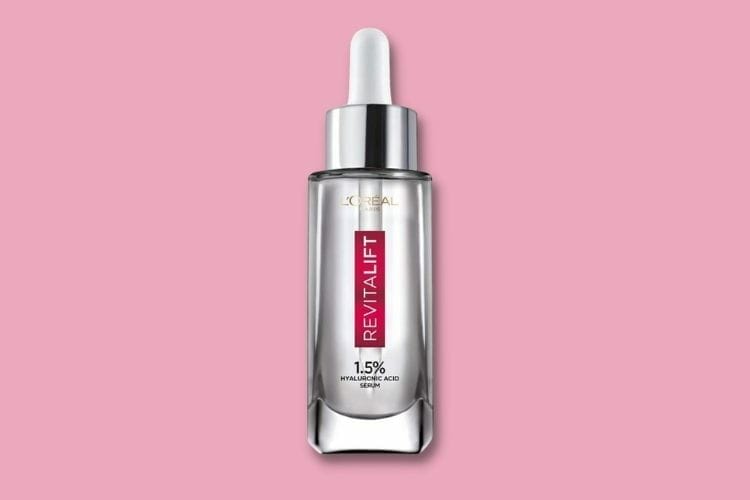 Hyaluronic acid is a naturally occurring molecule in the dermis responsible for glowing, hydrated, youthful skin. As we cross the age of 20, the acid level starts to fall, resulting in dry, dull skin. L'Oréal Paris Revitalift face serum replenishes the acid deficiency. So, regardless of your age, the skin stays radiant, hydrated, and ageless.
Revitalift face serum has 1.5% hyaluronic acid as the core ingredient. It retains moisture and gives skin an instant radiance improved up to 42%. The serum adheres so well that you feel refreshed and glowing.
Remove patches, dark spots, acne marks.
Visible radiance up to 42%.
Tested safe on all skin; combination and sensitive skin too.
Free from fragrance, alcohol, synthetic dye, paraben.
Neither clog pores nor feel sticky.
5. Minimalist Vitamin C serum
Looking for your first vitamin C serum? Minimalist is the best option. The serum has a 10% vitamin C concentration, perfect for beginners. It has a stable-Vitamin C derivative Ethyl Ascorbic acid and Centella water that keep it effective till the last drop. On that note, ethyl ascorbic acid has the closest molecular size and weight to pure Vitamin C.
Being a product of CosMol Korea, a leading supplier, the serum gives complete skin treatment. Centella Water soothes and calms skin. Vitamin C formula cuts down melanin production, removes tan, dullness and protects from environmental and sun damage. It also contains 1% acetyl glycoamine, the moisturizer, and exfoliator. Isn't it one of the best face serums?
Perfect for beginners.
Have a pH of 3.9-4.9.
Treat acne, pigmentation, spots.
Absence of paraben, silicone, fragrance, sulfate, dye, and mineral oil.
Non-comedogenic and hypoallergic.
Suit all types of skin.
A mild serum.
High in price.
6. St. Botanica Professional Face Serum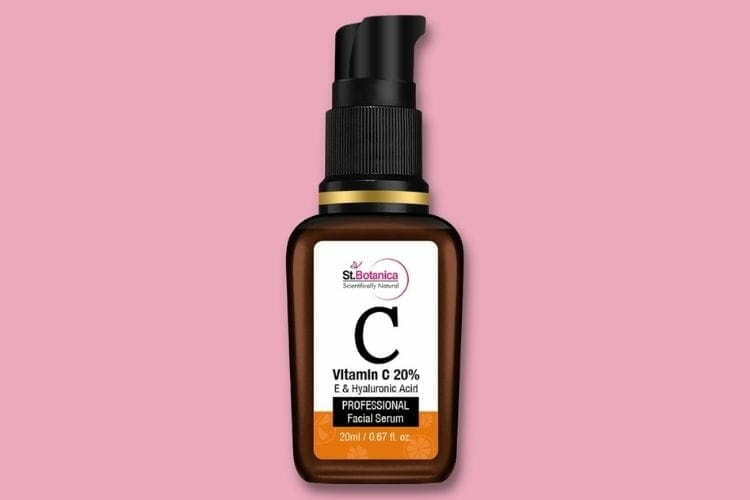 It has been six decades since St. Botanica has been nurturing the skin. And now, it has another addition; Vitamin C face serum. How is this serum different from others? It has a high amount of pure and natural vitamin C derivative, 3-O-Ethyl Ascorbic acid which acts fast in brightening skin and reducing spots.
Only Vitamin C does not contribute to the performance of the serum. The formulation includes hyaluronic acid, Vitamin E, and natural ingredients- aloe vera and clary sage extracts. They together hydrate, smoothen skin, control sebum production and soothe it.
20% Vitamin C.
Have restorative property.
Suit all skin types.
PETA-certified cruelty-free product.
Absence of silicone, paraben, mineral oil.
Proper packaging in a dark glass bottle.
It is expensive.
Generate visible results but not instantly.
7. Charmis Deep Radiance Vitamin C Serum
The Charmis deep radiance serum has 15 layers deep penetration formula. Crafted with three powerful ingredients- Vitamin C, hyaluronic acid, and salicylic acid, the serum bring the flawless glow you always desire. But, how does everything happen?
Vitamin C releases the antioxidant that cleans the skin, enhances radiance, and reduces wrinkles and fine lines. Hyaluronic acid softens the skin with much-needed hydration. Salicylic acid conducts the exfoliation and reduces spots, acne marks, and other marks.
Non-sticky, lightweight, quick-absorbing formula.
Dermatologically tested.
Free from petroleum and mineral oil.
Good for normal and oily skin.
Budget-friendly price.
The pump-dispenser requires pressure.
Not for dry or sensitive skin.
8. The Body Avenue Vitamin C serum
The skin-nourishing formula of Body Avenue facial serum proudly places it in the list of the best vitamin C serum for the face available in India. The serum is enriched in vitamins and natural ingredients. It has Vitamin C, Vitamin E, hyaluronic acid, basil extracts, mandarin oil, ginger oil, witch hazel extracts, and allantoin, which team up for complete skin treatment.
With the help of the serum, you get brightened tone, free of acne marks, blemish spots, dark circles, and other spots. Religious application reverses the aging process and removes fine lines and wrinkles. It forms a barrier against UVA and UVB rays. What you get is clean, firm, supple, smooth skin, totally hydrated.
Control melanin overproduction.
Lightweight, quick-absorbing formula.
Paraben-free.
Come in a dark, opaque bottle.
Suit all skin types.
Have mild fragrance.
Expensive.
9. Plum Vitamin C Face Serum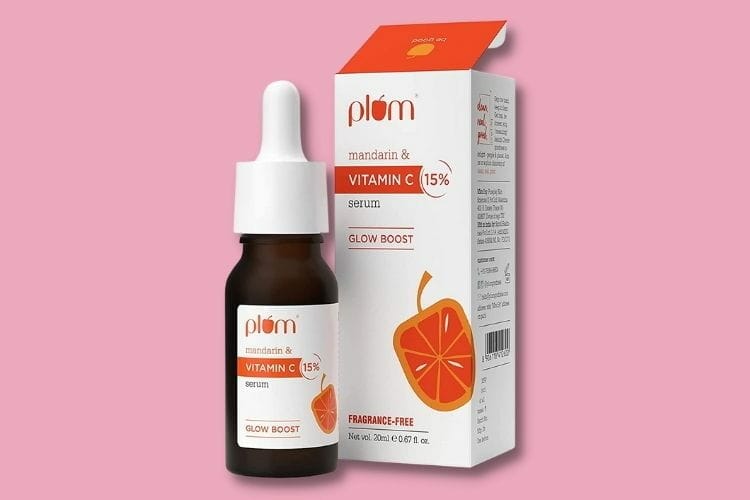 The "plum preview" says, 83% of the users saw a glow in 2 weeks and 30% in the same span." What is the reason behind such a result? A prudent concoction of nature and science- 15% ethyl ascorbic acid, a quick-absorbing stable vitamin C blended with Japanese Mandarin, Kakadu plum, and rose extracts.
The quick-absorbing, lightweight concoction boosts collagen production, enhances skin elasticity, and prevents every environmental damage and effect of UVA and UVB rays. It also has ethyldioxyglycol or propanediol and betaine that facilitate deep penetration and hydration.
100% vegan formula.
Have no paraben, SLS, mineral oil, fragrance.
FDA approved.
Work great on acne-prone and oily skin.
For all skin types.
10. Lakme 9 to 5 Vitamin C+ Serum
When the concept of vitamin C serum is creating a craze, can the famous reputed brands stay away? Well, Lakme did not stay away. It has brought its first-ever vitamin C face serum, loaded with 100 times more vitamin C; a formulation enough to put it in the list of the best vitamin C serum.
The serum has Kakadu plum in the formulation, which has a hundred times more vitamin C than oranges. The skin gets protection from damage, experiences reverse aging and has more collagen production. You see a visible reduction in dullness and an enhancement in radiance.
Lightweight, non-greasy formula.
Come in a dark glass bottle and easy-to-carry SSS-friendly bag.
No skin irritation.
Price in range.
Work slowly but steadily.
11. Good Vibes Vitamin C and Vitamin E Serum
Most Vitamin C face serum has natural or scientific elements infused in them. Good vibes are among the few brands with two vitamins in the formulation; vitamin C and vitamin E. This combination is a super-hit age-defying formula.
Antioxidants rich, Vitamin C revitalizes the skin and makes it glowing. Vitamin E is a healer and a shield to stubborn scars and harmful UV rays and impurities, respectively. It has infused lemon, orange, Burberry, and rosemary extracts which lightens the tone, hydrates skin, and controls aging and acne.
Smooth, plumpy radiant skin.
Paraben and sulfate-free.
Cruelty-free.
Affordable.
Greasy consistency.
Not for oily skin.
12. Biotique Vitamin C Dark Spot Solution
If you are looking for a completely natural Vitamin C serum, Biotique is one of the best choices. The Vitamin C serum comes with a 100% natural, botanical composition. It has a certified organic vitamin C complex with the infusion of essential oils.
Biotique dark spot solution ensures luminous young skin. The anti-aging properties work for wrinkles, fine lines minimization. It has antioxidants that increase elasticity and brighten the tone. The overall result is, refreshed, smooth, soft supple skin with dewy radiance.
The lightweight formula absorbs quickly.
Vegan composition.
Cruelty-free.
Pump bottle packaging.
Price in budget.
Work slow.
Vitamin C concentration is unmentioned.
13. Pond's Bright Beauty Vitamin C Serum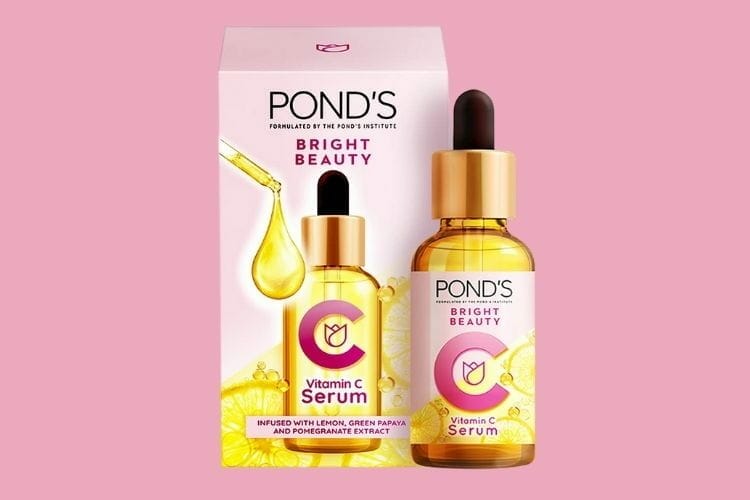 Pond's has bought its first-ever Vitamin C serum. With the infusion of natural elements like lemon, green papaya, and pomegranate extracts in ethyl ascorbic acid, the brand has curated a refreshing formula that results in a revitalized version of the skin. It is a light and quick-absorbing formula.
The serum is attractive in performance and packaging. The composition inside the dark bottle with vibrant label and cap controls melanin production besides boosting up collagen; smoothens the texture; replacing dead cells with new healthy ones; neutralizing free radicals.
Give spotless glow.
Remove toxic elements.
Suit all skin types.
Affordable.
Have subtle fragrance.
Unsuits sensitive skin.
14. Khadi Essentials Vitamin C Brightening Oil-Free Serum
Experience the goodness of aloe Vera, cucumber, and cherry extracts in a face serum. Khadi Essentials presents its Vitamin C serum having the mentioned bio-actives with jojoba oil, mandarin oil, and argan extract.
Designed for every skin: the serum pampers your face– cherry extracts fight free radicals; aloe vera soothes and protects from sunlight; cucumber detoxifies it and controls irritation. The bio-actives add to the performance.
Non-greasy lightweight.
Heal skin and tighten pore.
No chemical, preservative, paraben, or SLS.
100% organic and cruelty-free.
Price in range.
Benefits of Vitamin C serum.
Brighten skin and even out the tone.
Boost collagen production, thereby restraining signs of aging.
Lighten under-eye circles, dark spots, patches, pigmentation, and scars.
Control pimples and acne formation.
Hydrates and nourishes the skin.
Improve quality and texture.
As a result, you get radiant, soft, and smooth skin.
Side-effect the Vitamin C serum can have
Even the best Vitamin C serum can have side effects if it loses its concentration, does not suit skin type, or stays uncovered with sunscreen. These are the side effect:
A tingling sensation upon application
Itching and skin irritation.
Redness.
Sun Damage
Slight burning or tingling sensation
Signs of an allergic reaction
Breakouts and flaky skin
Swelling or hives
Steps to apply Vitamin C serum
To draw out the optimal benefit of Vitamin C serum: you need to know the correct process. They are some simple steps which you should follow religiously.
Step1- Elimination of dirt and impurities.
A Vitamin C serum wants clean skin. Wash your face with water; massage a good cleanser for 30 seconds; wash off. Every time before the serum application follows the step.
Step 2- Tone skin
After cleansing, pat dry with a clean cloth. Now, apply a good quality toner with a cotton ball, and leave it to dry up. Avoid eye area.
Step 3- Serum application
Take 2-3 drops of the serum on a clean palm; dip the fingertips of the other hand in it; swab over your cheeks, chin, forehead, and neck. Gently massage until the serum gets absorbed.
Step 4- Use a moisturizer
Always moisturize your face with a small amount of regular moisturizer after the serum application.
Step 5- Sunscreen/night cream is a must.
Skin absorbs so much vitamin C in a day. Therefore, use a Vitamin C serum once daily in the early morning or at night. Remember to apply sunscreen if the serum is applied in the morning or night cream if applied at night.
And you are done. It is time for the serum to work.
Mistakes you should avoid while using a Vitamin C serum
A multifunctional element in the skincare kit; what not the Vitamin C serum does-from collagen-boosting, brightening up the tone to an evening out the texture. However, you have to be careful while using it. One mistake can lead to a skin issue. So, what you should not do are here:-
Always take a patch test before first use.
Never try to formulate or make a vitamin C serum by yourself.
Store it properly, as directed upon the pack.
Never skip moisturizer and sunscreen.
Never skip the application of the serum.
How to choose the best Vitamin C serum?
What makes a Vitamin C serum the best for your skin are its suitability, composition, package, and label. Here is how they will help to determine the right one.
Skin Type:
Assess how effective the serum is on your skin. Look for the skin irritation symptoms such as dryness or skin peeling. They indicate it is not the one for your skin. The right serum makes the skin soft, smooth, glowing with a reduction in dark spots, patches, and acne marks.
Concentration:
If you are a beginner, go for the serum with a low concentration of Vitamin C. The one with a 10% concentration is fine to start with. It gives the skin time to adapt to the serum. Once it suits, gradually switch to higher concentrations.
Packaging:
Vitamin C serum starts losing concentration when exposed to light and oxygen. Hence, after a few months, the concentration level may fall, making it useless for later. So, the packaging is significant.
A dark, opaque, airtight bottle or an air-pump bottle is the right choice. They prevent oxidation. However, the air-pump bottle reduces the chance of oxidation more than with a dropper bottle.
Label:
Make sure to choose the product with 'serum' labeled on it. Serum being a water-based form: penetrates in the deepest layer of skin, where liquid consistency is needed.
FAQs about the best Vitamin C serum in India
How long does a Vitamin C serum take to work?
In general, a Vitamin C serum takes 2-4 weeks to generate the result. But, it depends on the brand you select, the type and condition of skin you have.
Which is the best time to apply a vitamin C serum?
Early morning and night is the perfect time for serum application. The night is the best time because when we sleep, the skin breathes, the pores open up. The serum works better. Besides, the chances of reaction with sun rays get eliminated.
Is a vitamin C serum a regular use product?
Vitamin sees sedum is curated for regular use you can use it once or twice a day as directed upon the package.
Which is the good vitamin C serum for beginners?
For a first-time user, Minimalist Vitamin C serum is one of the best options. It has 10% vitamin C, the right concentration to start with.
How long does a good Vitamin C serum last?
The shelf life of every vitamin C serum depends upon its ingredients. But, all serums have their expiration date. L- Ascorbic acid loses its efficiency with oxidation. That is why it comes in a dark bottle.
Does vitamin C serum lighten skin tone?
Yes, the antioxidant properties of Vitamin C are one of the best skin lightening and brightening formulas.
Is Vitamin C serum a unisex product?
Vitamin C is a unisex product. Both males and females can use them.
Final words about the best vitamin C serum in India
Vitamin C serum is a one-stop solution. It gives your skin a flawless look. The products here belong to a wide range of the best Vitamin C serums. They are harmless and made from natural ingredients. So give your skin that health and youth it needs.