Don't have time for a salon visit? Get charismatic colored tresses at home.
While a trip to the salon is good for getting your hair styled and colored just as you want, the appointments are highly investing. It requires time and money, costing about $75 exceeding $500. And girls, how busy schedules we have!
But today, with a good bunch of hair colors available at your nearest drugstore, you can get the mesmerizing look styled by you at home.
So, which hair dye last long? To know beautycaters.com experts tested the at-home hair color kits and picked the best hair color that does not fade. So, take a read, get the one, and cover those pesky greys without breaking the bank.
And we have enlisted the 10 best permanent hair colors here. Don't forget to read best shampoo & conditioners for permed hair.
What are the best hair color that doesn't fade
Here are the top ten long lasting hair colors:
Why I recommend:
Ammonia-free.
100% grey hair coverage.
Natural-looking pigmentation.
Long-lasting.
Product Description:
Ammonia bleaches hair's natural tint, and most hair dyes have it. But Revlon has brought a revolution. With its Colorsilk permanent hair color: bidding ammonia a bye becomes as easy as hiding the grey hair completely.
Ingredients:
One of the best ammonia-free hair colors in the USA: Colorsilk hair dye is keratin-enriched hair color. The formula has infused silk amino acid and 3D color gel technology.
Performance:
Colorsilk hair color made my hair better than before. The multi-tone color from root to a tip made my hair silky, rich, and naturally pigmented with all the greys covered. Thus, the hair looks shiny, refreshing, and sophisticated.
What is in the box:
Ammonia-free colorant, cream developer, post-color conditioner, gloves, instruction.
Pros
100% ammonia free.
41 natural-looking shades.
Easy-to-use hair color kit.
Value for money.
Cons
Unsuitable for pre-lightened hair.
Why I recommend:
Nourishes as it colors.
5-fruit oil formula.
2X shiny no-grey hair.
Stay 8-weeks.
Product Description:
With an experience of 115+ years: Garnier has formulated Nutrisse nourishing hair color inspired by and derived from nature. This breakthrough formula makes hair richly radiant and nourished with zero greys as if treated in a salon. This one is the best vegan permanent hair color on our list.
Ingredients:
Nutrisse, one of the best drugstore permanent hair colors, is formulated with five fruit oils and new color boost technology. It has avocado, olive, coconut, argan, and Shea oil in the form of a snap-and-mix fruit ampule and a post-color silicone-free conditioner.
Performance:
This vegan non-drip crème dye nourishes hair as it colors. The intense pigment infuses into the heart of the hair fiber and locks the pigment particles while the fruit oils nourish hair. Hair becomes 2x shiny, silky, and richly pigmented with zero greys.
What is in the box:
Nourishing color crème, developer, fruit oil ampoule, nourishing conditioner, gloves, instruction.
Pros
34 nourishing shades.
For all hair textures.
Last 8-weeks.
Cruelty-free.
Cons
Darker to the darkest tint..
Why I recommend:
Ammonia-free
Triple protection system
Cover stubborn greys
Product details:
L'Oreal Paris has rightly named its Excellence crème color. It simultaneously transforms the stubborn greys into rich, radiant mane; seals and replenishes and conditions every strand before, during, and after coloring.
Ingredients:
Excellence hair color is a non-drip crème formula free of ammonia and enriched with triple protection system. This system has salon-inspired infused Ceramide, Pro-Keratin Complex, and collagen in the shampoo, crème color, and conditioner.
Performance:
As it claims, Excellence Crème cares for your hair. This easy-to-use hair dye ensures long-lasting, rich, radiant, and lustrous hair–replenished and conditioned. All this makes it the best permanent hair color for grey hair.
What is in the box:
Pre-color shampoo
color crème
developer
conditioner
color comb
gloves
instruction sheet
For a bold, multi-dimensional look L'Oreal has the fade-defying Superior Preference, and for the trendy metallic look, it has the bold, stylish Feria.
Pros
Black, brown, red, and blonde variants.
Cleanse residue.
Prevent color buildup.
Value for money.
Why I recommend:
89% of women saw no damage.
60% natural oil blend vegan formula.
3x shinier hair.
Hair coloring in 10 minutes.
Product Description:
For a hassle-free, fast coloring session at home, Garnier has brought Olia. In 10 minutes, this vegan hair color tint hair, covering 100% greys and leaving them nourished. That's what makes it one of the best 10-minute permanent hair colors.
Ingredients:
The crème color has 60% oil propels containing sunflower and camellia oil that infuses the pigment deep inside for exceptional pigmentation. At the same time, it respects the essential amino acids and lipid balance of natural hair.
Performance:
When 89% of women say they saw no hair damage post-coloring, the hair color is worthwhile. Hair gets brilliant long-lasting HD pigmentation from roots to tip with no greys. It becomes resilient, hydrated, softer, and 3x shinier than unwashed, uncolored hair.
What is in the box:
A colorant, developer, conditioner, applicator, gloves, instruction leaflet.
Pros
Exotic black, brown, blonde, and red variants.
Ammonia and silicone-free.
Delicate floral fragrance.
Certified cruelty-free.
Reasonable.
Why I recommend:
Caring coloring formula.
Dermatologist-tested.
100% grey coverage guaranteed.
No ammonia and silicone.
Product Description:
With the motto of hair coloring without compromise, Schwarzkopf has brought The Simply Color permanent hair color that covers your greys most simply. It is a dermatologically-approved hair dye that takes care of the scalp and hair while coloring.
Ingredients:
Simply Color hair dye has a botanical formula. Its formulation has soy protein, botanical oat milk, and argan oil that nourishes the scalp and hair while infusing intense pigmenting particles.
Performance:
This easy-to-use permanent color ensures a look gorgeous on you but gentle on your hair. While the hair looks lustrous, soft, and vibrant, the scalp stays calm and irritant-free, until the next session, till 28 washes.
What is in the box:
Color crème, applicator bottle with developing lotion, conditioner, gloves, instruction leaflet.
Pros
Variants of blonde, brown, and black.
Alcohol-free.
Sustainable packaging.
Free from PPD and PTD.
Value for money.
Why I recommend:
Hair color for sensitive scalp.
No fragrance.
The goodness of botanicals.
Vegan formula
Product Description:
For those with sensitive scalps: hair coloring is now a cakewalk. Herbatint has brought its permanent hair color with natural components so comforting on the scalp. It makes the hair color best for sensitive scalps.
Ingredients:
Derived from botanicals, it is a gel-based hair color that is easy to mix and apply. It has eight herbal extracts—aloe vera, meadow foam, cinchona, white birch, black walnut, witch hazel, rhubarb, and Echinacea.
Performance:
This at-home hair dye has shown remarkable results. It specializes in nourishing and protecting the hair and scalp while coloring the strands. The pigmenting formula enters the hair fiber, nourishes and intensely pigments it from root to tip. Hair turns soft, shiny, vibrantly pigmented, and nourished.
What is in the box:
Hair color gel, developer, royal cream, gloves, instruction leaflet.
Pros
Dermatologist-tested.
Cruelty-free.
36 vibrant shades.
Ammonia, paraben, and alcohol-free.
Cons
High-priced.
No complete grey coverage.
Why I recommend:
Salon-inspired formula.
Multi-dimensional hair color.
Guaranteed 8-week stay.
Product Description:
How about creating multi-dimensional hair? Inspired by salon: Clariol has formulated its Nice n' Easy hair color that gives your hair a natural-looking tint with a multi-dimensional tone with 100% coverage to grey.
Ingredients:
The secret to this hair dye's salon-inspired, natural-looking tone is its Colorblend technology. It is the blend of 3 complementary hues in each shade. It creates the perfect tint with a multi-dimensional effect on every hair.
Performance:
With this hair color, your hair turns luxurious and stunning. Hair adorns a naturally radiant look with a multi-dimensional effect irrespective of its type. This charismatic look guarantees to stay for eight weeks.
What is in the box:
Color cream, color activator, CC+ color seal conditioner.
Pros
50 beautiful shades.
Soft, shiny, salon-style pigmented hair.
Easy-to-use kit.
In-budget price.
Cons
Contain ammonia.
Slightly runny formula.
Why I recommend:
Easy-to-use hair color gel.
43% shinier.
True-to-tone color.
Fade-resistant.
Product Description:
Get back the lot natural tint of your hair. Wella Color charm permanent hair color infuses the true-to-tone pigment that returns the hair's long-lost natural color and hardly fades. At the same time, hair becomes 43% shinier.
Ingredients:
Free from ammonia: the hair color is formulated with Gelfuse technology. The technology, through the speed of liquid and conditioning and convenience of cream, saturates, penetrates, and infuses the dye particles into the hair cuticle.
Performance:
WELLA color charm never disappoints. It gives you a predictable result. The color you want is the color you get. Besides, hair turns shinier, softer, and brightened with no more greys showing up.
What is in the box:
Gelfuse technology infused permanent gel hair color.
Pros
100% ammonia free.
68 radiant shades.
Excellent grey coverage.
Budget-friendly.
Cons
Shades darker than expected.
Why I recommend:
Professional quality hair color.
80% less breakage.
Last up to 10 weeks.
Product Description:
Get professional radiant tresses that hardly fade or break through a few simple steps at home. Schwarzkopf has brought its keratin color that imparts a professional touch to the hair and reduces breakage by 80%.
Ingredients:
This one of the best hair colors has in its formulation a cutting-edge anti-breakage system, Keratin-complex. This Keratin complex gives extra-long-lasting 100% coverage to the stubborn greys and reduces falls by 80%.
Performance:
With the intensive care system, this hair color ensures long-lasting, luxurious, vibrant hair from root to tip, resilient and healthy; at the same time. Hair stays soft, bouncy, and sophisticated for up to 10 weeks.
What is in the box:
Pre-color serum, color crème, applicator bottle with the developer, K Bond-plex conditioner.
Note:
If you have hair longer than shoulder length, use 2 boxes of Keratin Color hair dye.
Pros
Available in 20 radiant shades.
Professional quality hair color
80% less breakage.
Long lasting effect up to 10 weeks.
Fits our budget.
Cons
Quantity is less than the contemporaries.
Why I recommend:
USDA certified.
92% natural ingredients.
Color that revitalizes hair.
Ammonia-free.
Product Description:
Formulated by women: Naturtint permanent hair color to be certified by and introduced in the USUA Bio-Preferred program. Its naturally derived ingredients help to get the vibrant look you desire for a long at a price affordable at home.
Ingredients:
Infused 92% of nature derivatives: the permanent hair color comes with hair-loving ingredients. It has oleic acid from olives, meadowfoam seed oil, quinoa, Shea butter, and baobab protein that rejuvenate and revitalize hair while pigmenting it.
Performance:
This permanent hair color proved one of the best ways to achieve a beautiful, vibrant hair home. It covers greys as efficiently as it tints the naturally dark strands that stay eight weeks, as stated. Moreover, hair becomes soft and shiny and looks healthier.
What is in the box:
Colorant gel, applicator bottle with developer lotion, quinoa mask.
Pros
35 shades.
Vegan.
Cruelty-free.
No artificial fragrance and paraben.
Cons
High in price.
The sticky residue removes in 2 washes.
How to pick the best hair color for women
A worthy hair dye gives your greys complete coverage and a new look in no time. But to pick a good hair color, you need to know the features it contains. The elements below throw light on the attributes of the best hair dye. Check out!
1. Ingredients
Look for natural and nourishing ingredients like keratin and argan oil-enriched formula that ensure hair won't get damaged while coloring. But refrain from alcohol, gluten, ammonia, PPD, paraben, etc. They are harsh on your hair "and unfortunately, most box dyes contain them." suggests Dosso.
Also, ensure the hair dye you choose is cruelty-free, odor-free, dermatologically tested, and free from the ingredient you are allergic to.
2. Strength of coverage
To have 100% grey coverage or to change the natural tone: you must go for permanent hair color. With a demi-permanent hair color, a lower percentage of grey gets covered like that of one who has just started getting grey strands.
On the other hand, semi-permanent hair colors are best for refreshing faded ends and enhancing shine only. It doesn't hide grey hair or lift color.
3. Shade
Before purchasing a hair color, reassure that the shade you chose is perfect for your hair—neither too dark nor too light. The darker shade is hard to remove, and light can cause a 'hot root,' as stated by Dosso.
Getting a line with a wide range is the key to nailing the perfect shade.
4. Skin Tone
Besides the shade, you must consider your skin tone while choosing the hair color. Picking the right color will complement your skin tone and enhance its beauty, while the incorrect one could make you look dull.
5. Lasting Power
Permanent hair color lasts for 6-8 weeks without touchups. Demi-permanent hair color, a healthier option, lasts up to 30 washes, while semi-permanent hair color lasts up to 5-washes. That's why they are best for touchups.
6. Easy Application
For choosing a hair color kit at home: go for formulas that are easy to apply, stain-free, and drip-free. Also, ensure the hair color kit you chose contains the set of essential accessories.
Types of hair color
Hair dye comes in 4 types—permanent, demi-permanent, semi-permanent, and temporary. Choose your hair dye formula from the types. They are discussed below:
1. Permanent hair color:
Hair coloring with permanent hair dye generates the best results. It turns hair vibrant and covers 100% grey hair. It gives coverage up to three levels—from sheer to complete. Permanent hair dyes last long, for at least up to 5-6 weeks.
Permanent hair color generally contains ammonia (to open the hair's cuticle), which is mixed with a developer or oxidizing agent (hydrogen peroxide) to lift the natural tone and deposit the pigment.
2. Demi-permanent hair color:
It is generally an ammonia-free hair dye designed to give subtle changes and enhancement to hair. Demi-permanent hair dye covers a small grey percentage and lasts till 24±4 shampoos.
Demi-permanent hair color contains an alkaline pigmenting agent and a less concentrated developer (hydrogen peroxide) that hardly lifts the natural hair color. Hence, coloring with this hair dye retains the natural pigment, and hair stays gentle and safe.
 3. Semi-permanent hair color:
Semi-permanent hair colors are the ammonia-free and developer-free counterparts that hardly damage hair. This color deposits dye only to soften grey or boost color and does not lighten the natural pigment. It gives hair a more natural look.
Semi-permanent hair color has compounds of low molecular weight that wedge only the cuticle layer of the hair shaft. Therefore, it lasts a few washing. This hair color typically lasts about six to eight washes.
4. Temporary hair color:
Temporary hair colors are the most vibrant and brightest of all hair colors. Designed for a special occasion like Christmas, Halloween, or other costume parties, this hair color comes as rinses, gel, spray, shampoos, and foams.
Being an ammonia-free and developer-free hair color: the colored particles cannot penetrate the cuticle layer and stay adsorbed on the hair shaft surface only. It makes them easy to remove with just 1-2 washes. They are least damaging unless the hair is excessively dry or damaged.
Why hair color fades?
Fading of hair color owes to several factors, which include the type of hair dye, hair condition, color strength, and many more.
Here are the reasons of fading hair colors:
1. The pigmentation:
Each hair color shade comes in a different type, like red, brown, and black shade has more than one type. The pigmentation of each color type varies. The longevity of a hair color also depends on its pigmentation. The darker or more intense your hair color is, the longer it will stay.
2. Type and strength of hair color:
The longevity of a hair color also depends on the type and strength of the color. Semi-permanent or temporary hair dye colors only the surface of the hair shaft. That's why they fade with a few washes. However, permanent and demi-permanent hair color deposits the dye on the hair cuticle, so they stay longer.
3. Ingredients of hair color:
When choosing a hair dye, preference generally goes for natural, ammonia-free formula. Though these natural ingredients don't damage hair, they have a short-staying power.
4. Condition of the hair:
The more damaged your natural hair is, the faster the hair color will fade. It is because the outer layer opens up, making it more porous. Thus, damage repair treatment is recommended before you go with hair coloring.
5. Skill in hair coloring:
How well-pigmented your hair depends on the hair texture, the color proportion, and the processing time. To be skilled in the job, be well-versed in these factors. The absence of this knowledge leads to sooner fading of the hair color.
6. Using appropriate shampoo & conditioner:
Dyed hair requires specially formulated shampoo and conditioner that retain the pH of your hair. Using regular shampoo and conditioner: can lead to fading of your hair color faster.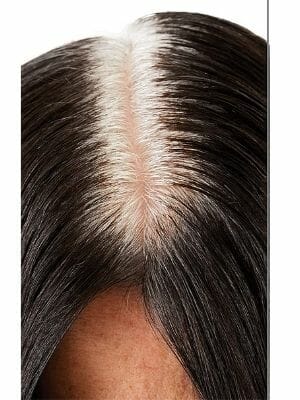 Tips for long-lasting hair color
To make the hair color last longer: we have come up with tips that retain the vibrancy of hair.
Avoid using shampoo post-hair coloring for a few days. The longer you stay away from shampoo, the more precisely the color will settle.
Go for color-protective, sulfate-free shampoos and conditioners. Regular shampoo is unsuitable for color-treated hair.
Shampoo your hair twice a week. The less you use shampoo, the more long-lasting the color will be.
Blow dryers, stylers, and curlers can damage the color of your hair. So, after getting the hair colored, avoid their frequent use.
Sun rays and chlorine water in a swimming pool can harshly affect your color-treated hair. Hence, always use a shower cap before diving into it.
Tips to prevent hair fall after hair coloring
Damage caused by hair color is repairable. Here are those tips:
Keep the hair nourished: Eat a healthy diet; rich in proteins, omega-3 fatty acids, and vitamins to nourish every hair follicle. Foods like salmon, eggs, yogurt, poultry, spinach, etc., ensure healthy hair.
Buy ammonia-free hair color: From the next time you dye your hair, opt for an ammonia-free dye, or else it will continue to deplete the hair's natural nutrition.
Trim your hair periodically: It is true that the driest hair is removable with a periodic trimming or haircut.
Buy high-quality color-protection formulas: Use a shampoo specially designed for colored hair. The regular shampoo contains Sulphate. And for colored tresses, the first preference should be Sulphate-free shampoos and conditioners, mild and nourishing.
Minimum hair wash: Never wash your colored tresses regularly. Wash it a maximum of twice a week with cool or lukewarm water.
Avoid hot styling tools: Heat damages your hair, causing breakage and split ends. Color-treated are generally weak than uncolored, and heat accelerates the hair's weakening.
FAQs: Long lasting hair color
Which hair colors last the longest?
The brown color lasts the longest. Apart from that, all the natural tints have good longevity.
What is the best hair dye for grey hair?
Garnier Hair Color Olia Oil Powered Permanent Hair Color is the best for grey coverage.
What is the best natural permanent hair color?
Garnier Nutrisse nourishing Crème color is the best natural permanent hair color.
How long does permanent hair dye last before it fades?
Permanent hair color stays for 6-8 weeks.
Which hair dye brand is best?
Garnier is the best hair dye brand. The next best is L'Oreal, WELLA, and Arctic Fox.
How many washes does overtone last?
Whether it is permanent or semi-permanent hair color it starts fading after 10 washes.
Is home hair color as good as salon hair dyes?
Yes, high-end at-home hair dye: like the recommended one, generates equivalent results as the one treated in a salon. They make hair lustrous vibrant, and softer, hiding the greys. But, if you want intricate hair colors like extensive highlights, lowlights, ombré, balayage, or an extreme color change, it is best to visit a professionally trained in the techniques.
Is a permanent hair color safe?
Permanent hair color is safe if used carefully and stays out of reach of the scalp. It reduces internal exposure to chemicals.
Can permanent hair color cause hair loss?
No, hair dye–permanent, demi-permanent, semi-permanent, or temporary cannot penetrate the scalp and reach the hair follicle where it grows. Therefore, hair color does not cause hair loss. However, the chemicals in the dyes can alter and weaken the keratin structure leading to breakage. Hence, using high-quality natural-based formulas are always recommended.
Final Word – Best long lasting hair color that doesn't fade
Ladies and gentlemen, I hope to answer your quest for the best hair color that doesn't fade and that you are ready to adorn a new look designed by you at home. How was it? How did you look? How much you loved it? Tell every inch of your experience.
But make sure to follow the tips for a desirable, hassle-free result.
After regular use of hair brushes, you should clean the hair brush after few days. Check best hair spa products in India if you are facing damaged and dandruff issues.