Robert Frost said in Birches
"Like girls on hands and knees that throw their hair
Before them over their heads to dry in the sun."
Honestly, today we face so time crunch that drying out our hair naturally has become a wish than a routine. And if by chance once in week we think to do it, the fickle-minded weather put a stay on it. But, does it matters anymore? No, for we have blow dryers, especially designed for natural hair. And we will be talking about it here- the best blow dryers for Natural hair. So, guys stay tuned.
When we say blow dryer, the image of a conventional dryer whose heat cause damage to hair comes in mind. Isn't it? But, guys the image is broken. Now, the blow dryer is no longer harsh. Trust me, I am saying it from personal experience. Rather, beside drying and styling the new age blow dryers add smoothness and shine, to your naturally curled, wavy or straight locks. All you need to choose the good blow dryer. And we will be guiding about what to choose and how to choose.
The best hair dryers for natural hair reviews
Gone are those times, when best hair dryers are meant for professional purpose only. Professional blow dryers are now widely available for personal use. Online e-commerce giants has an impressive collection of the best hair dryer for natural hair. But, too many options are confusing. So, we have brought the best of the best at the best price to clear the confusion of yours.
1. REVLON 1875 Watts Infrared Heat Hair Dryer
The topper on our list of the best dryers for natural hair is from the house of the international cosmetic brand Revlon. And the blow dryer has retained the name and reputation Revlon has earned in all these years.
Please, note this Revlon blow dryer has been built with both tourmaline ionic technology and infrared technology. The tourmaline technology reduces frizz, enhances shine whereas infrared technology maintains the natural moisture of hair by reducing excessive dryness and initiates faster styling. It also has a triple-ceramic coating that besides facilitating even distribution of heat reduces damage from over styling.
Revlon has put two heat and speed settings, and one cool-shot button. Thus, besides retaining the natural softness, and shine of the hair it locks in the style and ensures the styling is done with precision. Now, what the blow the blow dryer contains; a diffuser, a concentrator and three sectioning clips to make styling easier.
Pros
Add a definition to curls.
Maintain moisture balance, softness and smoothness.
Adds volume and shine.
Impressive airflow.
Value for money.
Cons
Not super-fast, consumes time.
The concentrator may melt if overheated.
2. Conair 1875 Watt Full Size Pro Hair Dryer
How will you feel if you get a blow dryer with removable filter? Sounds great, right. Well, Conair has brought such a hair dryer. Let's check it out in detail.
The 1875 Watt Full-size Pro hair dryer is built with tourmaline ceramic technology. And this technology is well-known for drying up hair fast without any damage and making them soft, lustrous and frizz-free.
This blow dryer has earned a reputation in drying up thick hair at a faster rate. Its customized heat and speed control makes it suitable for all types of hairstyles. And its cold-shot button locks in every style. But, the best part is as I said earlier, the removable filter that makes the cleaning and maintenance process easier and hassle-free.
Pros
Has an aesthetic luxurious look.
Focused airflow ensures sleek styling.
Come with ionic conditioning.
Come with a removable filter.
Also has a manual cool button.
Handy and compact.
Affordable.
Cons
Cord is comparatively short.
May overheat.
3. NITION Negative Ions Ceramic Hair Dryer
NITION Negative ions ceramic hair dryer is acclaimed as one of the best hair dryer for natural hair. And there are a number of reasons behind the acclamation.
The ceramic-coated air outlet has an infusion of Nanosilver ions, argan oil and tourmaline that makes hair smoother, healthier and shinier. The Nanosilver repairs damage, argan oil moisturizes hair, reduces frizz, prevents splitting. It also protects hair from harmful UV rays. And the tourmaline technology does what it specializes in, static electricity elimination.
Its 7.5 feet long salon cord and ALCI safety plug ensure safe and comfortable operation. The safety plug prevents auto-leakage. That's something very unique.
The blow dryer has two speed control, three heat control settings using which you can easily put a control on the temperature and airflow. Oh yes, it also has a cool shot button to lock in your style. If you are concerned about cleaning it, it is very easy. The air inlet is removable and you get a reserve air filter net. Isn't it a wow product?
Now, it's time for what's in the box? The blow dryer, a diffuser that diffuses 20% faster than others, a concentrator, a comb, a reserve air filter and a manual.
Pros
Define natural curls and waves.
Style curls, waves and straight locks with precision.
Easy to clean and maintain.
Lightweight.
Makes hair static-free, frizz-free, soft and lustrous..
Affordable.
Cons
Emit loud noise.
Attachments are hard to put on.
4. Babyliss PRO Ceramix Xtreme Hair Dryer
As a brand, BaByliss needs no introduction. Everyone who has a little idea about the world of beauty is familiar with the name. And when this famous brand brings its hairdryer, how can it be away from our list.
BaBylissPRO Ceramix Xtreme is a 2000-watt professional hair dryer with a strong AC motor that specializes in generating an intense airflow. Being a blow dryer for natural hair it offers great flexibility in use. Thanks to its six different temperature and speed combinations, three each, which comes along with options such as Cold shot or far-infrared. They lock in style, moisture and prevent damage from overheating.
Pros
Built with an Ionic and Porcelain Ceramic technology.
Guarantee static electricity free and frizz-free hair.
Works on all types of hair.
Very user-friendly.
Come with two concentrators.
Come with 2.5 m long cord.
5. Andis 81205 1875-Watt Tourmaline Ceramic Ionic Styling Hair Dryer
The next blow dryer to book the slot on our list of the best blow dryer for natural hair is the one by Andis. Andis is a leading name in the clipper industry. And now it is earning the same fame in the world of blow dryer. So, what makes this blow dryer famous? Com let's see in details.
Built with ceramic technology, the blow dryer preserve the natural oil of the hair and locks in the moisture. The ionic technology facilitates faster drying of hair. The technology breaks the water molecules into smaller molecules that are easily absorbed.
The dryer comes with three heat control setting and a cool shot button that create style and lock. Its dual voltage features enables it's using anywhere in the world. Thus, in the comfort of your room have a professionally styled smooth hair.
You get a wide tooth comb, a fine tooth comb and a soft bristle comb.
Pros
Create silky, smooth, frizz-free hair in seconds.
Health of the hair is retained.
High-velocity airflow.
Compact and lightweight.
Come with a five-year warranty.
Value for money.
Cons
May overheat.
The handle becomes too hot to handle.
Attachment may seem delicate.
6. KISS 1875 Watt Pro Tourmaline Ceramic Hair Dryer
Ladies, be ready to say good bye to a bad hair day, for now Kiss has taken the charge to eliminate such a day forever. Presenting before you, one of the acclaimed best blow dryer for natural hair, the tourmaline ceramic hair dryer by Kiss.
This attractive red blow dryer is very professional in terms of design and functionality. When its ergonomic handles with hanging loop ensures easy storage, its tourmaline ceramic technology guarantees shiny, smooth, silky, salon-styled hair.
The negative ions that get released works in removing frizz, static electricity and prevent cuticle damage. With the help of three heat, two speed slide control and the cool shot button create and lock your desirable style.
The complete set includes a concentrator, a diffuser, a detangling comb and 4 hair clips.
Pros
Initiates fast and easy drying.
Has removable and washable filter.
Style like a PRO.
Lightweight.
Value for money.
Cons
The placement of the buttons needs relocation.
7. CONFU 2200W Professional Hair Dryer
The next best blow dryer we will be reviewing is by CONFU. It is the 2200W professional hair dryer of the brand. The first thing to deserve a mention is the sleek, elegant black exterior. Undoubtedly, it is irresistible.
The blow dryer is designed with tourmaline ceramic technology, where the tourmaline technology reduces frizz, static electricity and enhance style and the ceramic technology distribute heat evenly and restrict any kind of damage.
But, you know here lies the USP of the blow dryer? It is dry and style thick and long hair 50% faster. The credit goes to the thick heating coil that ensures quick heating. There are three heat control and to speed control setting with a cool shot tic tac button. And it also has a blue and a red indicator. The blue light indicates cool wind and the red light hot wind.
The blow dryer is accompanied by a diffuser and a concentrator.
Pros
Ensures 50% faster drying.
ETL approved and has ALCI plug.
Air filter is removable.
Salon-style the locks without any compromise.
Professional design with loop for easy storage.
Affordable.
Cons
Control buttons need relocation.
Detachable brush is not included.
Clear instruction is not provided.
Heavy.
8. HOT TOOLS Ceramic Salon Hair Dryer
Bring salon at your home with the Signature series hair dryer by HOT TOOLS. The ionic ceramic hair dryer is built with direct ionic technology which works best in the reduction of frizz and generating shine, smoothness healthy looking hair. And the ceramic technology emits infrared heat that seals the moisture of the cuticle and prevent it from over-styling.
The blow dryer has a black and gold sleek, elegant design that is simply irresistible. From the body to the handle the entire structure is soft on grip and anti-skid. So, there is very less chance of its slipping from hand.
Being, a professional hair dryer like its contemporaries, it has three heat control and three speed control option with a cool touch button that ensures your created style stays longer. You get a diffuser and a concentrator.
Pros
Versatile.
Suits all types of hair.
Lightweight.
Easy and comfortable.
Has easy to clean removable filter.
Cons
Expansive.
Does not come with comb attachment.
9. Jinri 1875W Low Noise Hair Dryer
This Jinri blow dryer dries up hair at a faster rate. The ceramic tourmaline ionic technology in it distribute heat evenly and accelerates the distribution thereby, reducing frizz, static electricity, and enhancing shine, smoothness.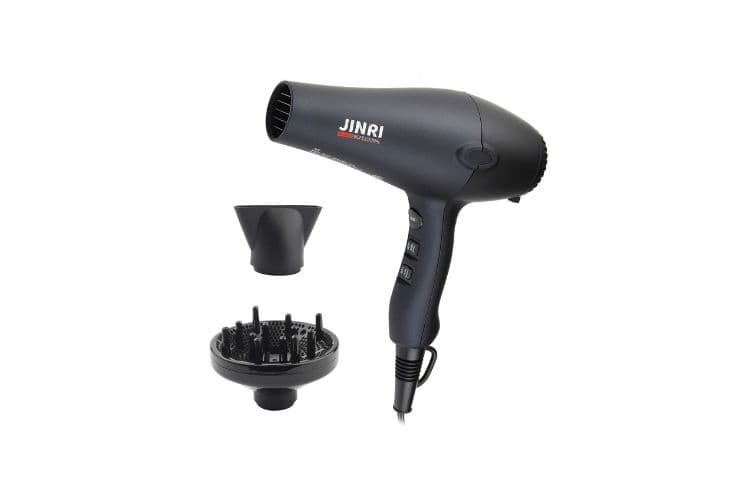 Its three heat control setting and two airflow setting ensures that you create the desired style without harming hair follicles. And the cool shot button is all set to seals your creation.
The blow dryer has ALCI plug that prevents it from overheating and short circuits. So, use it without any tension. It has easy to clean detachable rear filter that extends its service life.
You will get a concentrator, a diffuser, a hair pik that enhances the volume, an instruction manual along with the hair dryer.
Pros
Detangles hair with minimal tension.
Enhance volume.
Lightweight.
Dries fast and style with precision.
Emit minimal noise.
Come with a 1-year replacement warranty and 60 refund policy.
Cons
Button placement needs relocation.
Expensive.
Not travel-friendly.
Pop off easily.
10. Xpoliman Professional Salon Hair Dryer
In the regular rush hour, we expect a blow dryer to be faster and quicker than it is. And if we get something that cuts down the time by 50%, then there is nothing to say. Xpoliman blow dryer is such a product. It reduces the drying time by 50%. Very impressive!
The 2000 W hair dryer runs on a powerful AC motor which provides high airflow and healthy heat. As a result, the task of drying and styling gets done in a few minutes. It is designed with negative ionic technology that eliminates frizz, static electricity and makes hair moisturized, smooth. This technology even protect hair from damage.
The blow dryer is safe and user-friendly. By now, you already know how safe the ALCI plug is. I am talking about its short circuit and over-heat protection features. And the user-friendly three level heat and two-level airflow setting with a cool-touch buttons give your hair the desirable professional finish in the comfort of home.
You get in the box a diffuser, a concentrator, detachable comb and a regular wide tooth comb with the dryer.
Pros
Durable and long-lasting.
A removable air filter ensures easy cleaning.
Come with 2m professional cord and a loop for hanging.
Takes 50% less time to dry hair.
2-year warranty with 45 days money back guarantee.
Affordable.
Cons
May not work well on African American hair.
The attachments may loosen while using.
11. Berta Professional Ionic Hair Dryer
The Berta Ionic hair dryer releases negative ions to create healthier softer hair. And the whole job gets done in just a few minutes. With the continuous release of 20 million negative ions it smoothens hair, maintain the moisture level of the hair thereby, eliminating frizz.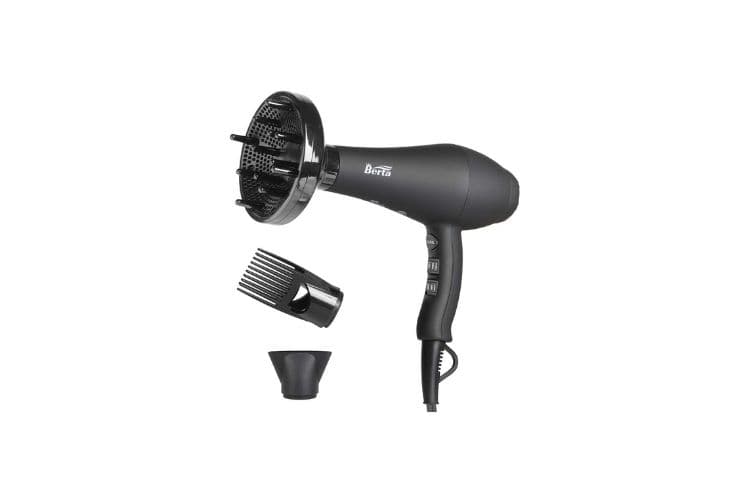 Unlike most hair dryer this one works well specially on thick, long hair. Its AC motor helps in consumption of less time, almost 50% less than taken usually.
The hair dryer has an elegant matte black finish. Moreover, its body and handle have an anti-skid soft-touch structure that helps in easy and flexible operation. Its user-friendly three heat setting and two speed setting with a cool shot button create and locks any style.
The set includes the cliché accompaniments the diffuser, the concentrator, the wide-tooth comb attachment.
Pros
Repair hair scales damage.
Reduces static electricity.
Honeycomb detachable filter prevents the entry of hair and dust.
Great after-sales service.
1-year warranty.
Price lies in budget.
12. ABODY 1875W Professional Hair Dryer
ABODY professional hair dryer is designed with the idea of providing healthiest care to your hair besides styling. Its excellent technology helps in the reduction of protein damage, gives protection from heat damage, and seals the moisture of hair. As a result, the hair stays smooth, moisturized, and lustrous even after styling.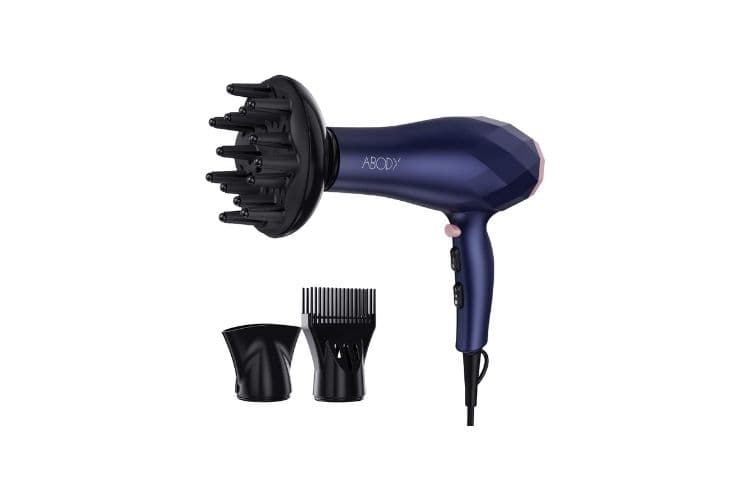 The dryer works on all types of hair. Whether the hair is thick or thin, long, short or medium, curly, wavy or straight, in no time it dries and styles them up.
Like its contemporaries, this dryer for natural hair has three heat control setting and two airflow control with a cool shot button. And these buttons are the secret weapons behind the salon-styled hair. The attachments are, a diffuser, a concentrator and a detachable brush.
Pros
Dries and styles hair in few minutes.
Detangles with minimum tension.
Suits all types of hair.
Has removable filter.
Affordable.
Cons
Quality of comb attachment needs improvement.
13. LARMHOI 1800W Professional Hair Blow Dryer
What makes a blow dryer travel-friendly? Well, it is lightweight, compact, and flexibility. And when compactness and flexibility is a concern, the foldable handle is significant. Keeping this factor in mind LARMOHOI has designed its professional blow dryer with foldable handles. But, that's not the only unique feature it has. In a few seconds you will get to know more.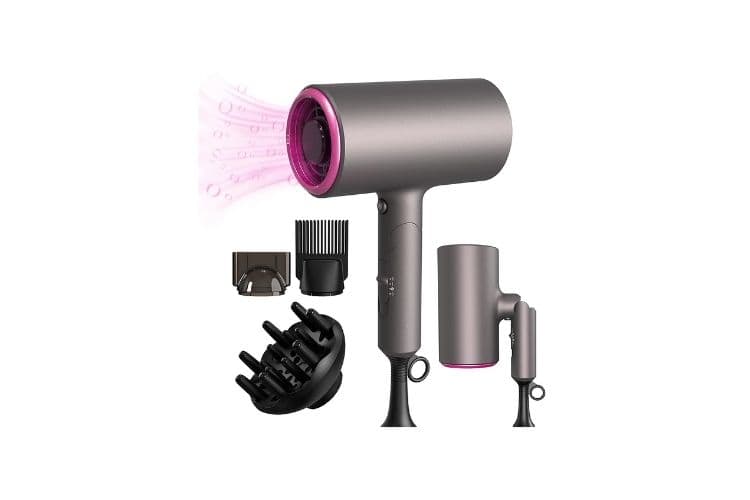 The blow dryer is very efficient in taming unwanted frizz, static electricity. Rather, it enhances the smoothness, shine and softness of hair. And the entire credit goes to the ionic technology it is designed with. It has an ETL and ALCI safety plug. And you know well how safe they are.
It has three heat control and two speed control push button. Of course, there is the cool shot button too. And now comes another unique feature, the 360 degree rotating connected nozzle that help to fit the attachment conveniently.
The attachments included are a diffuser, a concentrator and a detachable wide teeth comb.
Pros
Stylish, elegant and compact.
Round rocker switch ensures easy handling.
Ensures protection from overheating and short circuit.
Make hair soft, smooth and lustrous.
Foldable handles ensures easy-to-fit and carry.
Affordable.
Cons
Slightly heavy.
Emitted hot air is not too powerful.
Buttons are slightly hard.
The Buying Guide
So, guys you have got a good idea about the best hair dryer. But, is it enough? Of course, not. Incomplete knowledge is harmful. To select the good hair dryer you must know what you should look for in a blow dryer. And here they are.
Which is better for natural hair- a blow dryer or a blower brush?
If the former is ideal for creating style besides drying, then the latter is popular for drying up hair and brushing them simultaneously. However. A blower brush is more expensive than a blow dryer. Well, it also depends on the model you select.
In accordance to your requirement and budget you may select anyone of the two. But, from a subjective point of view, I suggest to get a blow dryer. Form budget to drying and styling it always gets a thumbs up.
Before going into details, let us look at the main features of best blow dryer for natural hair
Speed and efficient.
Comfortable ergonomic handles.
Lightweight and handy.
Energy-efficient.
User- friendly adjustments.
Let us now discuss in details – Features of best blow dryer for natural hair
Weight:
A good blow dryer have to be light in weight, comfortable on grip. After all, you will be carrying it at arm's length for a period varying from 5 to 10 minutes, and at least for 15 minutes if you are blow-drying using a round brush. However, if you are looking for a hair dryer only for the purpose of drying, then weight is not an issue.
Material:
Hair dryer should be made from top-notch, durable, heat resistant material with a ceramic coating to prevent breakage.
Ionic technology:
The USP of the technology lies in the breaking of water molecules present on the surface of hair. The negatively charged ions break the water molecules into smaller molecules that are absorbed by the hair. The hair stays hydrated.
Easy-to-fit attachments:
The easy-to-fit attachments are diffuser, concentrator that are present in most hair dryers. Diffuser spread heat uniformly that defines the curls. A concentrator straightens the hair. Moreover, a third attachment also comes with many blow dryer and it is the comb.
Tourmaline Ceramic Technology:
What is tourmaline ceramic technology? Ceramic technology helps in even distribution of heat that prevents breakage and damage, while tourmaline technology reduces static electricity and fizz. And when the two combines you get soft, smooth, lustrous hair. That is the aim a good hair dryer should possess.
Speed and Heat setting:
The amount of heat emission and the speed of the airflow completely depends on you. And, that is why hair dryer comes with speed control and more than two or three heat level control. That's make it more convenient and user-friendly.
Ergonomic:
Take into account the ergonomic design because a good grip makes the hair dryer more comfortable and efficient. On that note, the big brands are putting a lot of effort to make blow dryers handy.
Power consumption:
The ideal wattage of power for a blow dryer is 1800-3600 W. if the power consumption exceeds the limit it may overheat thee dryer and even cause short circuit.
Steps to dry hair with blow dryer:
I know you know very well how to dry hair using a blow dryer. But, sometimes we miss out the very significant steps that can effect hair. So, here is the step-by-step method of using a hair dryer.
Ensure hair is only 70% wet or damp while using a blow dryer.
To spread heat evenly always use a diffuser.
Always use a heat protecting serum before blow drying. It is mandatory if you are using the blow dryer frequently.
Never stretch hair while drying, it can cause breakage.
Gently scrunch hair to define curls while drying.
Frequently Asked Questions of Best blow dryer for natural hair
Which is the least damaging hair dryer?
The hair dryer with ceramic and tourmaline technology does less damage. Revlon Infrared hair dryer is the best.
What is the highest rated hair dryer?
Revlon Infrared hair dryer is the highest rated blow dryer.
Is blow drying well for natural black hair?
To maintain the health of the hair you must avoid harmful activities. So, while choosing a hair dryer consider your hair texture and how least harmful it is.
Final words on Best Blow Drier
So, guys we hope you got to know everything about the best blow dryer for natural hair and you have made your choice. But, if you are reluctant in making your choice then let me tell you we have brought the best of the best hair dryer. Ratings and reviews are enough to say so. However, choice is completely yours but do consider the buying guide in choosing the one.
Until the next time have a wonderful hair day.