Have unmanageable frizzy hair? It is so frustrating when you can't afford to visit a salon or want beautiful, silky smooth hair in an instant. At that time, the right hair styling tools are what you need. Ladies, now you have the hair straightener from Philips for that instant smooth hair. With various models available in budgets, there is definitely the one made for you!
The universe of ion hair straighteners is so vast, that difficulty arises in choosing the perfect one. With this buyer's guide and the Philips hair straightener review, you will no longer stay confused in making the right choice.
Best Overall
PHILIPS Bhs378/10 Kerashine Straightener
Professional level temperature
Ceramic plate for smooth gliding
Fast heating
2 years warranty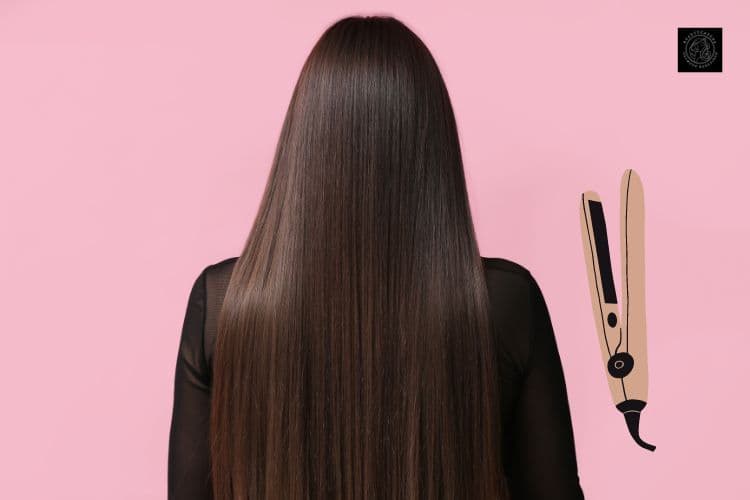 Jump To:
10 Best Philips hair straighteners
Here are best hair straighteners from Philips: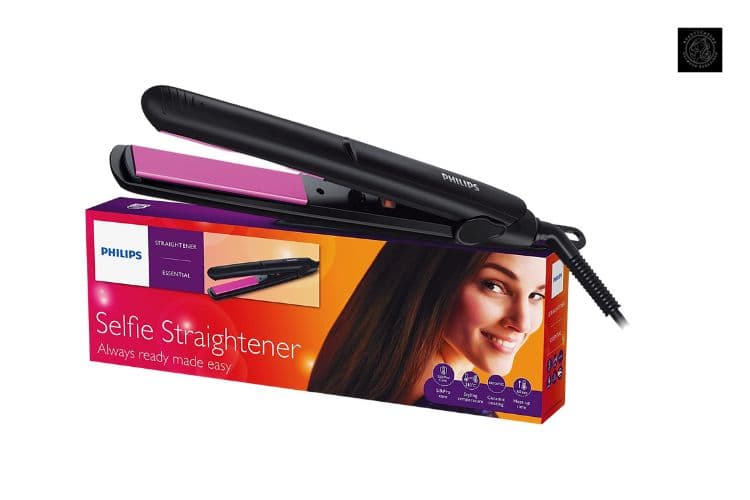 PHILIPS HP8302 Selfie straightener
Silk Pro care
Ceramic plates
Professional temperature
Philips hp8302 hair straightener review: This Kerashine collection by Philips is the value for money hair straightener. The keratin coated ceramic plates transform the frizzy tresses into that silky, smooth hair- which you have always desired! And the best part is, hair faces the least damage.
All because of the Silk Pro care Technology it has been built with. This straightener is flexible to use anywhere in the world. It consumes a minimal amount of power; 110V-120V. In short, it is reliable to invest in.
Pros
Built with SilkPro Care Technology that cuts down the damage of heat.
Keratin-coated ceramic plates glide smoothly without causing much friction.
Temperature range up to 210°C.
2 years warranty assured.
Damage-free ceramic plates.
Cons
Straightening lasts for 2-3 hours.
Plates size may not suit thick hair.
Pros
Silk Pro Care technology reduces the effect of damage.
Keratin ions infused ceramic plates add smoothness.
47 mm wide plates designed for thick and long hair.
Makes hair luminous and ultra-soft.
2 years assured warranty.
Cons
A bit costly.
Not suitable for curly hair.
The Philips BHS738/00 Kerashine Titanium Wide Plate Straightener has a variety of features that set it apart from other models.
The plates are wide enough to straighten larger sections of hair, and the ion technology helps to eliminate frizz and flyways. The straightener is also equipped with a sensor that adjusts the temperature based on each segment of hair so there are no hot spots. The heat stays consistent throughout the straightener, making it less likely for you to get burned.
The straightener heats up much faster than other models we tested, even heating to 180 degrees in just 60 seconds. This is an advantage for longer hair that can take upwards of 4 minutes to style.
Speed is an important consideration when you're straightening a large section of hair, so the ability to style more quickly is a big help. The straightener also comes with a 2-year warranty, which is longer than the average 1-year warranty.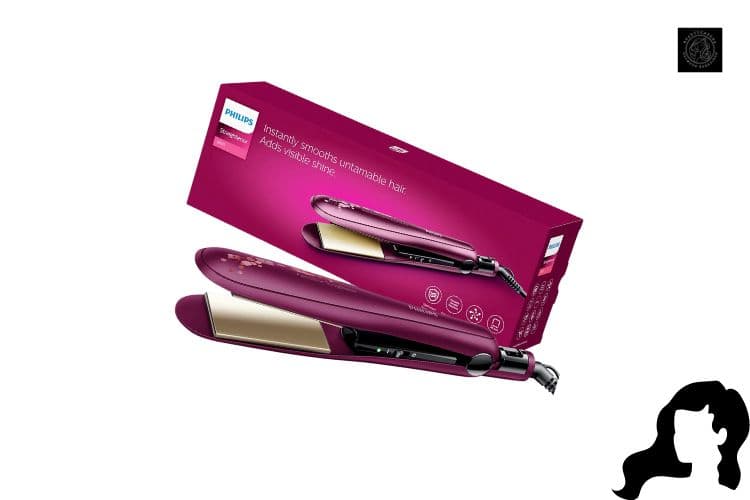 PHILIPS BHS73800 Kerashine Titanium Wide Plate Straightener
Extra-wide plates
Fast heating
PHILIPS BHS39340 Straightener with Silk Protect Technology
The straightener on our shortlist didn't necessarily have to be the best, it just had to be better than the BHS383/40.
Sure, the BHS383/40's 2-year warranty and high-profile product placement (this product featured in commercials with Paula Abdul and Sofia Vergara) certainly helped, but this straightener is also one of the best we've tested, with smooth, fast heating and styling, and a temperature range that covers the gamut of hair types. It is also suitable for curly hair.
It's also priced relatively competitively, and the included accessories are functional.
The straightener's adjustable heat settings make it a good pick for fine or thin hair, and the long plates make it one of the quickest straighteners on the market to heat up.
The straightener's swivel cord has come in handy on numerous occasions, and its extra-long 1.6-meter cord makes it less likely to tangle. While straightening or curling, the straightener emits a faint, but pleasant whirring noise, far quieter than that of some straighteners.
Pros
Specially designed UNITEMP censor assures minimum heat exposure.
Is a professional grade straightener.
Comes with high and low temperature settings.
Keratin-infused ceramic plates glide effortlessly.
Smoothens the hair cuticle to enhance the gloss and shine.
Cons
Straightening does not stay long.
Some users said the gap is small.
Pros
Ionic technology eliminates static and conditions hair.
Silk Pro Care controls heat exposure.
Keratin-coated ceramic plates smoothen hair.
Specially designed wide plates for thick and curly hair.
A 1.8 m swivel cord helps to rotate the wand in all directions.
Heats up in 30 seconds.
Cons
Straightening does not stay long.
The Philips Kerashine Straightener is a quality unit that offers a lot at a fair price. It delivered smooth, silky results on our hair.
Its plates are large, which helps cut down on the time needed to style your hair. The styling iron is lightweight and easy to use.
It even has adjustable temperature controls, a 30-second heat up time, and an ionic generator that is supposed to help lock in moisture. And best of all, it has a two-year warranty from Philips.
If your hair is thick, then you have landed on the right product for your hair! Because this Philips ion hair straightener is perfect to tame the thickest hair.
As you know, straightening thick or curly hair is no easy task. You need the right straightener. To overcome this difficulty, Philips brings this straightener with Keratin Coated Ceramic plates.
PHILIPS Bhs37810 Kerashine Straightener
Thermo protect technology
Fast heating in 30 seconds
Ionic care for shiny, frizz-free hair
Pros
Designed with SenseIQ technology that retains hair moisturizer at the deepest layer.
The intelligent microprocessor adjusts the temperature to prevent overheating of hair.
Tetra ionic system removes static and adds shine to hair.
Heating plates at 20% large.
It has 3 styling modes.
Retains 93% essential strength of hair.
We all know how smart the world of gadgets has become! And as Philips is known for innovation, a new entrant is the Prestige straightener. Silk Pro locks the natural moisture of the hair. And the result is strong, shiny, healthy hair whenever you style.
The smart SenseIQ technology measures and adjusts the temperature, and prevents overheating. It locks up to 70% of hair's natural moisture. But that's not all! It has a tetra ionic system that adds shine to hair. Thus, hair looks healthy inside, sleek and lustrous outside.
Philips Silk Pro Hair Straightener
Hair stay straight for longer period
No damage to hair
Pros
Keratin-infused ceramic coating glides smoothly with minimized friction.
Controls heat exposure.
90 mm long plates for fast and easy straightening.
210° C professional temperature for salon perfect finish.
Cons
Generate a humming sound after getting heated.
This Philips hair straightener impressed with its small size and weight, making it super portable. With a quick heat-up time of 60 seconds, you get straightening results in half the time. Being only 2.3 x 4.2 x 2.2 inches and lightweight at only 200 gms, you can easily bring it with you wherever you go.
The ceramic plates help smoothen your hair as you straighten it and glide easily through your hair, making it look sleek and silky.
The straightener heats up fast and has a handy swivel cord that rotates and makes the straightening process easier. It has 3 heat settings – 170 degrees, 195 degrees and 210 degrees, which gives you the flexibility to choose the temperature for the style you want.
The straightener has a 2-year warranty.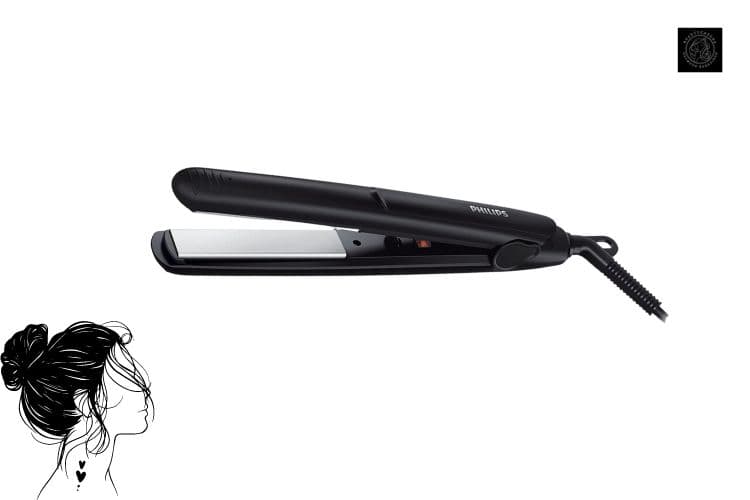 Philips Hp 8303/06 Hair Straightener
Positive user feedback
Ceramic coated plates
Pros
Combination of a gentle dryer and a caring straightener.
Suitable for regular use.
The dryer has 2 pre-selected heat and speed combination.
210° C professional styling straightens for a salon finish.
Ceramic plates glide effortlessly.
6 m swiveled cord to prevent tangle.
Cons
Not suitable for long hair.
"Miss Fresher's Styling Kit!" What a sweet name, isn't it? This sweet combo of a dryer and a straightener is equally efficient. This combo is something you can use daily.
Hair Dryer: Philips' new hair straightening kit is impressively easy to use, and it's fast, too. The plates heat up in just 60 seconds, and the straightener has a wide 270-degree swivel cord, so you can easily maneuver the straightener without getting tangled up.
The dryer has a narrow concentrator, so it's perfect for getting focused airflow where you need it, whether it's at the roots, mid-lengths, or end.
A heavy-duty, professional hairdryer with a powerful 1000W motor. The 210°C temperature setting and tools allow you to achieve great results. The swivel cord is designed to prevent tangles, and the lightweight design means it's easy to carry.
Hair Straightener: The Philips HP8643/46 Straightener is one of the best straighteners we've tested (it also scored well in our testing of the Philips HP8650/46 Ceramic Curling Iron).
PHILIPS HP8643/46 Straightener
Suitable for all hair types
Good cord length
Ready to use in 60 seconds
This straightener irons all hair types gently and quickly, and it glides smoothly through hair without pulling. The straightener has a ceramic plate, so it doesn't emit any nasty chemicals or odors.
The HP8643/46 is lightweight and has a comfortable grip. It also heats up quickly, though it takes some time to cool down (it takes 3 minutes to go from 250C to 180C, and 5 minutes to go from 180C to 50C).
Finally, Philips offers an excellent warranty (the straightener has a 3-year warranty, but it's a lifetime warranty on the ceramic plates) as well as a responsive customer service department.
Pros
SilkPro Care Technology reduces the damage of heat on hair.
Triple bristle design also protects the scalp from heat.
Thermo Protect Technology maintains uniform temperature across the brush to prevent overheating.
LED light indicator tells when the brush is ready.
Cons
Straightening does not stay long.
Works on wavy and semi-wavy hair.
Philips heated hair straightener brush review: Hairbrush! Without it, we can't imagine a day. There are so many types of hair brush, each unique in its own way. And Phillips has brought a new type of hairbrush. Philips Style Care Essential Heated Straightening Brush.
Designed with the SilkPro Care Technology, it is a large-paddled shaped brush that straightens more hair in one go. It has the Keratin-infused ceramic coated triple bristle. This bristles gently detangles, straighten hair and protect the scalp from the heat. Hence, within a few minutes you get detangled and straightened hair, making you ready for all occasion occasions.
Philips Thermo Protect Straighting Brush
Large Paddle -shaped brush
Keratin infused ceramic coating
Pros
Thermo Protect Technology prevents overheating and protects hair from heat damage.
Features ionic care for frizz-free, shiny hair.
Keratin-infused ceramic plates glide smoothly.
 6 variable LED temperature setting – 160°C-230°C.
 100 mm long plates for perfect straightly in less time.
Cons
The external body may get hot.
The Philips Oneclick Styler is designed to make hair styling fast, easy, and fun. With this all-in-one tool, you can straighten, curl and crimp your hair. It is the best Philips hair straightener and curler.
The styler has interchangeable plates that make it easy to style a variety of hair textures.
The straightening plates give a sleek finish, the curling barrel creates tight curls, and the crimping plates create textured waves. There are two heat settings, and up to 1000 watts of power. The styler has ceramic plates that heat up quickly, and the plates are evenly heated for even styling.
Thanks to its ceramic coating, hair isn't damaged while styling. It offers good heat control and locks in straightening results, though it's slower than some models and takes a little longer to style short hair. We love that it comes with a dedicated curler attachment, too, which is a real bonus.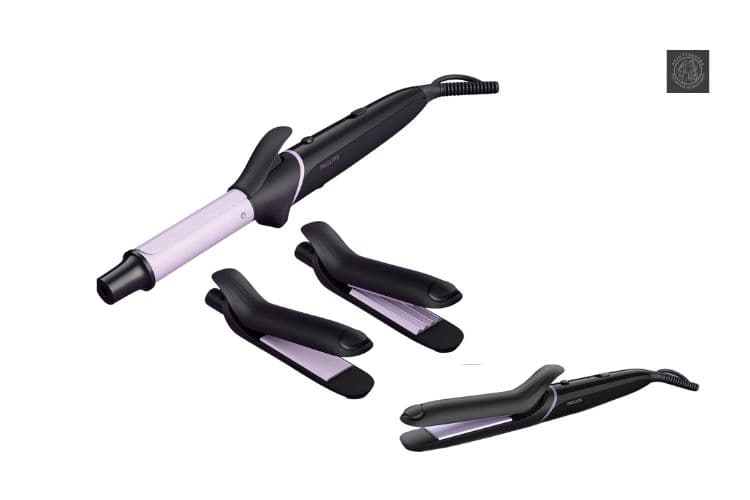 Philips BHH816/00 Crimp
Swivel cord
Heat insulating material to keep it cool
Pros
With the latest technology, it straightens your most wavy hair with ease.
The ionic function reduces frizz and static.
Has an ultra-fast heating feature (about 15 seconds).
Floating plates with a sleek design.
Cons
Price is high.
No temperature control.
The Philips BHS736/00 Kerashine Titanium Wide Plate Straightener is the best hair straightener for those who have thick or long hair. The plates are extra wide, so they're able to straighten more hair at once.
The titanium-infused plates glide through the hair quickly, making straightening a breeze. The hair straightener has keratin-coated plates, which reduce heat damage and also help with shine.
The straightener heats up in 60 seconds, so it's ready to use in just a few minutes. The straightener is also equipped with an ION function, which gives a sizzling sound when the straightener is heating up. This is normal, and nothing to worry about.
Philips BHS736/00 Kerashine
Smooth styling
Slik Protect technology
Philips vs Babyliss hair straightener
With years of experience and innovations, Philips has built an international reputation. If Babyliss is better known in the hair dressing world, then I must say Philips Company is no less recognized for its variety, reliability and quality of its products.
Through its varied range of straighteners, Philips offers you a wide competitive choice, for less filled wallets or the most full. With Philips straighteners, you get smoothening with quality. Keeping in mind the delicacy of hair, Philips has offered style with care.
Philips hair straightener review: Choosing Philips means opting for a quality and reliable product. Its entire range and user-friendly features have satisfied people around the globe.
About Philips
A Dutch company founded in 1891, Philips is a leader in innovations. With technological diversity, the company is a ruler in the world of personal care and home appliances. Philips brings solutions to improve everyone's daily life. In a true sense, it has 'innovations for us'.
When it is about personal care, how can Philips stay away from women-centric products? It has a full range of beautifying innovations, and one such is hair styling tools- from hair dryers to curlers. In this article, I have presented a guide on the best Philip hair straightener.
Advantages of Best Philips Hair Straightener
Following the entire range of Philips straighteners available in the market, a number of strengths often come to the fore. Accessibility, simplicity, easy operation and efficiency are the most common, but certainly not the only ones! And for your kind information, all these pros are mentioned infinite times by customers.
With a varied range, Philips hair straightener is offered for all budgets, from the cheapest to the most expensive! And rest assured: even a low-budget straightener will satisfy you if it suits your hair type!
Why buy a Philips hair straightener?
Philips has successfully created its place in the restricted universe of hair straighteners. It is proven to be the most loved brand by women. Why? They are very economical in the investment of both time and money.
The entire range is created keeping in mind all the hair types. Coated in a keratin-friendly formula, tourmaline, titanium or ceramic, it has the least adverse effect one can think of. Philips hair straighteners confirm 100% customer satisfaction.
How to use Philips hair straightener at home
For best results, properly comb all sections of hair with a hairbrush.
Using a slim comb, divide your hair into various small sections.
Start straightening the divided sections one by one.
Start from the top of your hair and come down slowly towards the end.
Once done flaunt it.
Frequently Asked Questions: Philips Hair straighteners Review
Which hair straightener is best in Philips?
PHILIPS BHS378/10 Kerashine Straightener is the best hair straightener.
What is the best brand for straighteners?
Considering the quality, price, reliability, efficiency and brand image and trust, Philips always stands as the best in hair styling products.
Is Philips hair straightening brush good?
Philips BHH880/10hair straightener brush is an amazing hair styling tool. It is worth money and worth trying.
Does Philips hair straightener damage hair?
Daily use of any hair straightener can damage your hair. Though Philips hair straightener offers less heat exposure, its daily use can cause dryness. An additional tip is if you are using the straightener frequently, then increase your times of hair oiling as well.
The Verdict: Philips Hair Straightener Review
As a user of Philips hair straightener and hairdryer, I can assure that you won't regret your decision of buying one. It's been years that I haven't switched to any other brand because of its efficiency and user-friendly feature. I get straight beautiful hair conveniently whenever I want. I am also among the ones who have always added to a positive review.
There is no doubt, at the wide range of Philips hair straighteners helps you to manage your most wavy/frizzy hair and go stylish. It Saves time, and provides a shiny smooth texture to hair… So many little extras that allow you to say goodbye to your frizz! Whether daily or occasionally, you can have a straight look whenever you wish.
Related: