Curly hair styling mistakes to avoid: If you have curly hair, you know that it can be both a blessing and a curse. On one hand, you have a head full of luscious, bouncy curls. On the other hand, you have to put up with the frizz, the tangles, and the never-ending battle to keep your curls looking their best.
One of the most important things you can do for your curly hair is to learn how to style it properly. Unfortunately, many women make common styling mistakes that can actually do more harm than good.
In this article, we'll share some of the most common curly hair styling mistakes and show you how to avoid them.
Related content:
7 Curly hair styling mistakes to avoid right now
Mistake 1: Washing your curly hair too often
It's hard not to give in to the temptation to wash your hair when curls start to loosen or frizz appears all over, yet you don't need to wash it more than twice a week!
The ideal is to wash them once a week so as not to attack the fiber and the scalp too much, but depending on the state of your roots, you can completely wash them twice a week.
This is particularly the case for those who have itching since these increase due to sebum and dirt.
Be careful, use only soft and natural products!
If you have already started your transition, then you surely realize that having to completely redo your routine several times a week is super restrictive, and it can even give the opposite results.
It's quite simply because your curls are damaged by conventional shampoos in supermarkets and too frequent handling.
Why necessarily use shampoo to refresh your curls?
Want to freshen up your roots? It is also possible to use floral waters on your scalp, in particular, to give them a boost of freshness.
Do you exercise several times a week? Use a detox soap or make a co-wash, it will gently rehydrate your curls and allow you to detangle them without shampoo.
Mistake 2: Rubbing your lengths when you wash them
Your hair is only dirty at the roots, not at the lengths.
This is where the sebum is secreted and it is this which gives this greasy effect after a few days, the residues thus tend to remain more in this place and the dust and pollution cling.
This is completely normal since, conversely, the tips and lengths are in motion.
So, it is not useful to put shampoo anywhere other than on your scalp!
If your lengths are dirty, they will be washed naturally thanks to the shampoo which will flow when you rinse your hair. It is more than enough for this part of your curly hair, and in addition, it will avoid stripping them!
So you don't need to scrub your lengths or your ends, on the contrary, you will only tangle them more. So avoid this mistake for your curly hair.
Attention! Rubbing your lengths too hard is very bad for the hair fiber, it creates knots, frizz and will weaken your curly hair.
Mistake 3: Using towels that snag your curls
Classic terry towels are pleasant to use, they absorb water well, yet they are not the best option for your hair whether it is curly, wavy or frizzy.
This cotton material and this absorbent terry texture will capture all the water, and dry out the hair fiber. It will therefore prevent your hair from keeping good hydration!
It's best to use a towel made of a soft, natural material like bamboo, and with a smooth texture like microfiber.
Gently sweep your curls with the towel to soak up excess water but without completely drying out your lengths.
Mistake 4: Drying your curly hair badly
As we've seen, if you want to spin your hair without damaging it, the easiest way is to take your bamboo or microfiber towel, pat it down, and above all, don't rub your lengths violently.
Rubbing will prevent you from getting good results, frizz party results!
You must therefore be particularly careful about how you dry your lengths and ends, which are the most fragile.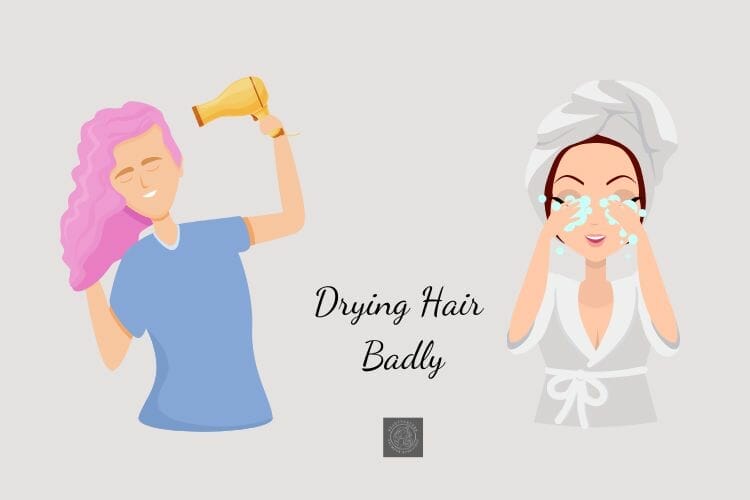 Also, the tight turban technique should be avoided as much as possible because it will pull on your roots and flatten your lengths.
You can still wrap your hair by plopping! This involves laying your towel on a flat surface and putting your head forward to lay your curls inside. This method will help you dry your curls in their natural bouncy shape, rather than being flattened. You don't need to hold your plopping for hours, just hold it until your hair is thoroughly towel-dried and let it air dry or finalize with a diffuser.
Mistake 5: Using too many styling products
Styling products are essential to keep your curls or waves in place over several days, it's THE secret of well-coated and well-shaped curls.
When you don't use them, you'll tend to see them fall out quickly, and hello flat hair.
But be careful not to make the mistake of using too much!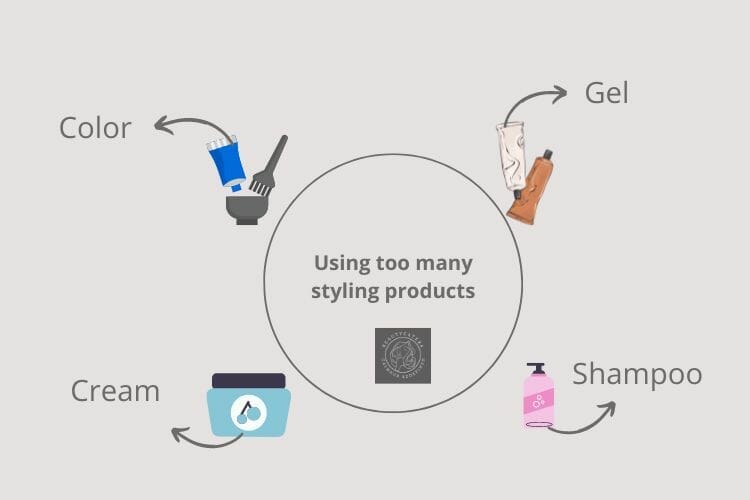 Overloading your hair with products prevents it from keeping its natural shape. You'll notice a sticky effect that won't come out or a greasy layer that will weigh down your curl.
Either way, it won't help you achieve great hair, so avoid this classic mistake for your curly hair.
Instead, apply styling products sparingly, especially if you have fine hair, and then adjust the amount as you style.
You can dilute the products in water to lighten them
Apply them only on the lengths, and not on the roots
Test a milk or a cream according to what suits you best
You can even put them back later in the week, to give them a boost and reform your curls.
Mistake 6: Applying your styling products at the roots
The principle of a styling product is to help maintain a well-defined, sheathed curl while caring for it.
It is therefore a rich product that, even if it has a fluid and light texture, can weigh your hair down.
In general, it is the ends and lengths that need it the most because this part of your hair is inevitably more damaged than the roots because it is more exposed to external aggressions (wind, cold, friction, etc.)
It is therefore not necessary to put gel or leave-in cream on your roots and even less on your scalp!
This will suffocate the hair at the roots and prevent it from growing. This is also how itching and dandruff proliferate faster…
To avoid putting product too close to your scalp, you can tilt your head forward or to the side and do a scrunching motion, that is, start from the ends and pull your curls up with your hands.
Take a small amount of hair care product and readjust as you go!
Mistake 7: Drying your curly hair without a diffuser
Beyond towel drying, you can speed up the drying part with a hair dryer.
But be careful how you use it because it can quickly ruin your entire hair routine, and we hate that, don't we?
By adding a diffuser to the end of your hair dryer, the air will be distributed evenly.
You'll be less likely to have frizz, or a frothy effect, once your hair is dry.
It's also a good solution to avoid directing heat to the same spot and thus further weakening the hair fiber.
The diffuser also reproduces the scrunching movement and therefore won't make your hair fly in all directions. Turn it upside down so that your curls settle into their natural shape, stay for a few seconds and then change the zone, but don't rush your curls!
By avoiding these 7 mistakes for your curly hair, you can enjoy your curls naturally!
Combine these steps with simple, natural and adapted products, so that little by little you will find beautiful curls well defined and without frizz!
Final Words: Mistakes to avoid while taking care of curly hair
Curly hair can be difficult to manage, but following a few simple tips can make a big difference. Avoiding common mistakes like using the wrong products or not properly caring for your hair can help keep your curls looking their best.
This guide from Beauty Caters will help you avoid frizz and maintain healthy, beautiful curls.