Those luscious, naturally dark hair of grand moms and moms! – They are the gift of genes and an age-old formula; we know by many names- Arandika Tel (Hindi), Rerir Tel (Bengali), Erandela Tel (Marathi), Amanakku Enney (Tamil), and Castor oil (worldwide).
Castor oil is so beneficial that you do not have to depend on your genes only and say "I wish "for the desired hair; neither you have to sacrifice sleep to carry out the hair care. It is a validated fact.
So, ladies and gentlemen, here I present everything about the benefit of castor oil on grey hair and hair growth.
Castor oil for gray hair : What is Castor oil?
Castor oil is a pale yellow viscous extract of cold-pressed castor beans grown widely in India and the tropics. It has a distinctive odour and taste. The oil is rich in triglyeride-90% of ricinoleates, oleates, and linoleates. Now, you must be thinking triglyceride is harmful. It is, but only when consumed. The triglyceride in castor oil makes it a good moisturizer. The oil has ricinoleic acid, which is; why it is a good anti-bacterial and anti-inflammatory agent.
What does Castor oil do?
The sticky consistency of the oil may make you a little skeptical about using it. But once you about its benefits, I bet you will have it as your ultimate essentials. Castor oil is one oil that works as well on hair as on the skin. Even it is highly beneficial in growing thick eyelashes and brows. And here you will know how it benefits hair.
What are the benefits of castor oil for grey hair and hair growth?
The oil is a one-stop solution to hair issues ranging from preventing breakage to curing scalp ailments. Here are the benefits your hair will get from a bottle of castor oil.
Control greying
If like me, you too want to retain the natural dark color of your hair, then castor oil is the only thing you need. The omega 3-fatty acid in the oil is an excellent formula for slowing the process of premature greying. A small amount of its routine application retains the natural color for a long. Hence, with the first sight of greys-start using castor oil.
Initiate hair growth
The ricinoleic acid is a damaging reversal and growth-stimulating agent for hair. With Vitamin E, the acid nourishes the scalp, accentuating keratin formation, which leads to healthy and long thick hair. Estimation states the growth rate increase to 4-5 times.
Relieves scalp from infections and problems
Dandruff, dryness, itching are the common problems of scalp infection. Castor oil gives personal attention to these issues. The anti-bacterial and anti-inflammatory properties maintain pH; stop the growth of bacteria and fungus, which leads to problems. The oil can also treat bald patches.
Conditions hair
Enriched in moisture-castor oil penetrates deep into the scalp from where the moisturization process starts. It locks moisture in every hair shaft and ensures the hair stays healthy and conditioned, healthy and soft, smooth, nourished, and shiny.
Keep frizz away
The oleic and linoleic acid in the oil tames dry, brittle, and frizzy hair-softens rough follicles and restores the smoothness and shine it lost. Eventually, your hair gets rid of spilt-ends.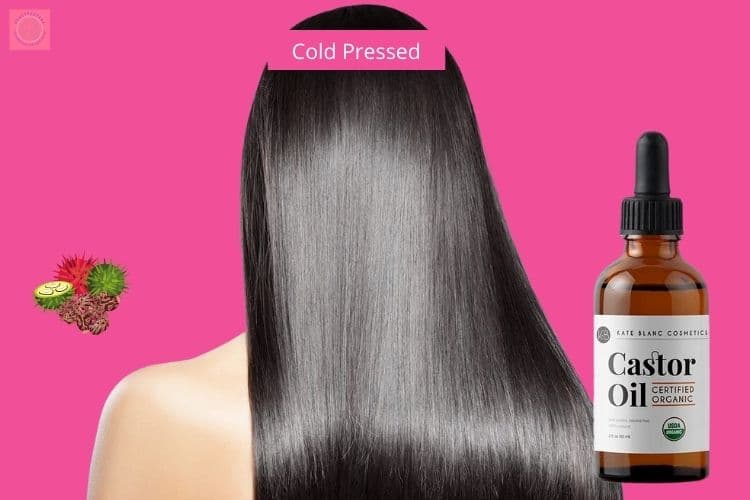 Things to consider for applying castor oil on hair
"Just like any other oil, we can apply castor oil."; must be thinking right. It is true, but excessive of anything can be detrimental, no matter how helpful it is. The case is the same with castor oil.
Castor oil has an odor that can irritate the nose. So, mix the oil with any neutral oil such as coconut oil or sweet almond oil. It helps to get rid of the odor and makes it less sticky.
Apply the castor oil mask once a week. Too much of it cause hair felting, i.e., clumping hair into a hard mass.
Castor oil is quite stubborn and works well on slightly damped hair, not the wet one.
Castor oil tends to stain cloth or pillow covers. Cover with a shower cap after application, or use an old top to be extra careful.
Leave the oil for 30 minutes-2 hours, then wash with a mild shampoo. For best result, leave for overnight.
Condition your hair before shampoo for easy oil removal. In case of no conditioner, a couple of eggs are a good substitute. But they may put the stinky smell.
Reasons you loss your hair
It is said; that women naturally lose between 50 and 100 hairs per day. Longer hair tends to make the hair loss appear excessive, but being a physiological phenomenon: there is no need to worry about it.
However, if you still feel like you are losing more hair, some factors may be the cause, and you need to take action. Here are those factors.
Disruption of the growth cycle with age
As we age, our hair growth cycle gets disrupted easily. The span between hair loss and the start of new growth lengthens; our hair becomes thinner and more prone to breakage. But, remedies put control on the fall by initiating faster growth.
Poor blood circulation
Poor blood circulation leads to a weak, unhealthy scalp. Hair follicles joined to the capillaries in the scalp stay unnourished. As a result, it becomes thin and more prone to falling. Proper care makes scalp and hair healthy.
Undisciplined lifestyle
We, women, are multi-taskers; with the responsibilities at home and office, we hardly get time for proper care. Lack of nutrition, nurture, and sleep inhibits the creation of new cells, which affect health, significantly skin and hair.
The adverse effect of color and chemical treatment
Repeated hair treatments, styling, coloring, bleaching cause damage to the hair and scalp. The chemicals in contact with the scalp make it rough and inhibit hair production. If you are concerned about hair loss or damage to your hair, it is best to avoid these hair treatments as much as possible.
Seasonal hair loss
The rate of hair loss varies with the seasons. Between spring and fall, hair tends to have the highest fall. It is common to all. Proper care and maintenance work as a boon.
Same hairstyle for long causes hair loss
Keeping the same hairstyle for a long also serves as the one reason for hair loss. Instead of tying your hair up all day, let it fall out and let the scalp rest. Also, change your parting as much as possible to reduce the strain on the scalp.
After-effects of childbirth
After childbirth, hair loss is a common problem. Hormonal changes during pregnancy affect the growth cycle, leaving hair weak and ready to fall, which remains intact at that time. Post-pregnancy hormonal changes again occur; the hair left-to-fall and the present hair prepared-to-fall; fall together. Regrowth occurs once the growth cycle returns to normal.
But if an undisciplined, stressful, sleepless postpartum life continues, regrowth may take time.
How to prevent hair loss?
Avoid tight hairstyles and compulsive twisting, rubbing, or pulling your hair.
Treat your hair gently when washing and brushing. A wide-toothed comb can help prevent hair from pulling out.
Refrain from harsh hot rollers, curling irons, permanent treatments, and hair-loss-prone medicines.
Keep hair away from direct sunlight and ultraviolet light.
Studies show a direct link between hair loss and smoking. Quit smoking.
If you are going through chemotherapy, use a doctor-prescribed cooling cap. It reduces the risk of hair loss during chemotherapy.
Also check black castor oil for hair loss issue.
Reasons for Premature Greying
Certain factors are the shocking reasons behind premature greying.
Genetics
If your dad or mom shed their first hair white around 30, prepare to take the shock prematurely. Indeed, some inheritances are not always gifts!
Low melamine production
Stress, lack of vitamins (be careful with your diet), too much exposure to the sun, tobacco, and alcohol consumption can upset melamine production and generate the growth of grey hair.
Effects of hot flashes
Avoid hot flashes which dry out the hair and age the follicle. If you go out in the sun, cover your head. And above all, never pull out the hairdryer all the time. Anticipate the drying time and sacrifice to get up earlier. Your scalp will give it back to you!
Does Castor oil accelerate hair re-growth and growth?
After two to three weeks of daily application of castor oil to your hair, the results are there. In addition to the centimeter we gain each month, it is possible with castor oil to accelerate the growth of your hair from ½ centimeter to 1 centimeter.
While testing castor oil to tests benefits of castor oil for grey hair we found numerous testimonials voicing benefits. Castor oil reduces dryness, makes hair softer and shinier.
How to apply castor oil step by step
Dilute your oil by mixing it with another (example: organic coconut oil or sweet almond oil).
Indeed, castor oil is particularly viscous and fatty. Mixing of several oils will allow you to benefit from their different benefits (regeneration, collagen).
Make a mixture of two oils taking half of each oil.
Once the mixture is done (the use of a bowl or a small container is sufficient), apply directly to your scalp massaging and apply the rest to your hair and ends.
Leave at least 30 minutes to 2 hours. You can of course leave castor oil for overnight.
Remember to rinse your hair with a mild shampoo or conditioner though, see twice if your hair tends to get greasy quickly.
Frequently asked questions about castor oil:
Can I apply pure castor oil on hair?
Yes, but it is better to combine it with another oil (sweet almond type), in order to facilitate its application.
How long does it take to grow hair with castor oil?
On average, our hair grows at a rate of 1 cm per month. With castor oil, it is possible to accelerate hair growth from 0.5 cm to 1 cm , or 1.5 cm to 2 cm of hair growth per month.
What type of hair can castor oil be used for?
Castor oil is suitable for all types of hair : straight, frizzy, curly, oily or dry… Castor oil is your ally!
Does Castor Oil Help With Hair Growth?
The benefits of castor oil can be traced back to thousand years ago in Egypt, where it has been the growth and strength factor of hair. It is a unisex product.
Can I use castor oil on curly hair?
Castor oil suits all hair types short, long, straight, wavy, and curly. It works on dry, damaged, and frizzy hair.
Is castor oil suitable to use on eyebrows and lashes?
Castor oil accelerates growth of eyebrows and lashes. If your brows and lashes are thin apply castor oil once in a week. Result is worth noticing.
How good is castor oil in preventing premature greying?
Castor oil prevents bleaching, or whitening of hair. Its omega 3-fatty acid is the core reason behind the feature. It not only prevent premature greying of hair but also of facial hair or beard, boys.
How long does castor oil take to accelerate the regrowth of hair?
Every month hair our hair grows a centimeter long. With castor oil, the growth accelerates almost 50% fast. In two to three weeks, growth will increase from ½ centimeter to 1 centimeter.
Conclusion: benefits of castor oil for grey hair
Castor oil has been the essential beauty arsenal of Egyptian Queen Cleopatra, the historical figure known for her dark, sleek, long tresses. And the same product will be your beauty arsenal. With its use, your hair will be the talk of your friends at least, if incidentally not of town.