"Nature gives you the face you have at twenty; it is up to you to merit the face you have at fifty." – said Coco Chanel, the ace fashion designer. The connection of our skin with nature is deep- starting right from the hypodermal cells. That's why natural elements, whether you intake them or use them externally, are your skin's best friend- like fruit facials.
Packed with antioxidants, vitamins, and minerals: they make your skin look gorgeous, clear, and glowing; you want it to be at a wedding, family function, or simple get-togethers or parties.
Fruit facials are for all skin, but today we are talking about the best fruit facial kit for dry skin.
10 Best Fruit Facial for Dry Skin
The X-factor:- This fruity cocktail showers innumerable benefits on the skin.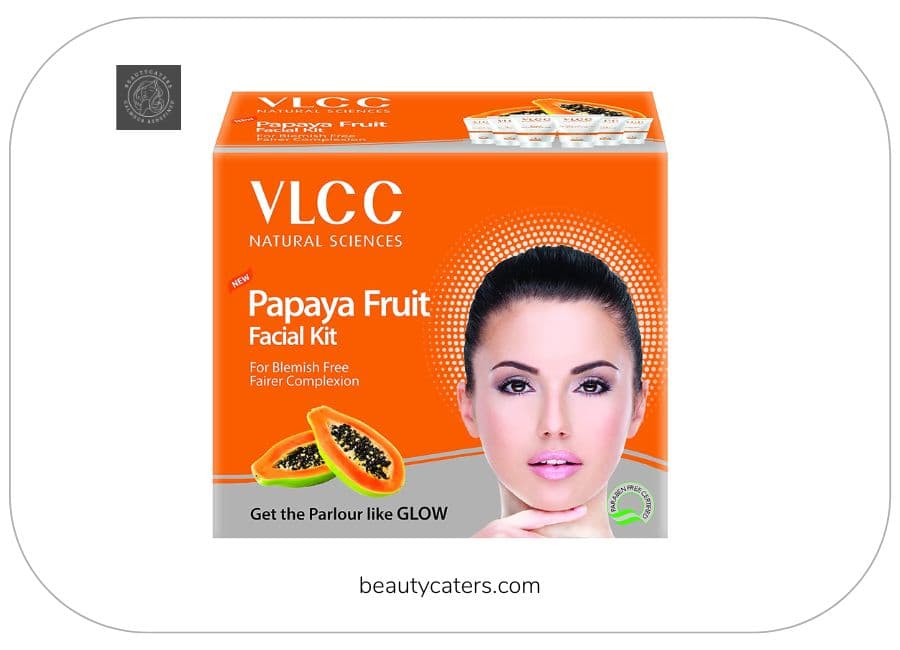 Know in detail:- With a cocktail of papaya, cucumber, peach, and orange peel, this facial kit provides skin with the benefits of clear, calm, healed, brightened, young tone protected from environmental damage. With every session, your skin walks toward being better.
The papaya in the scrub washes the dead cells away. Cucumber gel hydrates and soothes the skin while curing the under-eye circles and puffs. It also bleaches out the tan. The massage cream with antioxidants and vitamins-enriched peach rejuvenates skin reversing aging; the orange peel mask is a UV and environmental protector that brightens and even out your tone.
In the box:- a Comfrey cleanser toner, a papaya-seed scrub, a cucumber gel, a peach massage cream, an orange anti-tan mask, and an oil-free moisturizing gel.
Pros
A complete solution to all skin issues.
No rashes on sensitive skin.
Properly instructed at the back of the box.
Suit all types of skin.
Price in budget.
The X-factor:- A facial kit with antiseptic, purifying, and pH balance formula.
Know in detail:- This fruit facial goes a step ahead. Its formulation is a complete skin treatment, healing all stubborn issues- like fighting bacterial growth, detoxification, and balancing the pH level that otherwise fills your skin with dullness, pimples, and acne.
Being one of the best fruit facial kits, it has the astringent and antiseptic lemon and turmeric in the moisturizing cleansing milk that preserves skin's elasticity while extracting the impurities. The unique orange peel and alpine salt skin polisher cleanse, detoxifies, and lighten the tone.
The massage cream nourishes and brings out a natural glow. But the fruity-acid infused pack and the lotion revitalize and maintain the pH of the stressed skin.
In the box:- cleansing milk, a skin whitening polisher, a nourishing cream, a rejuvenated perfecting and rejuvenating face pack, and a moisturizing lotion.
Pros
100% natural.
Cleansing milk is a makeup remover.
Ideal for women below 30.
For normal to dry skin.
The X-factor:- It is the blend of Ayurveda with fruits for your dull, aging skin.
Know in detail:- This fruit facial containing the goodness of fruit extracts blended with Ayurveda is a mild but effective formulation that relieves your skin from stress and deep-seated pollutants- sources of dullness, dryness, pimple, blackheads, and above all, aged skin. This facial treatment brings back the lost youth.
The non-foaming almond lotion is the dirt and grimes remover- from the pores. The orange scrub-cum-pack eliminates blackheads and imparts a subtle glow to the refreshed skin. The saffron-infused ayurvedic massage formula and the apple-based pack firm up the skin making it elastic, and smooth. You also get Ayurvedic coconut cream as a de-tanning, complexion improvement, and softening agent.
In the box:-a cleansing lotion, a scrub-cum-pack, massage cream, a face pack, and moisturizing cream.
Pros
Cleansing lotion is ideal for removing makeup.
100% natural composition.
For normal to dry and sensitive skin.
Sweet, pleasing fragrance.
Price in budget.
The X-factor:- Flaunt blemish-free, confident skin before the world.
Know in detail:- With papaya as the prime ingredient: this fruit facial kit gives skin the dry and dull skin the clear, spotless texture you have been desiring; of course, without those fine lines, wrinkles, and even hyper pigmentation. The skin becomes supple with nutrients and moisture locked.
Besides papaya extract, this facial has turmeric with essential fruity oil in a significant role-orange oil that improves the skin's texture, tone, and health, and peppermint oil that balances the pH level and sebum production. The lemon oil is a natural wonder- its antiseptic properties with that of turmeric fight inflammation and bacterial growth and stops acne from occurring. It has the damage-protectant lavender oil with rose oil as a skin soother.
In the box:- a deep cleanser, an exfoliating scrub, a nourishing gel, a firming mask, a whitening cream, and a touch serum.
Pros
Shield against free radicals.
Dermatologically tested vegan composition.
For all skin.
Paraben, mineral oil, and chemical-free.
Cruelty-free.
Budget-friendly.
The X-factor:- It is a complete skincare formula for self-pampering rituals.
Know in detail:- In this hectic life, visiting a salon adds to the stress, but at the same time, the skin deserves to be healthy and flawless. So, like all the contemporary fruit facials, this facial kit pamper your skin whenever you feel in the comfort of your home, no matter how tight your schedule is.
This Ayurvedic facial has the touch of nature's delicious and healthy creations- extracts of watermelon, orange, papaya, cucumber, strawberry, apple, and aloe Vera blended with sunflower seed oil, olive oil, wheat germ oil, and other natural ingredients. Together they regenerate and hydrate skin, slowing the aging and adding a luminous texture. All those scars of acne and blemish marks get erased.
In the box:- a cleansing milk, a scrub, a massage gel, a face pack, and a nourishing cream.
Pros
Heal sunburn and tan.
Unisex.
For all skin types.
Sweet natural fragrance.
Free from toxins and chemicals.
The X-factor:- Get the ultimate benefits of reduced pigmentation and blemishes with enhanced radiance.
Know in detail:- The goodness of papaya, cucumber, orange, watermelon, rose, and aloe Vera extract are blended to make your skin flawless and radiant. Get 78% more radiance with 65% and 54% reduction in pigmentation and blemishes and 75% moisturization.
What works so well? This Holy Grail has papaya, cucumber, oranges, watermelon, and aloe Vera-it draws the impurities out, reduces blemishes and pigmentation, and gives a soothing sensation while lightening the tone. It also even out the texture and boosts collagen production. Your skin becomes firm, supple, glowing with moisture locked, dullness and irritation relieved acne, whiteheads, and blackheads prevented.
In the box:- A cleanser, a scrub, a massage gel, a massage cream, and a face mask.
Pros
All-Natural ingredients.
No harmful elements and side-effect.
Pleasing fruity fragrance.
All skin types.
In-budget price.
The X-factor:- Look refreshed and young as in your twenties with this natural fruity formula.
Know in detail:-This fruity formula with all the beauty enhancers is a complete solution to your skin with no side effects. It hydrates dry skin and initiates the growth of new healthy cells that make skin elastic, radiant, and young, reversing the signs of aging. You look ageless.
This mixed fruit facial for dry skin has grapefruit extract in the cleanser, papaya in the face pack, and the goodness of coconut in the massage cream. Aloe Vera infusion is present in the gel and orange in the scrub. And this mixture (as you know) cures and reduces blemishes, spots, and pigmentation, leaving your dull skin clean, soothed, and glowing. Even the blackheads and pimples won't pop up again.
In the box:- a facial cleanser, a facial scrub, a massage cream, a massage gel, and a face pack.
Pros
De-tan the tone.
Paraben and Sulphate-free.
Unisex.
Value for money.
Suit normal, dry, and sensitive skin.
Cons
The gel may irritate sensitive skin.
The X-factor:-Get the salon-style facial at home.
Know in detail:- The complete package mixed fruit facial kit cleanses, exfoliates, smoothens, and lightens skin with the precision that your skin looks as if treated by professionals. The best part is you are that professional who di the job with little effort, sitting comfortably at your home.
Every product of the package is a blend of modern and old Ayurvedic methodologies. It has mixed fruit extracts with neem, tulsi, and almond oil that cure and control infection and brings out the skin's natural glow. Even it removes the stubborn tan you have been trying hard to get rid of. It is a facial treatment for all types of skin. So, anybody with any skin type can use it.
In the box:- cleansing milk, a scrub, a massage gel, and a face pack.
Pros
100% skin-friendly ingredients.
Effective against pollution and sun damage.
Reduce blackheads, whiteheads, and pigmentation.
Value for money.
Cons
No visible change in skin tone.
The X-factor:- A facial that does more than nourishment and protecting.
Know in detail:-Generally, facials cleanse, nourish and protect the skin. But this fruit facial using its texture renewal property brings into light the smooth, fair, flawless complexion hidden within. It also initiates the cell renewal process that regenerates new cells so that you look ageless.
The citrus, blackberry, and herbs-infused cleanser gently remove dirt and dead cells for a clear, even-toned look. The honey and almond scrub makes skin breathy, moisturized, and glowing. Papaya and pineapple massage cream heals and softens skin, renewing cells for a youthful look. While the apple and avocado pack rejuvenates skin, tea witch hazel and sandalwood cream sun shield, de-tan, and reveal the fair tone.
In the box:- a cleanser, a scrub, a massage cream, a toning gel, a face pack, and a face cream.
Pros
Complete skin care formula.
Natural composition.
Suit all skin.
Value for money.
Cons
The quantity could be more.
May last for a day.
The X-factor: Nourishing and moisturizing effect on the skin. It helps in healing the skin and gives a glowing healthy natural looking complexion.
Product details: A combination of pineapple and papaya the Oriflame love nature facial kit helps to detoxify my skin. It is suitable for all types of skin and both males and females can use it. If you are looking for a facial kit that exfoliates and rejuvenates your skin with nature's goodness then Oriflame is the solution.
Though the price is a bit higher than other products that I have recommended in this article, it is worth the money you spend on it.
Why I recommend: Oriflame is a brand known for its quality and they have a wide range of cosmetics that are great for any skin type, be it oily, dry, or combination.
Oriflame has a great selection of natural cosmetics and this range is perfect if you are looking for a fun range of cosmetics that are not just filled with chemicals and artificial colors.
How fruit facial win over other facials- The Benefits.
As we become more concerned with our skin than our complexion, the trend switched from Gold, diamond, and pearl facials to natural and organic ones. 100% natural fruit facials have a high demand because:
Enriched in Vitamins and antioxidants: it is a skin rejuvenator and reviver that leaves skin baby soft.
Fruit Facials are for all seasons. It works as magical in summer as in winter.
These facials gently exfoliate the skin without drying out and leaving it patchy.
Being a 100% chemical-free composition, you can use these facials frequently in a month.
The antioxidants of fruit are the best anti-aging formula, and so do fruit facials.
How To Choose The Right Fruit Facial Kit?
From a variety of fruit facials available to choose the right one: consider these factors.
Skin type: Know your skin type before purchasing your facial kit- The fruit facial with vitamins B12 and H hydrates dry skin, whereas the ones enriched in vitamins A and C are best in unclogging oily pores.
Purpose: To remove spots and acne marks, a fruit facial with aloe Vera, lemon, and other Vitamin C fruit extracts are best. Papaya-enriched facials deal with tanning, dullness, and dryness.
Free of toxins: 100% natural fruit extracts are free of phthalates, parabens, and other harsh chemicals that cause skin irritation and allergies.
Easy application: Facial kit with proper instruction and easy to apply is the most chosen. They require less time which is ideal for people with busy schedules.
FAQs – Best fruit facial kit for dry skin in India
How good is a fruit facial for skin?
Fruit facial has fruit concentrates that deeply cleanse the skin, lessen pigmentation and blotches and improve skin tone. Fruit facials sustain the skin layers and reduce dark spots and pimple marks, retaining their shine and glow.
Which is the best fruit facial for dry skin?
As per my choice and users' choice, the best fruit facial for dry skin is the VLCC papaya facial kit is the best for those with dry skin.
Which is the best facial for glowing skin?
Though all the fruit facials a glow to your skin, Luster Fruit Glow Fairness Facial Kit brings out the radiance to its fullest.
Which is the best fruit facial for pigmentation?
Vitamin C benefits pigmented skin. It helps in dark spots removal, removal of tan lines, dullness, and lightens tone with routine use. So, for pigmented skin, purchase a Vitamin C-enriched fruit facial.
How much does a fruit facial cost?
A fruit facial in general cost 200 to 500 rupees, depending on the quantity and the brand name. Though, the prices are high they are cost-effective in the long run.
Which fruit facial works great on dry skin?
Fruits packed with antioxidants tackle a bag of skin problems. Papaya facial or a mango face mask is ultra-hydrating which makes them great on dry and dull skin, pigmentation, and signs of aging.
Which fruit facial works well for oily and acne-prone skin?
Papaya is an excellent cleanser. Its antioxidants remove dirt and excess oil that clog pores and target acne scars, blemishes, and heads leaving the skin super clean and bright from the first use.
Final Word: Best Fruit Facial for Dry Skin
Homemade or readymade; fruit facials are instant wonders. While your skin gets pampered from within, it gives the refreshing, brightening dose, just like the salon-style spa facial- at a price more reasonable than your salon appointment. And the above-listed fruit facials are the ones with acclamation from users.
And yes, do share your experiences in the comment section below!!