Lips are the second most beautiful asset we possess, after eyes. And a gorgeous tinted lip is enough to enhance our beauty, isn't it? That is why even while flaunting a no-makeup look, our lips stay pigmented.
No matter to which club you belong, sweet sixteen or the sweet sixty pigmented lips always slay. Yes, it is true. There is a good stock available for you oldie girls; that would complement your matured and experienced grays and skin or the salt and pepper tresses. This best lipstick for mature wrinkled lips deals with it.
Also, find out Best herbal lip balm in India. If you are college-going or women in your early thirties then check Top 15 Best Lipstick For Sensitive Lips.
Top Pick
Covergirl Outlast All-Day Lip Color
12 Best lipsticks for mature women
You may look at your wrinkled lips and feel helpless to do anything about it, but you don't have to! There are plenty of lipsticks available that can make you look younger and more attractive than ever. Here are the 12 best lipsticks for older women:
A glide over your lips and it will stay throughout the day. It is what Covergirl Outlasts all-day lip color promises. It is one of the best long-lasting lip colors available. And a long-lasting lip color means it is superb for the lips of older women. And that is true indeed. It hydrates, nourishes lips, boosts confidence, and above all, never creeps into those fine lines.
This lip color set comes with two essentials. The rich, creamy, vibrant liquid lip color. And a nourishing, versatile topcoat. Formulated with an advanced formula: the topcoat locks the color; moisturizes lips to a refreshing, healthy one; boasts resilience, and adds a shine. Indeed, it is a feature good for lipstick for women in their forties or sixties.
Pros
Available in soft and rich shades.
Enriched with moisturizing formula.
Incredible staying power.
Smudge-proof and transfer-resistant.
Cruelty-free, fragrance-free.
Lie in an affordable range.
Cons
The sponge applicator needs precision.
Removal is a bit difficult. Coconut oil works nice.
Embrace lovely non-bleeding tinted lips with the Super Stay Matte Lip ink by Maybelline New York. Formulated with a supersaturated formula: the matte lip color leaves a flawless finish on the matured lips, which creeps not into the lines and wrinkles. You will not feel the dryness either once it is on. Thanks to the moisturizing agents.
Maybelline has curated the collection from hydrating, non-toxic ingredients with rich pigmentation formula. And this pigmentation hardly peels or rubs off. And you know how exceptional this lip tint is; even the brightest and boldest shade looks pretty on the matured aging lips. However, cool natural shades are also available in the range.
Pros
Available in 40 vibrant shades.
Stay for at least 8 long hours.
Unique arrow applicator facilitates precise application.
Smudge and crease-resistant.
With hydrating formula.
Value for money.
Cons
Remove it with the Super Stay matte-ink oil balm.
May fade off from inner lips while eating.
Among the few red shades, this soft matte lip cream is one of the best red lip colors that suits perfectly women above 40 and above 60. This lipstick perfectly suits older women.
Built with a creamy formula: the lip color offers matte coverage non-dry, non-sticky at the same time. This lipstick is so creamy that you can blend it with your fingers for that perfect smooth finish with ease. And, note it will not bleed.
It is a fan-favorite lip color, the credit of which goes to the iconic air-whipped formula and the shades. While the formula makes it lightweight, each shade is inspired by world cities. So, be sure of getting an elegant and sophisticated tone to flaunt. And yes, as it makes you ageless, it fits all skin tones.
Pros
Vegan formula.
Cruelty-free certification by PETA.
Lightweight and comforting.
Available in high-pigmented shades.
Impressive staying power.
Fit in the budget.
Cons
Not food-proof.
Shades may vary with the virtual representation.
What if your lipstick nurtures your lips besides imparting a lovely tone at the same time? Most lipstick does the same job but, L'Oreal Paris Color Riche lip tint does it more intricately. Enriched with Argan oil, Omega 3, and Vitamin E, the lip color makes the thin, skinny dry lips soft, smooth with intense hydration. The outcome of which is gorgeous lips.
The Color Riche lipstick comes in vibrant, bold, richly- pigmented matte shade and soft, cool, creamy satin shade that fits all needs and purposes. Suitable for middle-aged women and older women above 60. And, let me tell you something, this lipstick has good options of pink shades, precisely best for ladies over 60.
Pros
Formulated with 75% caring ingredients.
Non-bleeding non-sticky formula.
Perfect for daily wear.
A good variety of shades is available.
Within budget.
Cons
Not too long-lasting.
Reapplication is required.
Revlon ColorStay Suede lipstick will keep your lips soft, supple, and smooth at any age, even if you are over forty. Its moisturizing formula, infused with Shea butter, vitamin E, and aloe, hydrates the lips and transforms them into one; that is nourished and healthy. Lips become wrinkle-free, soft, and luxurious. And this is what makes it the best lipstick for matured skin.
However, it is not the only feature; there are more; that adds to its being the best. This creamy, velvety lip wear is a transfer-resistant lip tint with shades; that are soft, cool, and long-lasting. So, the question of its entering the fine lines never stands.
Pros
Impart a natural lip tone.
Budge-proof.
Available in 20 luxurious shades.
Lightweight.
Value for money.
Gone are the days when aging mattered a lot; it is just a number now. L'Oreal Paris also believes it. The Age Perfect lipstick demonstrates this so well. The lipstick is curated from nourishing serum with Pro-Vitamin B5 that retains the lip's moisture, nourishes from deep within, and accentuates the natural repair process. These are those abilities lips start losing with age.
But, that's not all. This one of the best lipstick for matured, wrinkled lips offers feather-free and bleed-free pigmentation, which lasts for long hours. Pretty impressive, I must say. But, what more it offers is rich pigmentation with a satin finish to both over 40 and over 60. You can call it one of the best red lipstick for over 60 with ease.
Pros
Contain 45% nurturing ingredients.
Facilitate smoother, supple lips.
Offer bleed-free, flawless coverage.
Come in 10 hydrating shades.
Lightweight and comfortable.
Not at all expensive.
Cons
Must include more shades.
Reluctant to adorn bold lips or want something neutral as you get older? Then, Revlon Color Stay Ultimate Liquid lipstick is here to be the best option.
Created with breakthrough technology: the liquid lip color imparts a satin finish. Its velvety smooth texture glides swiftly and provides a feeling of comfort throughout the time. It neither bleed nor does it creep into those lines over and around.
Revlon has created each shade with smartness. Despite being soft, delicate, and subtle, they provide flawless, excellent coverage to matured lips. And that too for a long time. On that note, it is claimed to have 24-hour staying power. And you don't even have to put on a topcoat. Aren't these enough for being the best lipstick for matured skin?
Pros
Satin-soft finish with mind-blowing longevity.
Lightweight and comfortable.
Infused with non-transferable formula.
Elevate style without smudging.
Come in 12 soft, cool natural tones.
Free from toxins.
Budget-friendly.
Cons
Pigments may vary with virtual representation.
May dry out lips after a period.
Who won't love to have natural lipstick in the wardrobe? Today natural cosmetic is the first choice, with lipstick topping the list. Burt's Bee has used this concept in the making of moisturizing lipstick.
Made from Moringa oil, Meadow Foam seed oil, raspberry seed oil, the lip color offers a satin-soft finish and intense moisturization and condition to the lips; from the moment it is worn. This moisturization has a long-lasting effect. Lips stay soft and conditioned the color removal.
This lipstick includes warm shades and soft, cool shades that give full coverage; to thin, dry, and matured lips. But, it never feathers into the wrinkles and lines around it. Nor does it feel heavy or sticky.
Pros
Come in 18 neutral shades.
Free from phthalates, paraben, DLS, petroleum.
Natural and cruelty-free product.
Recyclable packaging.
Perfect for everyday wear.
Value for money.
Recreate, relive and flaunt your style again through the hands of Milani Color Statement Matte lipstick. Infused with Vitamin A and Vitamin C, this nourishing lipstick works as good as it feels and looks on the lips. As you glide, the nourishing formula revitalizes and rejuvenates the skin; from deep within. As a result, the lips look healthy, supple, and refreshed.
But, what ascertains that is the one for the best lipstick for older women? Well, it is the composition, which you already know by now, and the finish. The lipstick generates a matte finish but with a sheen. It never dries up. Also, it will not get into the fine lines and wrinkles. Hence, either you are 40 or above or 60 and above, every shade fits well and complements your mature lips.
Pros
Build your style and statement.
Enriched with nourishing formula.
Available in 24 pretty, radiant, and passionate shades.
Non-transferable, smudge, and budge-proof lip color.
Cruelty-free certification by PETA.
Fit the budget.
Cons
Staying power is not incredible.
May have a difference with virtual representation.
Just imagine what it would be like to have softer, smoother lips in half a week, just by using a lip color. Sound unusual but, it can happen. Neutrogena has made it happen through the moisture smooth color lipstick.
Made from fruit extracts, mango, and Shea butter, the lipstick has a balm-like formula that nourishes and hydrates lips from the moment; it is worn. And with a continuous application, the lips get conditioned and become soft and smooth in just 3 days. I repeat just 3 days.
Now, this is something you would like to have for thin, dry, and matured lips. And that is why it is on the list of the best lipstick for women over 40 and over 60. On that note, this drugstore lip color is lightweight and comforting both on lips and in use. It is a twist-up lip color.
Value for Money
Pros
Long-lasting satin-finish bleed-free coverage.
Lips remain soft even after the color removal.
Dermatologically tested.
Come in 16 high-pigmented shades, both shimmery and bold.
Affordable price range.
Cons
A limited number of shades.
Melt easily.
Bright and bold tones may not suit all ages in general, but Qibest 7 piece matte lipstick is exceptional. It is one of the few bold lip tints that work on all lips irrespective of age. Now, the question is what makes it a lip color for all? The soft, creamy texture, filled with the supersaturated smudge-proof formula; which gives lips intense hydration besides luxurious coloration. With just a swipe of, lips get evenly tinted: which never bleed into those fine lines.
And girls, if you are super excited to get 7 shades in the set, then you are highly mistaken because it includes the eighth element, too. And it is a honey-infused lip plumper. This lip plumper is effective both; in moisturizing the lip and giving a spicy note to the look. So, forget the age and flaunt the bold look once again.
Best Selling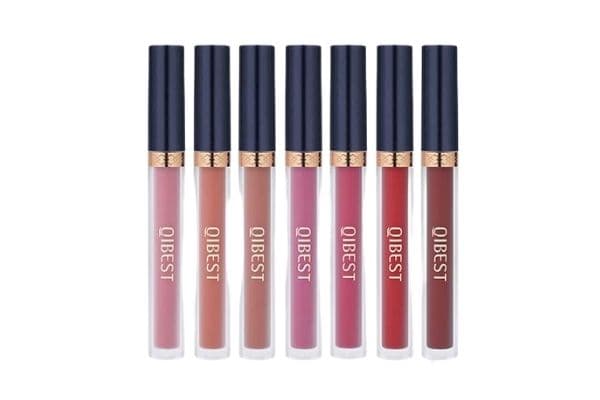 Pros
Richly pigmented shades.
Velvety, non-sticky, lightweight texture.
Transfer-resistant and smudge-proof.
Vegan and cruelty-free.
Value for money.
Cons
The application brush should be more soft and precise.
Require a lotion for removal.
And if you still feel that red or related tones are not your color, then the 12 pieces of exquisite lip color set by Coosa is for your matured lips, oldie girl. This elegant, silky lip color illuminates your lips, making them ready for every go-to. It offers a matte finish that will never feather into your fine lines or wrinkles. On the contrary, you will get fully covered with wrinkle-free lips.
Of course, the above feature is responsible for making it the best. But, add-on features also make this lipstick one of the best for matured skin. And it is the natural formula. This natural formula contains beeswax, Vitamin E, vegetable oil, and other natural components. Together they make the lip color moisturizing, water-resistant, and attractive.
Pros
Perfect as everyday wear.
Transfer-resistant and long-lasting.
Non-dry formula.
Perfect as a gifting option.
Economical.
Cons
Require an oil-based remover.
Lipsticks for older women: Why it is special?
Girls, you must be thinking, why do you need these specially designed lip colors? Well, the reasons are not one but many. Here are they:
Lips change their tune with age. In simple words, with aging, lips become thin and dry; wrinkles and fine lines develop over and around them. So, it is essential to keep lips hydrated besides filling them with colors. The specially designed shades do both the job. And the best part is it never bleeds.
As you grow old, you feel the need for colors in your look. Lipstick is the easiest way to infuse that colorful element.
Bold and vibrant lipstick is an age-defying element. It lifts and brightens up the complexion, boosts your energy, and rebuilds confidence. I won't be wrong if I say it will flatter your look in the same way it did in your youth.
And finally, you are beautiful enough, only: need to enhance it, which the lip tint will do with ease.
Best lipstick for mature wrinkled lips: Buying guide
Choosing lipstick for older ladies is not a task tough at all. All you need to know is the factors that help a lot in easing out the whole process.
Shade:– Not every lip color is for everyone. And, if you have matured wrinkled lips, you need a shade that complements your maturity. The best way to figure out your shade is to match the hue with your skin undertone.
If you have warm undertone lipsticks with an orange and fiery base looks beautiful. While the one blue, silver purple base looks lovely cooler undertone. But, if you have a neutral undertone any shade, literally any shade looks pretty on look.
To know your skin undertone, look at your wrist vein color. If it is olive green, you have a warm undertone. Blue or purple tones indicate a cooler undertone, and blue-green tones indicate a neutral undertone.
Ingredients:– The best lipstick for aging lips is the one with hydrating, nourishing ingredients. Once we reach the age of 40+, our lips lose their plumpness, become thin, dry and develop wrinkles and fine lines. A natural or organic lip color with nourishing and hydrating boosters makes lips soft and healthy besides making them pretty. It acts as an age-defying formula. So, make sure; the lip color you choose is the natural one with no traces of chemicals like parabens, phthalates, lead sulfates, and fragrance,
Non- bleeding, long-lasting formula:- Every woman wants long-lasting lipstick, regardless of age. And if age is, above 40 then a long-lasting smudge-proof lipstick is a must. Why? With age, smooth lips get transformed into wrinkled ones and lipstick tends to creep into the lines. This causes the lipstick to smudge fast. And you don't want that to happen, right. A smudge-proof lip color with at least 5 hours stays power prevents such issues.
Bright or light: Lip colors symbolize aging when they creep into the wrinkly lines, highlight them. Bright, bold lips or soft, cool lips do not decide your age. Is it the brighter one or lighter one depends upon you. However, for your reference, bright lips enhance your bold side. Soft lips make you look young and refreshed. What is important is they must comply with your skin tone.
Texture:- Lipstick for older women have to be a well-pigmented one that covers all the flaws. But, at the same time, they should also have a creamy texture so that it is easy to glide them over the lips.
FAQs about the best lipstick for matured women
What is the best lipstick for aging lips?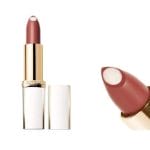 L'Oreal Paris Age Perfect Luminous Hydrating Lipstick is the best lipstick for older ladies.
What type of lipstick is perfect for older women's lips?
Lipsticks with a matte are good for any aging or aged woman. But, matte formulas are generally very dry and can be a cause of concern for older women. So the one with the soft matte formula or velvety cream formula is best for matured lips.
What color lipstick imparts a younger look?
Lipstick with soft, natural shades, precisely the pink shades imparts a younger look.
Which is the best pink lipstick for over 60?
L'Oreal Color Riche Satin lipstick and Cover girl Outlast lip color set has an amazing pink shade in the collection. This collection is truly one of the best pink lipsticks available for over 40 and over 60 women.
What is the appropriate staying power for lipstick for older women?
Lipstick for mature lips must have a staying power of at least 5 hours.
Does red lipstick make you look older?
According to research, red lipstick can increase the contrast between facial features and the surrounding skin, which results in a generating younger look.
Which brand has the best lipstick for mature women?
Revlon and L'Oreal create the best collection of lip colors for mature women.
Does matte lipstick make you look older?
Lipstick with matte shade may make you look older but, the soft creamy matte formula does not make you appear the same.
Final word: Best lipstick for older women
So, oldie girls now you have got to know which the best lipstick for matured and wrinkled lips are. And if I am not mistaken you have even selected the one. They are really the best of the best. So, get it, recreate your style and flaunt it. Lastly, please share with us the experience you have with it. Till then see you with one product.