Lipsticks are part and parcel of women's life: from college goers to homemakers. Hued lips and a touch of mascara or eyeliner make you ready for any occasion.
But this get-set-go makeup can become a nightmare if your lips are sensitive, and finding a lipstick that doesn't feel like burning your lips was nearly a challenge. There are lipsticks formulated for sensitive lips, and here are the 10 best lipstick for sensitive lips we picked only for you.
In This Article:
Here are the top 5 lipsticks we have chosen for sensitive skin so you can take a quick look:
Detailed Review: 10 Best Lipstick for Sensitive Lips
X-factor:-Turn your lips soft and supple in 3 days.
Product detail: A glide of this lipstick instantly moisturizes lips so intensely and continually conditions them that lips become naturally soft and supple. With regular use, it claims to make your lips supple in 3 days without anything on them.
Neutrogena has formulated this lipstick from nature. It has rejuvenating mango butter, Shea butter, and fruit extracts that hydrate lips and replenishes much-needed nourishment. So, whether you have sensitive skin with dryness or without, this drugstore lipstick works superbly with no burning or tingling.
Pros
Twist up lip crayon.
Light and non-greasy.
Available in 16 shades.
Reasonable.
Cons
Does not stay long.
It smudges.
Related: 12 Lipsticks for mature wrinkled lips
X-factor: The most value-for-money lipstick.
Best affordable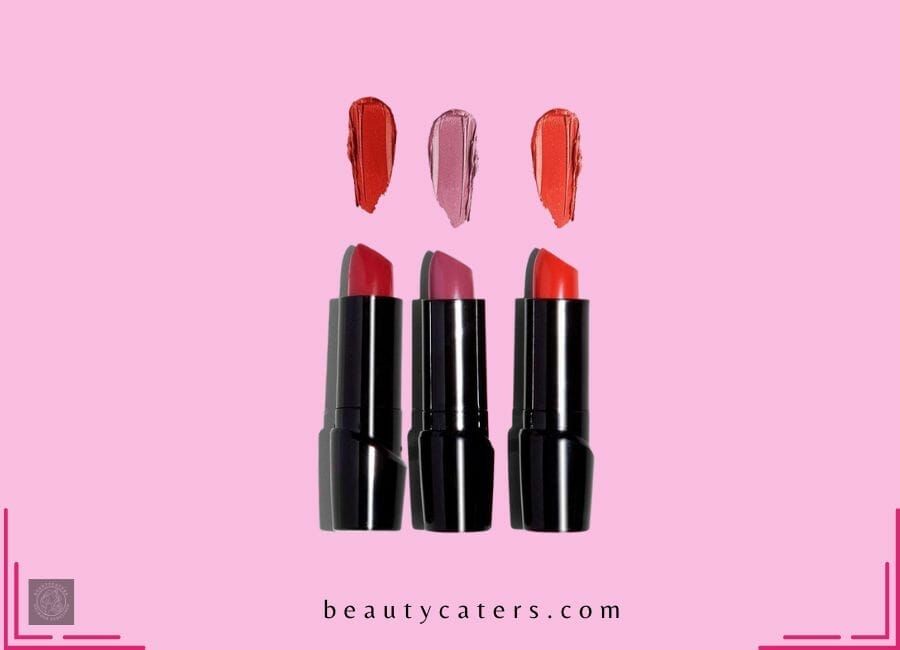 Wet n wild Silk Finish Lipstick
Best affordable lipstick for sensitive lips.
Product detail:– You have got lipstick at reasonable prices of $8, $5, and even at a minimum of $4, but this lipstick surpasses all. These rich, hydrating lip colors are available at 20x less price, having the same nourishing formula as others. This lipstick costs you less than $1, precisely $0.98.
The rich hydrating lipstick for sensitive lips has nourishing vitamins A and E and soothing aloe vera extracts. For more hydration: it has the antioxidants-enriched macadamia nut oil that makes lips supple. This lipstick is so soft and lightweight that it feels like silk on the lips.
Pros
Creamy, satin soft.
25 color options.
Certified cruelty-free by ETA.
Great price.
X-factor:-Create gorgeous statements lips with zero irritation.
Best hypoallergenic
Almay Lip Vibes, Go Wild, Matte Lipstick
Best rich pigmented hypoallergenic lipstick
Product detail: So that those desirable, statement lips can be a reality on your sensitive lips, Almay has designed this line of lipstick hypoallergenic. This non-sticky lipstick has nourishing Vitamin C, E, and Shea butter, which makes it a moisturizing and antioxidants enriched lipstick. It is so creamy and smooth that it feels like silk.
The best part of this hypoallergenic lipstick is the shades. It has 24 shades—12 cream, 10 non-dry matte, and 2 toppers that create the sheen. You can wear the 22 (cream and matte) alone or with a coat of toppers.
Pros
Easy-to-apply bullet shape design.
Fragrance, cruelty, and chemical-free.
Cute packaging.
Affordable.
X-factor: A luxurious couture lipstick for sensitive lips.
Product detail: If luxurious lipstick is on your bucket list, but you are dealing with sensitive lips, this lipstick is a one-stop solution. It is a treatment combined with luxury, a vegan formula handcrafted by the in-house developer.
Formulated with coconut oil, castor oil, jojoba oil, avocado oil, Vitamin E oil, and candelilla wax: this creamy lipstick builds a long-lasting beautiful natural look and initiates healthy, irritation-free lips. It moisturizes, protects against environmental damage, and makes lips healthy. The lipstick comes in a luxurious Scandinavian package.
This cruelty-free lipstick is certainly going to give you some wow moments.
Pros
Leave a sheer finish.
Available in 8 shades.
Designed for everyday wear.
USDA-certified organic.
Cruelty-free certified by Leaping Bunny.
X-factor: A sensitive skin-friendly creamy formula for daily wear.
Best daily wear
Burts Bees 100% Natural Glossy Lipsticks
Best daily wear lipstick for sensitive lips
Product detail: This lipstick has a 100% natural formulation of moringa oil and red raspberry oil, which are excellent moisturizers and skin-soothing agents. It heals lips, soothes them keeps them soft and hydrated. The lipstick gives a comforting, long-lasting coverage, which you can wear daily.
Being a cream lipstick, it glides smoothly and gives glossy coverage without drying lips, but at the same time, it does not stick to tissue or wipes. Its peony shade has a hint of cinnamon to enhance dry lips.
Pros
No paraben, phthalates, petroleum, and SLS.
Not tested on animals.
Recyclable packaging.
In-range price.
Cons
Only 6 shades.
Gives a lighter tint than expected.
X-factor:-This toxin-free lipstick stays from day to night.
Best Long-lasting
Honest Beauty Lip Crayon-Demi-Matte
Best long lasting hypoallergenic lipstick
Product detail: Frequent retouch is a no for sensitive lips, so Honest Beauty designed its lipstick with a formulation resistant to water and smudge. It claims if you wear the lipstick during the day, it stays the same till night. The best part of this lipstick is; it is toxicologist verified.
Demi-matte is a richly pigmented lip crayon that leaves a luscious, velvety matte finish. It has jojoba oil, murumuru, and Shea butter as the main ingredient. So, the locking of moisture and nourishment is guaranteed.
This one is the Best long-lasting hypoallergenic lipstick on our list.
Pros
Comes in 7 shades.
Dermatologist tested.
Cruelty-free.
Chemical, mineral oil, and talc free.
Cons
High-priced.
Little drying if used without a chapstick.
X-factor: A 3-in-1 stick tint for your sensitive lips and face. Best drugstore lipstick.
Best drugstore lipstick
Physician's formula Rosé Kiss All Day Velvet Lipstick
Best drugstore lipstick for sensitive lips
Product details: Using lipstick as cheek tint and eyebrows are trending, and keeping on with it, Physician's Formula has brought its 3-in-1 lipstick for those with sensitive skin. It has soothing and hydrating rose water and the richest sources of Vitamin C-Gojiberry, and Kakadu plum.
It is a non-dry, non-greasy vegan formula that blurs, protects, and fights skin aging. It has an Ultra Blend formula combined with 360˚Total Defense Complex that protects against harmful sun rays, blue light, and pollution. It gives a natural pigment to your lips with a sheen.
Pros
Last for 4-6 hours.
Clinically and dermatologist tested.
Free from paraben, gluten, and cruelty.
Budget-friendly.
X-factor: Get 92% hydrated and softer lips.
Best moisturizing
True Luscious Super Moisture Lipstick
Best moisturizing lipstick for sensitive lips
Product detail: A 3-week study on 30 women reported that 92% had soft and hydrated lips after they wore this lipstick. Formulated with hyaluronic acid and Konjac root: this lipstick provides overall nourishment. Konjac root protects, heals, and repairs lips and hyaluronic acid is famous for hydration.
True+Luscious has created a luscious, satin finish lipstick. It is a creamy streak-free swipe of vibrant colors with a golden sheen, available in 16 shades that suit all skin tones and types. It is hypoallergenic and has received the approval of dermatologists.
Pros
Dewy satin finish.
Come in 16 shades.
100% vegan formula.
No chemicals.
Recyclable aluminum packaging.
Cons
Not long staying power.
High-priced.
X-factor:-Bye-bye! Tingling, itching, and lipstick dryness forever.
Product detail: Regular use of lipstick lead to dryness, cracks, and irritation, but this is one of the few the lipsticks like Neutrogena, which nourish lips more, the more you wear it. It continually conditions, smoothens and heals lips.
Made with botanical extracts, organic butter, and oils: this hypoallergenic lipstick is a powerhouse of vitamins. It has vitamins A, B1, B2, B6, and E with calcium. It smells sweet. Thanks to the vanilla extracts and essential oils. This lipstick gives a beautiful, natural tint that lasts at least 4 hours.
Pros
Best on dry and sensitive lips.
85% certified organic composition.
Non-toxic, talc-free, and gluten-free.
Certified cruelty-free by Leaping Bunny.
X-factor:-This is not just lipstick; it is also your lip balm. Paraben-free, gluten-free, fragrance-free.
Best smudge-free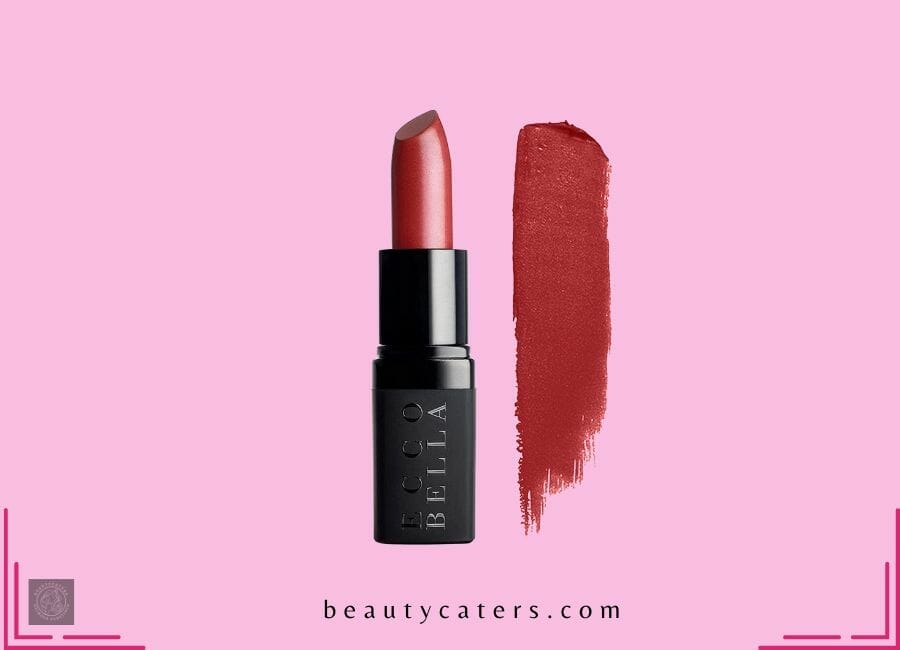 Ecco Bella Plant-Based Vegan Lipstick
Smudge-free vegan lipstick for sensitive lips
Product detail: Get irritation-free soft, tinted lips with a glide of lipstick because this lipstick works as your lip balm. This pretty lipstick, designed for sensitive lips, gives smooth, nourishing coverage that heals, hydrates, and retains the health of the lips while making them luscious and beautiful.
This lipstick is claimed to be one of the safest and cleanest products because of its formulation. Free from gluten, paraben, FD&C dyes, and animal cruelty: it has vegetable wax, calendula, chamomile, and jojoba oil. Even the pigmentation complex is from minerals, and the water-resistant complex is from flower cutin.
Pros
Neither feather nor flake.
100% natural composition.
12 shades.
Clinically-tested.
How to choose lipstick for sensitive lips?
Lipsticks can be too drying and irritating, so you need to make a wise choice in selecting the one suitable. I have put together a guide to help you choose the right lipstick for your sensitive lips. Read our tips and find the right shade for you.
Natural, non-toxic ingredients: Lipsticks for sensitive lips mostly have natural ingredients. However, a few brands add chemicals harsh to the skin to make them visually appealing or more fragrant. So, before you pay for one, ensure it has natural ingredients only, no parabens, artificial fragrances, phthalates, gluten, etc.
Moisturizing factor: Dryness is a common issue for people with sensitive lips. Most lipsticks have formulas that dry out lips after hours, leaving them damaged and chapped if used regularly. So, for sensitive lips, opt lipsticks with moisturizing or hydrating formulas- like jojoba oil, argan oil, etc.
Long-Lasting: Choose those lipsticks that stay the same for a long without transferring or smudging. Hence, you don't need touchups, and your lips do not get dry or cracked.
Texture: For sensitive lips, crème lipstick is the best because it contains a good amount of moisturizing formula that keeps lips hydrated throughout, and you feel comfortable wearing it. You can also go for a glossy texture having the same moisturizing property.
Hypoallergenic: For sensitive lips: the lipstick must pass the allergy test. So, when you pick a lipstick, go thoroughly through the ingredient list to check the presence of any allergy-causing ingredient and if it is dermatologist approved.
Cruelty-free: Care for animals in your choice of diet or beauty products is commendable. So, it would be best to go for cruelty-free lipsticks for your sensitive lip.
FAQs: Best lipstick for sensitive skin
What lipstick is best for sensitive lips?
Lipsticks formulated with herbal and fruit extracts, flower and natural oils-olive oil, sunflower oil, jojoba oil, shea butter, coconut, and candelilla wax are meant for sensitive lips. They are full of antioxidants, vitamins, and anti-inflammatory ingredients that beautify lips and take care of them.
What ingredient in lipstick causes irritation and allergies?
Most lipsticks have synthetic dyes, parabens, artificial fragrances, and other chemicals unworthy of sensitive lips. It causes a burning or tingling sensation. Also, some specific ingredients you are allergic to create discomfort.
Can I use hypoallergenic lipsticks regularly?
You can regularly wear hypoallergenic lipstick with a nourishing lip balm on sensitive lips. But make sure to take it off at night to avoid drying.
How long does hypoallergenic lipstick last?
Chemicals are the factors behind such 12 hours or more stay power of lipsticks. A hypoallergenic or organic lipstick has a NO chemical formulation, so any of these safe lipsticks stay for 4-5 hours.
How should you protect your lips when applying lipstick?
The best and easiest way to protect lips is to use a hypoallergenic lip balm before lipstick. The lip balm forms a shield on the skin and prevents drying and pigmentation. And if it has SPF, sun damage protection is a bonus.
How does a lipstick allergy look?
A lipstick allergy creates red, scaly, and itchy patches on your lips.
Final Verdict: Best lipsticks for sensitive lips
Lipsticks have been our go-to item and will always remain so. The lip care industry is ensuring it. So, darlings, if you feel sad for being unable to flaunt beautiful looks because of sensitive lips, give those feelings away. Choose from the beautiful colors of your favorite shade and proudly flaunt your personality and style.