Obagi nu Derm is a favorite of dermatologists and celebrities for years.
But why?
What makes it a consistent player for years?
To find out, I went on a research course with a few dermatologists, and at the Obagi store. The answer I got, I present you as the Obagi nu Derm reviews, or say, as a comprehensive study of the damage care kit.
Related content:
The Obagi Story
"Your skin is more than a product of your past; it's the window to your future" – with this belief, Obagi entered the skincare world. The skincare line was founded by dermatologist Dr. ZeinObagi in 1988 with medically acclaimed and recommended products to "unleash your skin's full potential."
Obagi, backed by the experience of 30 years, laid the foundation for a better future. Obagi products are the ultimate treatment for all skin problems—hyperpigmentation, premature aging, and skin damage. Its regime revitalizes skin, even out the texture, and brightens the tone transforming your skin to flawless. All Obagi products are prescribed by dermatologists, cosmetic surgeons, and medical spas.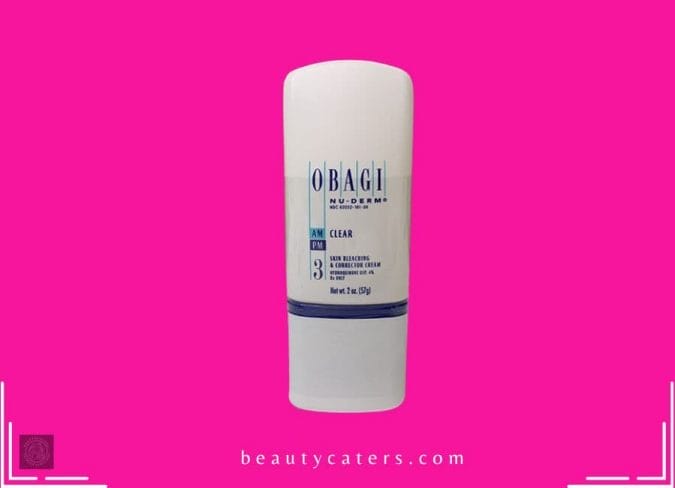 Obagi nu-Derm System Reviews
The Obaginu-Derm system is a self-use skincare kit designed for normal to dry to oily skin. It is a treatment for hyperpigmentation and skin damage. Obagi nu Derm system comes in 3 parts- Cleanser, Blender, and Sunfader, which consists of eight items, of which seven comes in the kit. For Retin-A (used with a blender) prescription is mandatory.
Here's what is in the pack:
Foaming Gel
Toner
Clear
Exfoderm Forte
Blender
Hydrate
Sun Shield Matte Broad Spectrum SPF 50
Obagi Nu Derm System Composition (Normal to Dry Skin)
Obagi nu Derm system contains 4% hydroquinone, the gold chemical standard for hyperpigmentation treatment. As per the American Osteopathic College of Dermatology, hydroquinone intervenes in melanin production.
It decreases melanocytes, thereby decreasing melanin production, leading to an even, spotless, and brightened tone. Since a maximum of 2% hydroquinone is allowed in an OTC product, this skin care system is prescribed. Obagi nu Derm system also has glycolic /phytic acid and lactic acid, which work as an exfoliator, and retinoic acid to stimulate the growth of healthy cells.
While this skin care system has the effectiveness of hydroquinone and acids, it also contains paraben as a preservative.
Obagi Nu-Derm System for Normal to Dry Skin
Pros
Sun Protection
Clarify and brighten a dull complexion
Minimize signs of aging
Cons
Takes time to get results.
Obagi Nu Derm Review: Individual Product Reviewed
1. Obagi Gentle cleanser/Foaming Gel review
Cleansing is the thumb rule of skincare. It prepares the skin for the effectiveness of the next steps. Whether you need the gentle cleanser or foaming gel depends on the Obagi system prescribed according to your skin type.
Gentle Cleanser (Normal to dry skin): This gentle wash formulated for normal to dry skin sweeps away dirt, impurities, dead cells, and makeup, leaving the skin fresh as morning.
Foaming Gel (Normal to oily): The pink gel cleanser does the same job as the gentle cleanser, strong enough to remove impurities, oil, and makeup but also kind to avoid dryness. The foaming action that gives the ultra-clean feel is a favorite for oily skin types. Use a pea-size only in the morning and night.
2. Obagi Nu Derm Toner
To stay healthy: the skin must have a 5.5 pH level, slightly acidic. The more alkaline it is, the drier, more sensitive, and more irritable it becomes. That is why we need toner. This balancing toner helps to maintain the pH of the skin and, at the same time, soothes skin with aloe Vera, sage, and witch hazel. Use it day and night. It is an alcohol-free toner with fragrance and artificial color.
3. Obagi Nu Derm Clear
The name says all. Clear is one of the prescribed products containing 4% hydroquinone. It is the color corrector and pigmentation and also spots minimizer. Being one of the most effective products: a pea-size of 'Clear' must be used not for more than 4-5 months. (Mark! Hydroquinone should be used only for 4-5 months at a time.)
4. Obagi Nu Derm Exfoderm or Exfoderm Forte (name varies on the kit)
An essential step of the regime is exfoliation. This exfoliating lotion containing glycolic acid, lactic acid, and two alpha hydroxyl acids removes the layer of dead cells to bring out the youthful layer hidden within. The skin disposes of the dullness and signs of aging and brightens up. Use a pea-size only in the morning.
5. Obagi Nu Derm Blender & Retin-A.
The Nu-Derm Blender has a formulation for use with Retin-A. Since it contains 4% Hydroquinone, you must have it prescribed. The blender and Retin-A duo lighten skin tone, reduce pigmentation and wrinkle occurrence, and smoothen the texture. Because of having hydroquinone use a pea-size only at night.
6. Obagi Nu-Derm Hydrate
Obagi nu Derm hydrate is a moisturizing lotion that relieves dryness and eases the peeling process. You can use it throughout the day, even while traveling. It is a pocket-size lotion. You may fall in love with it with regular use.
7. Obagi Nu Derm Sun Shield SPF 50
While using powerful and effective products, the skin must stay protected from more damage. Obagi Sun Shield is a broad-spectrum sunscreen lotion containing SPF 50 that shields skin from UVA and UVB rays. This sun protector is the best friend to your skin when you go with the Obagi nu Derm treatment. It is one product you must continue with even after the treatment completes.
8. Obagi Nu-Derm Healthy Skin Protection Broad Spectrum SPF 35
The Obagi Nu-Derm skincare system also includes a sunscreen of SPF 35. It comprises the mineral sun-protector zinc oxide and the chemical sun protector octinoxate to provide a broad spectrum that protects against UVA and UVB rays. However, it also contains paraben as preservatives.
How good is the Obagi nu Derm system?
The Merits:
Clear, radiant, healthy skin with no breakouts.
Connect you to your skin.
Used by celebrities to commoners.
Obagi did not become one of the popular skincare systems by default. The credibility the kit has earned is because of the number of hearts it has won for years. This system truly worked in reducing hyperpigmentation, fine lines, and breakouts.
Retin-A is proven to reduce acne and wrinkles resulting in an even-toned texture. The skin becomes clear, better, and smoother than it had been in years.
Obagi connects you to your skin. You notice all, from its worsening condition on the first day to the healing process. Moreover, you learn to listen to the skin. If it gets irritated or becomes red, you can reduce the use of the products after consulting the dermatologist.
Obagi success stories pass from well-known faces to commoners.
Alicia Keys' on-stage performance with no makeup sings loud and distinctly about her Obagi treatment and the confidence her clear skin build. Every nu Derm user is rewarded with this confidence after the treatment completes. Undoubtedly, this system works miraculously to improve the condition and quality of your skin.
The De-merits
Takes time and patience.
Expensive.
Contain parabens, colors, and fragrances.
Every merit has its demerits, and for the Obagi nu Derm system, it is time, money, and patience. You have to invest the three to achieve the results. The nu-Derm treatment generally lasts for 16 weeks, but in some cases, the dermatologist may prescribe the treatment for 18 or 24 weeks.
After all, skin damage is not an overnight result; it is the effect of years of neglect. When you try to correct a yearlong issue once and for all, invest at least weeks. And if you opt for a quick fix, remember they are temporary.
When the investment is monetary, the Obagi nu Derm system is one of the most expensive products in the market. For a nuDerm skincare kit, you have to pay $299, but it is a worthwhile investment because investing in the Obagi nu Derm system means investing in yourself.
Obagi nu Derm system is not a chemical-free range. Some products contain parabens as preservatives, silicones, artificial colors, and fragrances.
The Universal Truth – Obagi Nu Derm System Reviews
Dry and flaky skin in the initial weeks.
Go for no or minimal makeup.
Obagi Nu Derm is not for the faint-hearted. Once you start the treatment, your days will be less pleasing, and you won't look your best at the initial stage. For the first few weeks, the skin will appear dry and flaky.
The flakiness or shed varies from skin to skin.
If the skin is more dehydrated, the shed will be more powerful. Young and oily skins are also not immune. But this peel is nothing to worry about and will diminish.
If you are a makeup person, stay without it for at least the first week of the treatment. Later you can use only mineral-based cosmetics, that too in minimal. Foundation or powder can highlight the shed, and the situation may worsen, so I recommend using minimal makeup throughout the treatment.
However, your dermatologist will brief you on the usage of each product and a skincare practice that you must follow to get optimal results. Mark! Throughout the period, your treatment will be under surveillance.
How long it takes to get result?
Obagi nu Derm system shows noticeable results gradually. Here is a precise detail of the results.
Refined tone and texture: 1-3 weeks
A visible change in pigmentation: 2-4 weeks (initially, the skin may get darker before brightening up.)
Reduction in laxity/wrinkles: 12-16 weeks
Decrease in acne spots: 6-12 weeks (breakout may happen at the initial stage as part of the reaction, before minimization.)
FAQs: Obagi nu Derm skincare system
What happens when you stop using Obagi nu-Derm?
The stoppage of using the Obagi nu Derm system interrupts the cell renewal process. In due course, the healthy, improved cells backslide to where you have started from with abnormal cell function. You will notice fading results within weeks.
How long does Obagi Nu Derm take to give results?
Significant results of Obagi nu Derm are visible within eight to twelve weeks from the first day of the treatment. In 16 weeks difference becomes more prominent.
How long the Obagi Nu-Derm system takes?
The Nu-Derm skincare treatment should give results within at least 16 weeks. It may extend to 18-24 weeks, depending on as prescribed by the dermatologist, according to your skin's condition.
Can I wear makeup with the Obagi Nu Derm system?
During the Obagi nu Derm treatment, you can apply only mineral-based makeup from the 2nd week of the treatment. Use it after the application of the products as advised. In the first week, stay without makeup.
Final Word: Obagi Nu Derm Reviews
Obagi is more a commitment than a mere treatment. It comes with ups and downs (in the initial stage) and must-to-be-followed guidelines, which may annoy you, apparently.
You may even question the motives behind the treatment, but never let these things put you off because Obagi nu Derm certifies one thing, the results are worthier in the end. Don't blame me if you fall in love with your skin.