Obagi Clear FX is an immensely popular skincare formula from the NuDerm system. The Clear Fx brightening cream is designed for those who want to address their skin imperfections without using hydroquinone.
But how effective is Obagi Clear FX? We're here to answer this question with our comprehensive Obagi Clear FX reviews. We'll be exploring the information from dermatologists and the feedback from users to find out if this skincare formula is really worth the hype.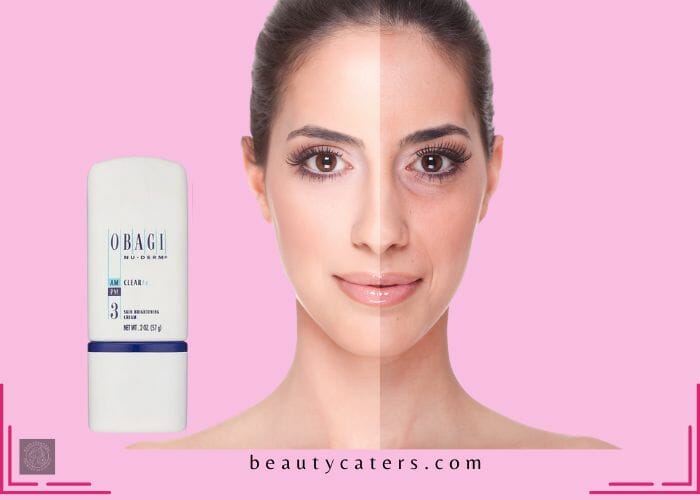 Obagi Nu Derm Clear FX Skin Brightening Cream Reviews: Details
Obagi Clear Fx is a product of the NuDerm Fx range. It is a skin brightener, free of hydroquinone, curated for normal to dry skin. It treats hyperpigmentation, imperfection, and damage caused by melasma, sun, and acne, which the product does effectively.
It leaves skin fresh, clear, and flawless. Since it is a gentle, non-hydroquinone base cream, Clear Fx needs a Dermatologist's recommendation but no prescription.
Obagi Nu Derm Clear FX Verdict
Pros
Fresh, clear, and rejuvenated skin.
Quick-absorbing fragrance-free formula.
Reduce dark spots and pigmentation.
Composition
Dark spot-reducing bearberry extract.
Damage-preventive antioxidants.
Fragrance-free formula.
What makes NuDerm clear Fx cream effective despite being so gentle? It is the composition. Obagi has curated the Clear Fx cream with arbutin, an extract from the bearberry plant. Arbutin inhibits the production of tyrosinase, an enzyme that works in dark spot reduction. It also has antioxidants that prevent further skin damage. The Clear Fx cream has 7% of arbutin extract and no fragrance.
The NuDerm clear Fx cream also contains sodium metabisulphite. Metabisulphite has a low sensitivity rate except for those who have asthma. It may cause allergic reactions, anaphylactic symptoms, and asthmatic issues in certain susceptible people.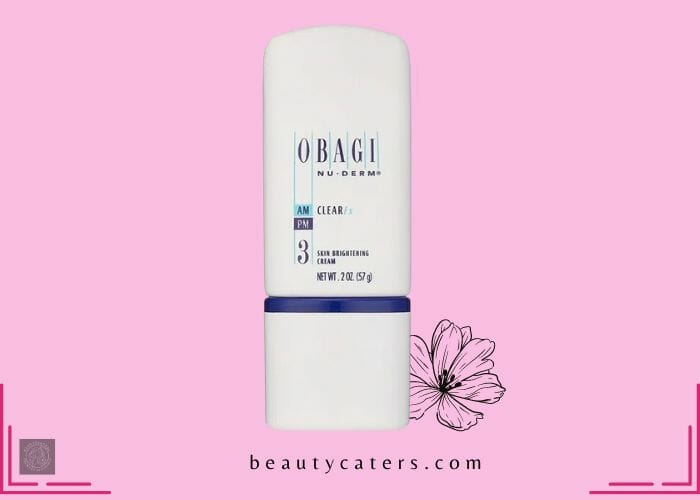 Performance
Gentle, non-irritating formula.
Treat hyperpigmentation, imperfections, and damage.
Regenerate cells and restore radiance.
The Clear Fx is a treatment for imperfections and damage caused by acne, melasma, sun, and the environment.
This hydroquinone-free formula is a quick-absorbing skin brightener that fades hyperpigmentation and dark spots and control breakouts so that the skin looks flawlessly even-toned.
While, with 7% arbutin, the NuDerm clear Fx inhibits tyrosinase production for dark spot removal, the antioxidants prevent further damage, clarifying skin and leaving it fresh.
This cream is so gentle that it does not irritate or peel the skin but effective enough to conduct the cell renewal process.
Regeneration of new healthy cells firms up the skin, giving it more radiance. Regular use transforms blotchy, discolored skin into a clear and rejuvenated one.
The only drawback is it takes little time to work.
FAQs: Obagi Clear Fx
How does the Obagi Clear Fx differ from the Obagi Clear?
Obagi Clear Fx is a part of the Clear Fx skincare system, which is the hydroquinone-free version of the Nu-Derm skincare system. While the regular Obagi Clear, an Rx product, contains 4% hydroquinone, Clear Fx has no traces of hydroquinone.
How do I use the Obagi Clear Fx?
Apply the Obagi Clear Fx after cleansing and toning the skin in the morning and at night. Make sure you complete the session with the sun protection formula.
How often should I use Obagi Clear Fx?
The "Clear Fx" must be used twice daily through the Fx skincare treatment: use it in the morning and again at night before bedtime.
How long does Obagi Nu-Derm Clear Fx take to show the result?
Obagi Clear Fx skin brightening cream takes 12-24 weeks to show an effective result. If there is no improvement in 12 weeks, you may discontinue the product, as said by the brand.
Does Obagi Clear Fx cause skin peel?
Unlike the Obagi Clear, the Clear Fx does not irritate and peel skin because of its soothing composition.
Final Word: Obagi Clear Fx Reviews
Obagi knows what our skin needs. Every product is an ultimate solution, and so do the Clear Fx cream. This brightening, quick-absorbing formula is designed keeping in mind the objective of the cream and the need of those who want a soothing formula identical in performance to the Clear Rx cream. It takes a little more time, but the result is satisfying and worthier.
Related content: